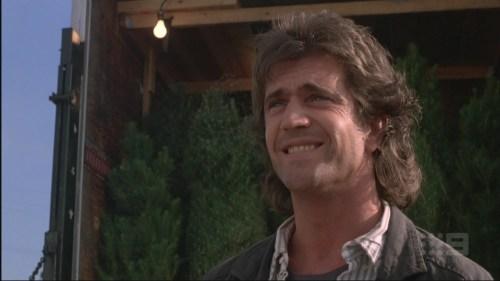 The holidays are a time for laying the warm fuzzies on pretty thick. The carols in every Starbucks, the mall crowds: so over it! All these things and more can make it hard to get into the spirit of the season. Some people feel the need to write off this time of year altogether. Others still like what the holidays have to offer, they just want it a little less saccharine. So here are five badass movie options for when you prefer a shot of Bailey's in your Swiss Miss.
5. Jingle All The Way
This is the only movie on this list that might be considered a family movie. Jingle All The Way stars Arnold Schwarzenegger, Sinbad, and Jake Lloyd, a kid better known for having a hand in ruining Anakin Skywalker. But in fact, Jingle All The Way may be the height of Lloyd's career—he and Schwarzenegger form the perfect disappointing father/disappointed son duo. This movie is at its best when you take a step back from it. The plot can get unusually dark, or amazingly over-the-top, and there are at least four parts where you'll say, "What the HELL!" Whether it's Schwarzenegger hurling little people into the air, or falling thousands of feet due to a sputtering jetpack, he proves time and again to be the season's most badass dad ever.
4. Trading Places
Eddie Murphy teams up with the wonderful Dan Aykroyd in this comedy when a pair of old rich white dudes place a bet on a homeless black man (Murphy) and a wealthy, white investor (Aykroyd) in an attempt to answer the classic question about nature vs. nurture. Murphy, playing the street smart Billy Ray Valentine, isn't content to be anyone's pawn, and spouts of regular bits of wisdom at any interval, saying such things like: "You know, it occurs to me that the best way you hurt rich people is by turning them into poor people." The two learn in their unfortunate and hilarious positions, how a healthy combination of nature and nurture can help you screw over the man that's screwing you. Trading Places is the perfect revenge film for the Occupy Wall Street crowd, or if you're just plain sick of getting socks from your rich uncle every Christmas.
3. Lethal Weapon
If you're looking for a perfect buddy cop action movie this season, Lethal Weapon is it. Martin Riggs, played by Mel Gibson, a suicidal cop, and maybe a tad off the deep end, shoots a smiley face into a target at the gun range before making a smug exit. Roger Murtaugh (Danny Glover) may be "too old for this shit," but you'll find love again in this classic pairing between crazy cop, and hardass cop. This movie is rife with drug busts, kidnapping, gunshots, and even torture. But like any Christmas movie, it makes sure to recall the true meaning of Christmas: a solid friendship, and not killing yourself.
2. The Hebrew Hammer
The Hebrew Hammer is about an orthodox Jewish blaxploitation hero who takes back Hannukah from Santa Claus' evil son, played by Andy Dick. There's plenty of politically incorrect humor, and serious ass kicking. And with names like Mohammed Ali Paula Abdul Rahim and Esther Bloomenbergensteinenthal, the film is packed with a ton of humor, including its opening where Santa steps on a kid's dredel and then gives him the finger, or a scene when Mordechai (Adam Goldberg) talks dirty to his new girlfriend Esther (Judy Greer), with, "I wanna have lots of children by you…I wanna get a stable, good-paying job…I want to move to Long Island, somewhere fancy, but not fancy-schmancy! I want for our children to go to private schools." Spoiler alert: she loves it, and you will too.
1. Die Hard
Watching Die Hard is like seeing an old friend, and honestly this list wouldn't be complete without it. And how can anyone get tired of watching Bruce Willis being chased around by a bunch of long-haired German terrorists? Alan Rickman's performance as the evil mastermind Hans Gruber is excellent as he proves himself to be both remorseless and trigger happy. The film's characters are made so the audience reacts to them exactly as they're supposed to so you feel an automatic solidarity with the family and friends you're watching it with. There's no better way to put you in the holiday spirit than with C4 and bloodshed.
Yippee-ki-yay, everybody.
– Ari Asercion