The best stovetop teppanyaki grill plate can be a hard thing to find.
Because there's one thing about cooking with gas or electric stoves that can be frustrating: uneven heat distribution.
Especially for teppanyaki!
I've tried everything I could think of to get even heating on my stovetop – that's why I love a teppanyaki griddle plate so much. It has heat diffuser plates that have been installed evenly, and they allow an even distribution of heat on the griddle.
I've done the research and found the best qualities in stovetop teppanyaki grill plates and in this article, I'll share the secrets with you.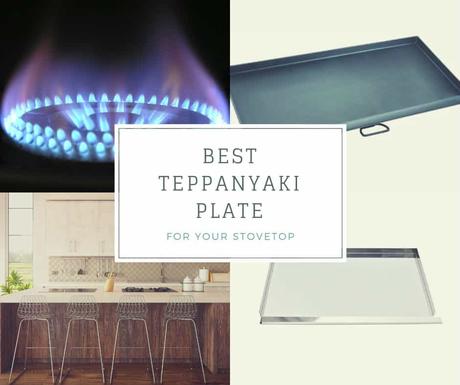 I've reviewed the two best from the ones I've tried but I personally recommend this HOMENOTE stainless steel griddle. Because it's large and fits over multiple burners, it offers an even heat distribution and lets you cook meats, fish, veggies, stir-fry, and breakfast foods that don't fry in their own grease so food is healthier and tastier!
Let's take a look at the top 5 and I'll get into a little more detail about them later in this article:
Stovetop teppanyaki Images
Best overall stainless steel stovetop Teppanyaki plate: HOMENOTE Stainless Steel Griddle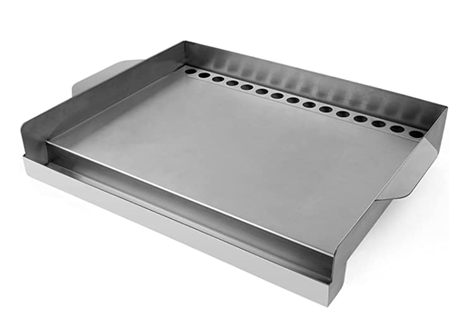 (view more images)
Best cheap Teppanyaki grill plate: GrillPro 91212 Universal Cast Iron Griddle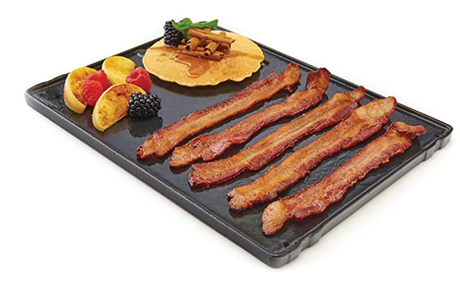 (view more images)
Best Teppanyaki grill plate for gas grill: Everdure Furnace Gas Teppanyaki Plate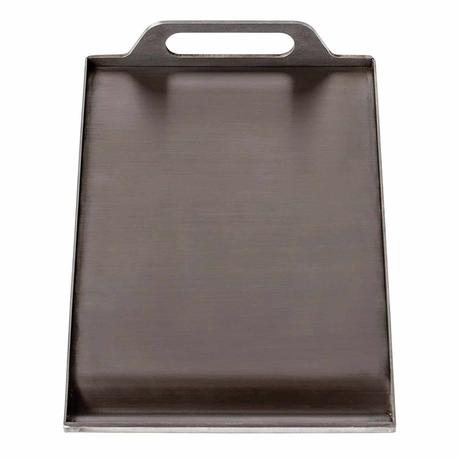 (view more images)
Best single burner Teppanyaki plate & best for induction: MGKKT 1-Piece 10.6 inch Cast Iron Griddle Plate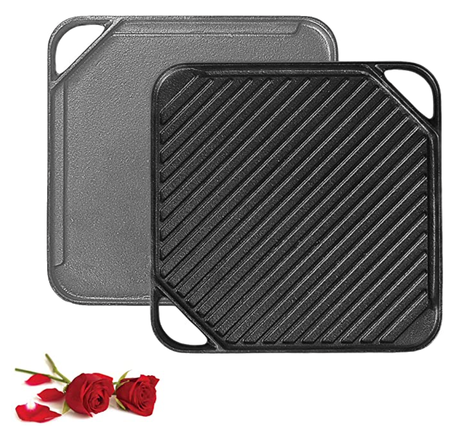 (view more images)
Best Teppanyaki pan: All-Clad E7951364 griddle cookware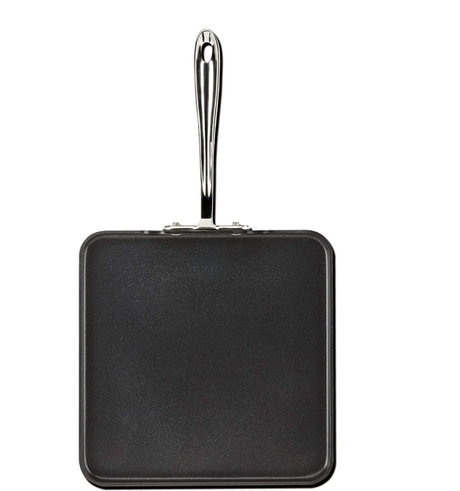 (view more images)
Teppanyaki grill plate buying guide
Grill plates like these are usually compatible with both stovetops and outdoor grills. 
Cooktop compatibility
Different teppanyaki plates are designed for certain types of cooktops and grills. 
For example, induction hobs are not usually compatible with these types of plates if they aren't completely flat. Also, some, like the Everdure are designed for a specific style of gas grill.
Gas and electric cooktops that aren't flat or ceramic are usually compatible with a teppanyaki plate. 
Plate size
The most important thing to consider when buying a teppanyaki plate for your stovetop or grill is the size. It must fit perfectly or else it's not safe to use. 
Another thing to think about is how many people you want to cook for. A smaller plate that covers two of your stove burners is usually enough for couples and small families.
Most small teppanyaki plates are about 40 – 60 cm. These are spacious enough so you can cook all the breakfast favorites like pancakes, sausages, hashbrowns, okonomiyaki, etc. 
However, larger families might want a large plate that covers all the stove burners and heats up very fast. 
The larger teppanyaki flat tops usually measure 90 cm or more. Some extra-large ones are large enough for big outdoor grills too but these are hard to store if you live in a smaller home. 
Grill material
Teppanyaki grills are made of all types of materials. 
These include cast iron, stainless steel, and aluminum. 
A stainless steel teppanyaki grill is the best option if you want a non-stick cooking surface that's also easy to clean. If you hate scrubbing and cleaning the plate, this material is the one that's easiest to work with.
Stainless steel is also great at heat distribution and retention so you'll love cooking on it. 
But, there's another great option: cast iron. This is a heavier material but it's superior to stainless steel when it comes to heat distribution.
Since cast iron is a good heat conductor, many chefs like to use this kind of grill because food cooks quickly and evenly on this surface.
Cast iron needs seasoning with oil and some people find that inconvenient. If you don't season the griddle, food sticks and burns on the plate. 
Aluminum is the cheapest option, usually found in budget products but it still works. Clean-up is harder though and you'll end up doing more scrubbing. 
Cleaning
Almost all modern teppanyaki grills have some type of nonstick coating so they're easy to clean with a griddle scraper or a cloth. The nonstick coating is cleaned with warm water and a cloth or paper towels. 
The majority of teppanyaki grills have a nonstick coating and this makes them easy to wipe clean, with a warm cloth after it's been used and cools down.
If there's no nonstick coating, then you can season the plate to avoid food from sticking. 
Handles 
Many of the best models have at least one handle, either on the side or the bottom of the grill plate. This makes it easy to maneuver the plate while setting up and once you get cooking. 
Handles also ensure you can grab the hot plate without burning yourself (use gloves though!). 
If the plate doesn't have handles, it's okay, but you need to wait for it to cool completely before moving it. 
Five best Teppanyaki stovetop grill plates reviewed
Here's my review of these five top stovetop grill plates:
Best overall stainless steel stovetop Teppanyaki plate: HOMENOTE Stainless Steel Griddle
cooktop compatibility: gas, electric & all grills 
size: 17.71 x 13.97 x 2.99 inches
cooking surface: 191 sq inches
material: stainless steel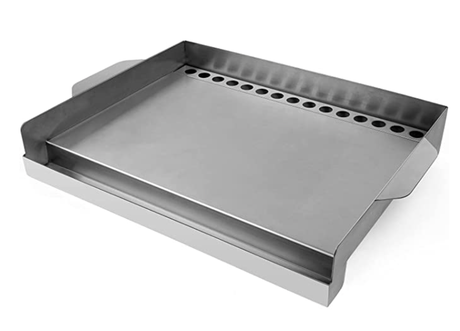 (view more images)
It's hard to find a stovetop teppanyaki grill that is "universal" but this HOMENOTE product aims to help you cook teppan-style dishes almost anywhere. 
The HOMENOTE universal teppanyaki griddle is suitable for use on indoor cooktops and all types of outdoor grills.
Although theoretically, it works on electric stovetops too, it's best for use on gas hobs or over burner covers. When it comes to outdoor cooking, you can use this instead of buying a special teppanyaki grill by placing it over the hot grill. 
The griddle is quite large at 17 x 10 inches and offers 191 sq inches of cooking space so you can cook for at least 3 or more people at once. 
Compared to a freestanding stainless steel griddle, you have a bit more control over the cooking temperature, which is very important in Teppanyaki cooking.
This plate heats up fast and distributes the heat evenly across the plate. 
The plate is made of corrosion-resistant thick stainless steel and molded from one piece so there are no loose components, everything is compact.
It's a durable heat-resistant plate and can withstand temperatures up to 600 F and it doesn't warp. Some customers say that past 400 F, the center starts to warp slightly but not all customers report this. 
One of the best features is the built-in grease tray which is removable. During the cooking process all the oil, fat, and excess grease is collected there and you can easily empty it and wash it so cleaning is quite easy. 
While cooking, you have to remove the stuck-on scraps with a teppanyaki spatula then wipe down the plate with some warm water, dish soap, and a cloth. The stainless steel is brushed which means it has a slightly rough texture that is easier to clean. 
To make cleaning and maneuvering easier, the griddle has a 6-inch handle so you can lift it without burning yourself. 
Another important and unique feature is the ventilation holes under the grill surface. The proper ventilation prevents flare-ups and hotspots. As well, there are high side walls to prevent any food from slipping or spilling over. 
Thus, you can cook and achieve the tastiest Japanese BBQ and achieve an authentic cooking experience whether you cook on your kitchen stovetop or an outdoor grill. 
Check the latest prices here
Best cheap Teppanyaki grill plate:
GrillPro 91212 Universal Cast Iron Griddle
cooktop compatibility: gas, electric
size: 13.27 x 9.49 x 0.59 inches
cooking surface: 117 sq. inches
material: cast iron 
If you're one of those people who wants the occasional teppan-style yakiniku or a tasty griddle breakfast, you don't need a fancy teppanyaki grill so you can make do with a basic flat top plate for your cooktop.
The GrillPro is the most basic, and easy-to-use teppanyaki-style cast iron griddle.
It's extremely affordable and suitable for gas and electric cooktops, charcoal, and gas grills, and you can even use it to broil, braise, and bake in the oven. Talk about multitasking, right? 
From preparing food to cleaning the grill, everything is easy and simple.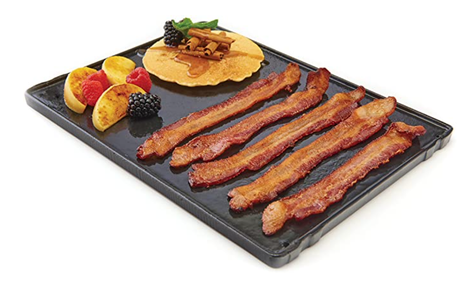 (view more images)
Unlike the single cast iron plate, this one has a special matte porcelain coating. This ceramic coating is easier to clean than the regular cast iron and doesn't need seasoning, which is a great bonus!
The plate is also reversible with a flat surface on one side and a ridged surface on the other and that's very useful when cooking larger steaks because the drippings don't accumulate around the meat. 
I recommend using this plate on your stovetop and not a charcoal grill because, after repeated exposure to high heat, some customers noticed small cracks in the porcelain. 
A minor disadvantage with this cast iron griddle is the lack of handles. Since there is no handle to hold onto, you need to use special heat-resistant gloves to maneuver it or wait until it cools off completely. 
What I like about this cast iron griddle is that it's durable and heavy-duty.
If you use an electric teppanyaki grill, you can't get the best authentic Japanese cooking experience because you can't really scrape and use the spatulas or you risk damaging the sensitive plate. 
But, with the stovetop griddle, you can make tasty stir-fry, and mix the egg with noodles and veggies using two spatulas. So, if you like cooking more than just bacon, grilled meat, and breakfast foods, you should try this GrillPro plate.  
Check the latest prices here
HOMENOTE vs GrillPro
If you're looking for a large versatile griddle you can use on the stovetop and your outdoor grill, the HOMENOTE is one that doesn't disappoint. It's got everything you need, including a stainless steel flat surface, a detachable grease tray, and handles. 
However, if you want something smaller and compact that's also heavy-duty, the cast-iron GrillPro plate is a cheap alternative for all kinds of cooktops (except induction). 
It's harder to cook liquidy foods or stir-fries on the GrillPro because it's doesn't have the same deep sides as the Homenote plate.
The stainless steel product resembles a professional plate you'd see in commercial kitchens and you can use your spatulas to move and turn foods like bean sprouts, soy sauce-covered vegetables, and any food that's runny, like okonomiyaki. 
So, if you're more inclined to cook basic breakfast foods, fish, and meat, you can use the cast-iron plate without worrying whereas if you like to cook the runny batter and liquidy foods, you're better off with the Homenote plate.
Best Teppanyaki grill plate for gas: Everdure Furnace Gas Teppanyaki Plate
cooktop compatibility: gas cooktop and Everton propane grill
size: 17.1 x 10 x 3.4 inches
cooking surface: 170 sq inches
material: stainless steel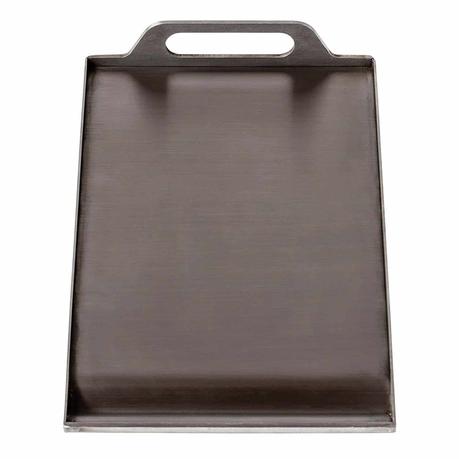 (view more images)
Do you own an Everdure gas grill already? Then, you can use the teppanyaki stainless steel plate in the best way possible by installing it right over the heat source.
But, if you don't have an Everdure grill and want a stovetop option, you can use this versatile plate with your gas cooktop.
The plate has an interesting design because it looks like a serving tray, with slightly elevated sides that prevent any liquids from dripping out and causing smoke. 
It's made of a 304 thick stainless steel material which is easy to scrape and clean. It's also durable and warp-proof at high temperatures. 
This teppanyaki plate is the best for cooking foods like fish and vegetables where you need to be flipping and turning the food quickly.
It's also great for frying because you can use oil and make potatoes, fried onions, and other batter dishes. The advantage is that your batter doesn't drip over onto the stove and make messes. 
In addition, it also comes with two spatulas to assist you in cooking.
The Teppanyaki place has a handle that allows easy removal and it is ideal for someone cooking meat or fish.
I want to warn you about one thing; when you use the plate with the Everdure furnace grill, the plate goes over 3 burners and heats up extremely fast. But, when you use it on the stovetop and place it over 2 burners, it's not going to fit into place exactly. Thus, it heats up much slower and the cooking time is longer. 
After all, this plate is designed specifically for Everdure grills but many people use it as a stovetop plate. 
Check the latest prices and availability here
Best single burner Teppanyaki plate & best for induction: MGKKT 1-Piece 10.6 inch Cast Iron Griddle Plate
cooktop compatibility: all, including induction
size: 3.94 x 3.94 x 0.87 inches
cooking surface: 15 sq. inches
material: cast iron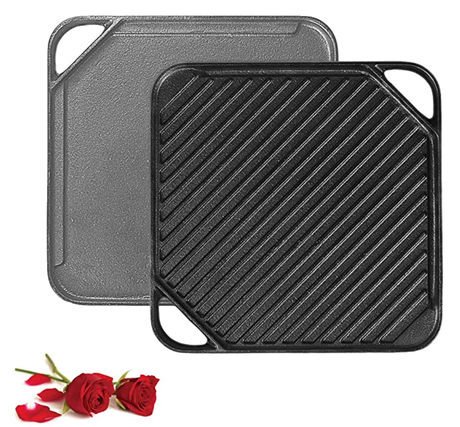 (view more images)
Do you like the versatility of a teppanyaki flat plate and do you have modern induction or flat electric cooktops?
In that case, you can get this single burner small griddle, perfect for making a couple of Japanese pancakes or frying yakitori chicken skewers for dinner.  
It's the best for all cooktops, even induction hobs, and considering it's such an affordable 2-in-1 griddle, you can't go wrong. 
This is a reversible plate, one side is flat like the classic teppanyaki and the other is ribbed so it's more like American grills. Both of these are extremely useful in the kitchen as stovetop grills or outdoors on your charcoal or gas grill. 
It's actually quite a versatile plate and you can even use it on the campfire and in the oven. It can grill, sear, broil, saute, and even bake. 
The plate has a square shape and it's made of a very strong and durable cast iron material. Another benefit is that it's already pre-seasoned at the factory, so you can just start cooking as soon as you get them delivered. 
Cast iron is well-known for excellent heat retention so when you cook, the heat gets distributed evenly. Hot spots don't form as often and you can comfortably cook on the stovetop without worrying about flares and lots of smoke. 
There's a handle on one side of the plate but make sure to always use heat-resistant gloves to avoid burning your hand since cast iron gets very hot. 
One disadvantage (for some) is its small size. It's best suited for singles and couples looking for a small teppanyaki plate and not something big and chunky.
If you want a stovetop cooker to impress guests, you're better off with one of my other large plate recommendations. 
But, if you're looking for a versatile teppanyaki plate that works as an extension of your stove or grill, the MGKKT is a great choice. 
Check the latest prices here
Everdure vs MGKKT single burner plate
If you cook on a gas cooktop, you can use either of the plates mentioned.
But, if you have an induction cooktop, your best choice is the small cast iron reversible plate. It's perfect to cook for one or two people at a time and its compact flat design lets you enjoy teppanyaki cooking on your modern stove. 
The Everdure plate is significantly larger and suitable for both indoor and outdoor cooking and entertaining. 
Another difference between the two is, of course, the material. Everdure is made of stainless steel and easy to clean whereas the MGKKT plate is made of cast iron and needs seasoning every once in a while to remain nonstick. 
Both products are quite heavy-duty and high heat resistant. Technically you can use them in the oven and on the grill too so you're not limited to stovetop use. 
It comes down to how often you want to cook teppan-style. The Everdure teppanyaki grill plate is better if you already own an Everdure gas grill or a similar model and you can use the plate as an add-on accessory.
The cast iron plate though is very versatile and perfect for any home, especially when you don't really cook griddle-style all the time. 
Best Teppanyaki pan: All-Clad
E7951364 griddle cookware
cooktop compatibility: gas, electric, ceramic (not induction)
size: 11 inches
material: aluminum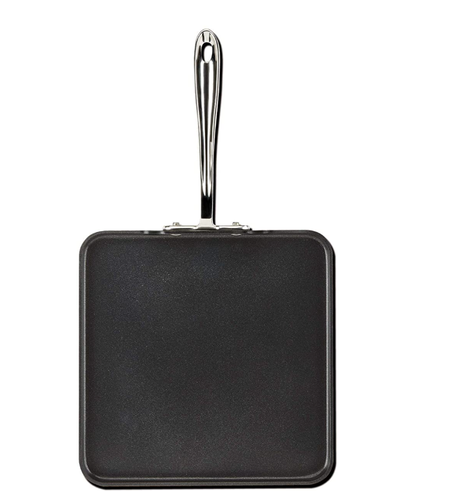 (view more images)
I'm reviewing this pan as a bonus because it's a great alternative for people who don't mind using a pan as a teppanyaki griddle and have limited cooktop space. 
You've probably seen celebrity chefs like Gordon Ramsay use these flat griddle pans to cook up delicious Asian stir-fry. But, a brand like HexClad offers quite expensive flat griddle pans.
Unfortunately, customers complain that those pans get damaged and warped easily. 
The All-Clad hard-anodized aluminum griddle pan is a cheaper and better alternative. It has a square shape and fits over your cooktop burner perfectly, offering even heat distribution. 
It's made of 3-layers of aluminum and has a PFOA-free nonstick coating so it's safe and healthy to use. 
It's also super easy to clean because it's dishwasher safe. So, you can say goodbye to scraping, scrubbing, and seasoning after every use. 
There's a riveted long stainless steel handle that doesn't get hot, so the pan is easy to maneuver as you cook. 
This is not a deep pan, it's a real flat top griddle. Since it's only 0.3125 inches deep, you feel like you're cooking your own BBQ at a Japanese restaurant. 
I recommend using some cooking oil spray to ensure it's truly nonstick since some people complain that foods like cheese can get stuck on. 
Check the latest prices here
FAQs
How do you care for your grill?
Most of the grills are featured with a true-seasoned finish, and these grills need a bit of a TLC from time to time to keep the finishing in perfect condition.
The following guide will assist you to keep your grill clean, prevent rusting, and maintain the glass-like finishing to prevent your food from sticking as you cook.
How do you manage the temperature on the grill?
Before you start using the grill, you need to give it some time to pre-heat. This helps you in achieving the best possible cooking performance from the grill.
First, you need to start by setting your grill on med-low or medium heat for around 5 minutes.
This setting should allow the grill to heat to around 350 to 400 degrees Fahrenheit. However, this depends on the environment and weather.
Then you need to turn the heat to low or med-low for approximately 2 – 3 minutes to allow the heat to spread uniformly across the entire grill.
It is important to note that steel conducts heat very fast, but cools slowly.
Therefore, the grill will have enough heat to get you started even after you reduce the heat on your burners. Once you finish preheating the grill, you will be ready to start cooking.
It would help if you understood that it is essential to manage the heat on your grill as this assists to avoid damaging the grill.
Even though the steel is robust and durable, always make sure that you use Medium and Low heat settings. This is very important, particularly when you want to use several heat settings on a large grill with multiple burners.
This gives you the opportunity to cook a fajita on one side as you warm a tortilla on the other side.
However, you need to make sure that you maintain both settings on Low or Medium.
How can I clean my griddle?
Once you finish using the grill, it is important to make sure that you clean the food particles on the grill while it is still warm.
It is recommendable to make sure that you use a chain mail scrubber or metal spatula to remove any stubborn bits on the grill.
After you remove these bits, wash the griddle using hot water, cast iron cleaner, or mild dish soap.
Please note that you should never use any form of abrasive detergent to clean the grill.
Next, you should rinse the grill thoroughly and then dry. Never use a dishwasher or scrub the grill, as this can chip the perfect, seasoned finish on the top griddle.
How to store your griddle
Before you store away your Teppanyaki griddle or skillet, you should make sure that it is clean, seasoned, and dry. You will need to keep the grill in a clean and dry area.
Most of these grills come with a carry bag, which is specifically designed to store the grill.
If you are storing the grill in one of the bags for an extended period, you need to make sure that you leave a space on the zipper to prevent the metal from sweating.
This is very important as it assists you to avoid the grill from rusting.
Things you can cook with your Teppanyaki griddle plate
Now, you have bought your non-stick Teppanyaki griddle that offers a healthier way for you to prepare. However, what can you cook on your Teppanyaki grill?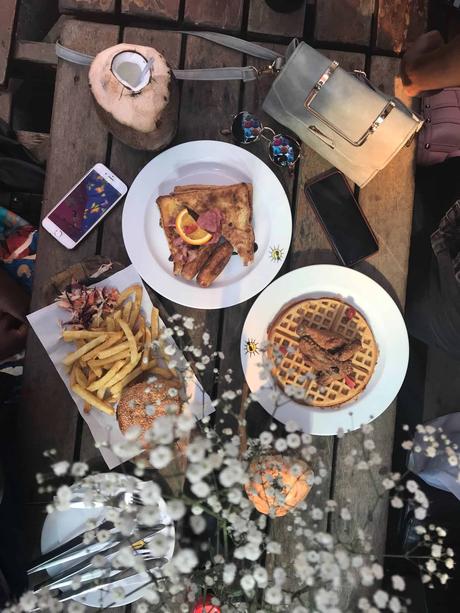 Sausages and hamburgers
A Teppanyaki grill can provide you with a smooth and stress-free way to cook meat for dinner.
Interestingly, you can even prepare hamburgers or sausages so long as you have the grill in your home.
Pancakes
Well, you can't avoid pancakes so long as you have a Teppanyaki grill in your house.
Even though traditional pancakes are delicious, you can choose to prepare a healthier option of an egg and overripe banana with maple syrup if you want to add more sweetness.
Make sure that you cook the pancakes on medium heat, and most interestingly, you can create the size you desire on the grill.
Sunday breakfast
You can cook eggs, bacon, hash browns, and tomato on one surface.
But, you should ensure that you time each item depending on your preference; lightly browned vs. crispy bacon, fried vs. sunny side up eggs, mushy vs. grilled tomato, and crunchy vs. lightly toasted hash browns.
You will always be looking forward to Sundays so long as you have one of these grills in your home.
French toast
A French toast is one of the easiest ways to spice up your morning.
What you need to do is to beat an egg, add some milk, season with salt and pepper (you can add some nutmeg or cinnamon), then soak each side of the slice in the mixture.
Make sure that the bread isn't soggy and then fry it on your grill over medium heat until each side browns.
Skewers and kebabs
With a Teppanyaki grill in your house, you don't need to light up your BBQ just for a few skewers or kebabs.
This grill can provide you with an easy and seamless way of preparing skewers and kebabs for your mealtime.
Steaks
A Teppanyaki grill allows you to cook steaks to your desired preference (well done or rare).
You don't need to worry about the excess juice since it will just drain into the grill's catcher. You can add this juice to the gravy if you want a delicious treat.
Warm asparagus salad
This can be one of the best starters to entertain your guests, particularly if you add Halloumi.
To start, slice your halloumi into preferred portions, and then fry it on medium heat until it browns on each side.
You can serve it with asparagus, lightly toasted almonds, and lemon wedges. This is a straightforward recipe, and you should make sure that you try it out.
Toasted sandwiches
You can choose to coat the outside of the bread with some butter before frying it if you want to prepare a café-style toasted sandwich.
You will realize that cooking the sandwich using your Teppanyaki grill makes it look and taste better.
Turkish bread
Start by slicing 2 cm pieces of the Turkish bread vertically and then apply butter on one side.
Then, place the buttered side on the grill until it turns brown… this is a mouthwatering recipe.
Fried rice
Yes, you can cook fried rice on your Teppanyaki grill. There are various recipes that you can find online, and their outcome will surprise you.
The best tools to use on your Teppanyaki grill
It is important to ensure that you use the right tools if you own a Teppanyaki grill as this assists in ensuring its longevity.
Here are some of the tools that can allow you to use your Teppanyaki grill with ease.
Also, read our complete post on the best tools to get for teppanyaki
Heavy-duty tongs
Tongs are kitchen tools that are designed to assist in gripping or lifting food items or ingredients instead of holding them with bare hands.
Tongs come in different designs, but this depends on their specific usage.
Some tongs are like pincers or nippers, but most of them fall into the following categories:
Tongs with long-arm structures, small-flat and circular ends, and a pivoted joint close to the handle – the design of these tongs allow them to hold delicate objects or food items. Besides, the standard fire tongs used to handle charcoal and placing them over fire fall into this category. Also, pliers used for serving spaghetti and grilling belong to this category. All these tongs are designed in a manner that allows their user to rotate, turn, or move food delicately conveniently. The design also allows the user to fetch a whole serving in one grab.
Tongs are made of one metal band, which is bend round or pliers with two or one bend joined together at their head with a spring. These tongs are knowns as asparagus tongs or sugar tongs. The tongs have a spoon-shaped or claw-shaped end and have a silver color. Their design allows them to serve lump sugar as well as related food items.
Tongs with a pivot or joint located near their gripping ends. These tongs are designed to hold hard or heavy things.
2-tine pot fork
You can use this fork to pick up or hold the meat. The shape of this fork resembles the shape of the regular fork, but it's a bit larger, and its tines are curved outward.
These outwardly curved tines are specifically designed to pierce thin slices of beef. Also, you can use this fork to hold meet steadily as you carve it.
This is a must-have tool for both a commercial kitchen or your home kitchen. Apart from dishing up beef, you can also use the fort to hold turkey or chicken in place.
These forks are mainly made up of stainless steel with an engrossed wooden handle. Pot forks are durable and practical tools to own.
Grill scraper
Grill scrapers are tools used to clear cooking grills. These scrapers clean the grill by scrapping any food particles which stick on the grill's cooking surface.
Teppanyaki grill scrapers come in different designs, and they range from putty knives to more complex tools with a hand protector.
This prevents you from getting burned as you use the grill.
There are other multifaceted variations of griddle scrapers that are more appropriate for professional chefs and cooks. Also, there are other scrapers intended wire grills.
These scrapers have notches at the edge of the blade to fit the grill wires. Well, a grill scraper sounds like a simple tool, but owning one makes it easier to clean your grill.
Grill spatula
This is a long-handled tool that is designed to keep the user's hands from the grill as they use the grill.
Grill spatulas come in different designs which allow you to turn grilled packed hamburgers, pizza, and large steaks.
This is a precious tool that provides ease and comfort for anyone using a Teppanyaki grill.
An ideal Teppanyaki grill spatula should have a good width to handle steaks or pizzas comfortably.
However, it shouldn't be too wide as this can make it hard to handle thick meat or burgers.
5-inch spatulas are suitable for handling large steaks, but they are not ideal for crowded burgers or meat.
3.5-inch spatula variations, on the other hand, are suitable for handling both crowded meats as well as large steaks. 4-inch spatulas provide both support and dexterity.
Griddle stones
These disposable tools are designed to clean, maintain, and protect the surface of your grill with ease and efficiency.
People who always use their Teppanyaki grills need something to keep and clean the grill, and a griddle stone can assist them to do that with much ease.
One good thing about the griddle stones is that they clean grills evenly, and they do not leave any sulfurous odor or taste.
Also, they can last for a long period, but this depends on their usage. Furthermore, the griddle stones are very useful in preventing the surface of your grill from rusting.
The griddle stones come from pumice stone, which is very effective when it comes to removing stubborn grease that builds up in grills.
Squeeze bottles
These assist you to control the ingredients as you use your Teppanyaki grill. Also, they give you the capability to showcase your culinary skills.
The squeeze bottles allow you to put an exact amount of liquid ingredients, and they are very useful when it comes to handling expensive ingredients.
Turner
This is also known as a spatula. A turner, just as its name says, is used to turn food as you cook it on your Teppanyaki grill. Besides, a turner is used to remove or lift food items from the griddle.
Turners are mostly used when preparing hamburgers, bacon, eggs, fish, potatoes, pancakes, and cookies.
It is essential to understand that turners come in different shapes and sizes, and they are also made of different materials.
Stainless steel turners are the cheapest turners you can find in your nearest store. Nylon or silicone-made turners are the best tools when you don't want to scratch the surface of your grill.
These turners are tempered to allow them to withstand the extreme temperature of up to 500 degrees Fahrenheit.
However, it would be best if you exercise extra caution when using your turner as it can melt or warp when you leave it on your grill as you cook.
Most turners come with slots to allow fats and juices to drip through while you use them.
Kitchen shears
These tools are specifically designed to assist you in food preparation since they are more flexible compared to traditional cutting scissors.
Their handles are made of plastic or rubber, and they are textured to allow gripping and cutting quickly.
The kitchen shears have blades with a notch to let the user cut poultry joints without any struggle.
These tools have additional parts like teeth that serve as jar or bottle openers, and screwdriver-like protrusion to help in opening lids.
The blades of the kitchen shears can be detached to allow for easy washing and drying. In addition, the blades are made up of stainless aluminum or steel for durability purposes.
When choosing your shears, make sure that you select shears with a medium opening, just enough to cut food items, but not so wide to cut small ingredients and food items.
Besides, check to ensure that the blades are strengthened to cut hard parts and food items comfortably and efficiently.
Grill basting cover
These covers are designed to keep food moist and warm before serving it. Also, you can use a grill basting cover to protect your grill from greasy splashes as well as to keep the grilling section clean.
This, in turn, assists you to maintain the functionality and cleanliness of your grill.
The basting covers came in different shapes and sizes to fit different sizes of the grills. In addition, they are equipped with heat-resistant handles to prevent the user from burns or injuries while cooking.
Basting covers are made up of durable material, and this means that you can use them for the longest time possible. Furthermore, basting covers can be used in homes and restaurants.
Here are some Teppanyaki pro tips:
Always ensure that your grill is level before you start using it. This allows any grease of juices to drain correctly. To check whether your grill is level, pour one cup of water on one of the corners farthest from the grill drain, and closely monitor to see where the water flows.
It is recommended to use the grill's grease cup accessory if you want to clean your grill easily.
When adjusting the heat on the grill, always change it a bit by bit. It is important to note that the grill's surface heats very quickly and cools slowly.
Apply light oil on the grill before you start using it, and as it heats up. You can either use cooking oil or a grill conditioner.
The grill's surface will continue to darken and antique with every use–you don't have to worry about this as it is normal.
Discolored foods, metallic or rusty taste are an indication of insufficient seasoning or because of cooking highly acidic foods. When this happens, wash the grill thoroughly, and then re-season.
Check out this post about cleaning the flat surface with vinegar
Great Teppanyaki barbecue menus
Barbecues are irresistible, especially when you have a teppanyaki grill in your home.
What you need to do is to fire up your grill, and prepare some of your old-time favorites like sausages, steaks, and burgers.
But, you need to try out something new with your Teppanyaki grill: Japanese street foods.
Well, you might be a bit scared to try them out, but you will be surprised how easy it is to prepare these dishes with your Teppanyaki grill.
In addition, trying these meals gives you the opportunity to impress your family and friends with your teppan skills as well as amazing Japanese foods.
Yakisoba
This is one of the typical Japanese street foods. Yakisoba tastes excellent, it's simple to cook, and it is super delicious.
To prepare yakisoba, you need to stir-fry cabbage, noodles, pork, yakisoba sauce, and carrots together.
You can decide to top this meal with Japanese mayonnaise (vs American which is not the same) and a fried egg for improved taste.
Okonomiyaki
To cook okonomiyaki, you need to mix okonomiyaki powder, water, and cabbage, and then fry the mixture just like pancakes.
You can choose to add seafood like squid and pawn, or noodle and pork in the mixture.
Also, you can add konnyaku in okonomiyaki.
Finally, top the recipe with Japanese mayonnaise and okonomiyaki sauce and the food will be ready to be served.
If you want an extra touch of authenticity, you can add aonori and bonito flakes.
Also read: this is the type of cabbage you'll want to use to make the perfect okonomiyaki
Yokionigiri
This is one of the most common Teppanyaki barbecues in Japan. Its literal meaning is "fried rice-ball.' Yokionigiry is a simple meal, but it needs some preparation.
First, you need to cook short-grain sushi-rice using a rice cooker or boil it in a pan. Then, roll the rice into a ball and then wrap it in a Clingfilm.
Then, add either tsuyu or soy sauce to it and then fry the rice balls on your Teppanyaki grill until it turns brown and crispy.
You can add butter, tuna, or miso to the rice before making the balls for extra delight.
Yakiniku
This means fried meat in Japanese, and it is a common meal in most of the restaurants in Japan, and it is also a simple meal that you can prepare in your home using a Teppanyaki grill.
There are different types of meat that you can cook, and this includes the intestines, beef arteries, and tongue.
The sauce is the special ingredient that makes this meal delicious. Your Teppanyaki grill makes preparing yakiniku very easy.
However, it is important to make sure that you marinate your meat using yakiniku sauce before you start cooking it. Then you can use some additional yakiniku sauce for dipping.
Yakitori
This is one of the easiest barbecues to prepare. First, you need chicken for this meal. Cube the chicken into medium pieces and then skewer it into a kebab stick.
Next, add some yakitori sauce and start grilling. Simple to prepare, right?
These are some of the great Japanese outdoor barbecue ideas that you can try out with your Teppanyaki grill.
Read more about these Teppanyaki grills for induction
Takeaway
I think there's nothing stopping you know from enjoying delicious teppanyaki-cooked foods at home!
If you thought you can only use teppanyaki plates on the outdoor grill, then you're now convinced that you can make all your favorite meats and veggies on a flat griddle right there on the stovetop. 
Since you can find plates of all sizes and materials, you can start enjoying Japanese food even when the weather outside is rainy or cold. 
If you start off with the Homenote griddle, you can start cooking that much-craved teriyaki or yakitori! Plus, you won't be wasting time cleaning up this smooth griddle. 
All you have to do now is turn on the stovetop and prepare to feast on yummy dishes!
Read next: these are the top 4 need-to-have knives when cooking Teppanyaki