If your eyes are deep brown, you probably have a hard time finding colored contacts for dark eyes. A lot of non prescription natural colored contacts are very translucent, and that doesn't work out well for people with dark eyes. The key is to find lenses that are opaque enough with the right sized pupil opening. This will prevent your eye color from showing through. You may want to try different tactics when choosing different colors, and we'll explore what you should do when selecting contacts in a variety of shades. It's absolutely possible to find colored contacts for dark eyes.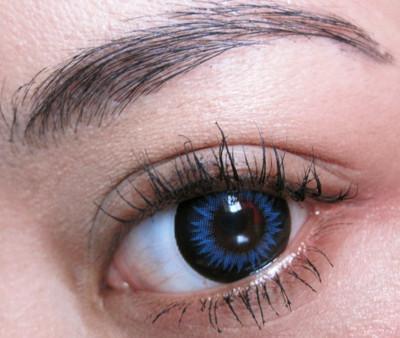 BLUE COLOR CONTACTS
Blue contacts are among the hardest to find, especially if you want natural looking contacts. Going from dark brown to blue is a huge jump. Since blue is so light, you need a contact that's very opaque in order to prevent as much brown from showing through as possible. Select blue contacts with a more pronounced limbal ring. This will assure that brown doesn't peek through the circular edges of your iris. The black ring will also create a greater contrast, allowing the blue to appear more vibrant. Try to stay away from powdery blues, which are the least likely to look realistic on dark eyes. Go for sapphire shades, or rich blueberry tones for the most natural looking contacts. 
Recommendations:
Geo Xtra Bella Blue 2 Tone Circle Lens WBS202

Geo Xtra Blue 2 Tone Circle Lens WTB62

Geo Xtra Aster Blue 2 Tone Circle Lens WTC12

Full list of Blue Colored contact at CircleLensesUSA.com
GREEN COLOR CONTACTS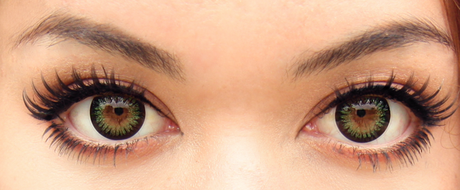 Green is one of the best shades of colored contact lenses for brown eyes, as long as you're selecting the right shade of green. Mint or lime shades are less than ideal if you want natural colored contacts, but there are a variety of green contacts that will look natural. Deep olive tones will blend well with brown eyes, and if your natural eye color shows through, it will simply appear to be accentuating tones. Deep emerald shades won't look as natural, but they're easier to blend in. On dark brown eyes, you can effectively use a medium opacity green. If your eyes are brown with amber tones, you can go for shades of green that lean a little more on the jade side. Jade complements golden tones.
 

Recommendations:
GEO Princess Mimi Apple Green WMM303

Geo Xtra Bella Green 2 Tone Circle Lens WBS203

Full list of Green Colored contact at CircleLensesUSA.com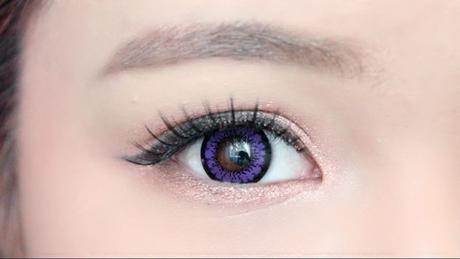 VIOLET/PURPLE COLOR CONTACTS
Violet contacts are excellent for people who aren't searching for a natural look, and they're the easiest unnatural shade to blend with dark brown. Unlike light shades, such as yellow or pink, you're able to utilize the undertones in violet contact lenses to your advantage. Most dark brown eyes have a red undertone, which means that that particular tone of brown falls under the red umbrella of the color spectrum. Since purple is a mixture of red and blue, you'll want to find purple contacts that have a little more red than blue in them. This will help them blend into your natural eye color. Violet contacts that are too blue will look strange on dark brown eyes, as the level of contrast will cause the area around the pupil to be very obvious.
Recommendations:
Geo Super Angel Violet Circle Lens XCM211

Geo Xtra Bella Violet 2 Tone Circle Lens WBS201

Geo Xtra Aster Violet 2 Tone Circle Lens WTC11

Full list of Violet/Purple Colored contact 

at CircleLensesUSA.com

GREY COLOR CONTACTS
If you're dreaming of light, misty gray contacts, you may have some trouble. Unless the lens is extremely opaque, natural looking gray contacts for dark eyes are hard to find. If you're interested in a dark, steel gray, you won't have any trouble at all. Since dark colors won't make a huge difference from afar, you'll want to select gray contact lenses with a darker limbal ring. Giving the gray a black band to contrast against will make the gray pop out a little more. Gray lenses that have wisps of black that run throughout the colored portion of the lens are the easiest to blend with your natural eye color.
Recommendations:
Geo Xtra Bella Grey 2 Tone Circle Lens WBS205

Geo Super Angel Grey Circle Lens XCM215

Geo Xtra Aster Grey 2 Tone Circle Lens WTC15

Full list of Grey Colored contact 

at CircleLensesUSA.com

BROWN COLOR CONTACTS
Brown contacts on brown eyes are really hard to get wrong. If you're looking to enhance your eyes with natural looking contact lenses, you can dramatically change your appearance by using brown contacts on dark eyes. There's no point in getting colored contact lenses that are going to match your eyes exactly, so you'll want to find a lens with different tones. You have a huge variety of options in this department.
If your eyes are very dark brown, getting amber lenses will add new dimensions and light to your eyes. Even if they aren't opaque lenses, brown contacts with different flecks on top of your dark brown eyes will give them a brightening radiance.  You can choose amber, honey, or golden undertones to make your dark brown eyes dazzle.
You may also be choosing brown lenses because you're looking to change the size of your eyes. If you're only looking for a dolly eyed appearance, select contacts that are the same color as your eyes, but have a large diameter. You can also select a large diameter lens with different tones if you're looking to get the best of both worlds.
Recommendations:
Geo Xtra Brown 2 Tone Circle Lens WTA64

GEO Princess Mimi Starmish Brown XKP304

GEO Big Grang Grang Brown Circle Lens WHC244

Full list of Brown Colored contact at CircleLensesUSA.com
What Do You Think?
What are your favorite colored contact lenses for dark eyes? Are you looking to try blue, green, gray, violet, or simply a different shade of brown? Check out our recommendations and tell us about your favorite lenses. Let us know if you want us to add another color review. Share your tips about colored contact for dark eyes with others in the comments section below. We will GIVE AWAY lenses to the helpful comment(s).
Check out our lenses By Color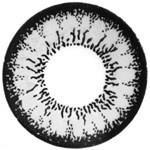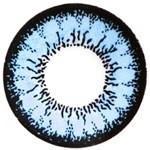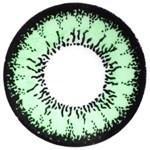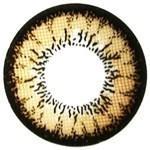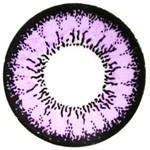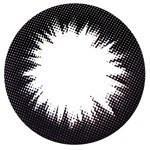 Grey
Blue
Green
Brown
Violet
Black