This year, for the 4th Annual Halloween Party, we celebrated by "hanging out" with a great group of dressed up friends!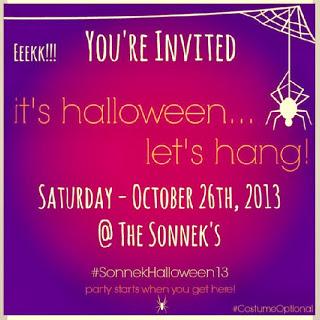 With more than 20 dressed up friends, it made for another year of really fun Halloween costumes! I do admit I had "costume optional" on the invite, but really... who would even think about attending a Halloween party, hosted by me, sans costume!?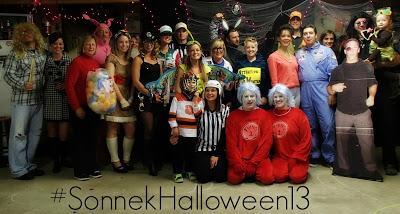 In preparation for the party, I spent all day Friday decorating the garage, with an overall theme of "spiders and webs" just keeping it consistent with this year's invite. I went to bed, early that night, feeling prepared and ready to party host!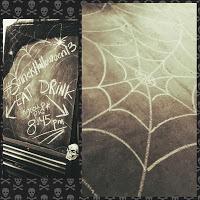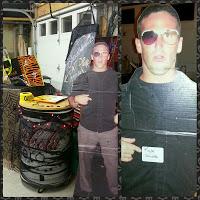 [chalk art :: cardboard kyle]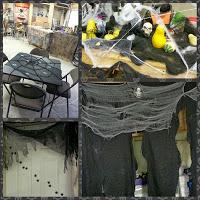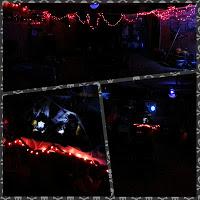 [lights on :: lights out]
For food, we had a variety of snack options for food. Along with more than enough adult beverage, we provided Hot Apple "Spider", Deviled Eggs w/ black olives spiders, Taco Dip and Spicy Guac via the "barfing pumpkin".  Everyone else was so nice in bringing MORE food, snacks and treats to add to the mix- we had more than enough food for everyone to enjoy all night.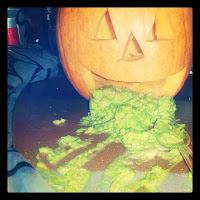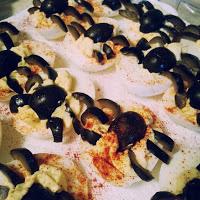 [the pumpkin & egg ideas I found on pinterest and were too cute to NOT try.]
While trying to get food out & before guests started to arrive I had to get myself into the rest of my costume and more importantly get Avrie dressed. Avrie was SO excited to have Logan here to play with for a little while and as I mentioned in costume post, Avire was excited to show of her costume!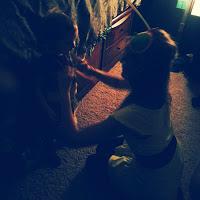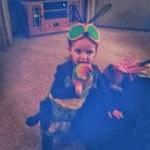 [getting ready :: ready to party!] 
While trying to equally visit with everyone, I waited as long as possible to get an entire group photo. We knew the Buxton's were on their way, but I REALLY wanted to make sure I got a good group picture before a few friends headed out. The Buxton's ended up arriving moments AFTER the picture, but I included a picture of their creative/funny/slightly creepy [but in a good way] really great costumes, see #6 below.
I tried to get pictures of everyone but while trying to keep track of Avrie, my camera and my drink... taking pictures was the last thing on my list. I need to get better about having someone in charge of photos! It's also hard committing to the decision of "do i take all pictures with my phone or do i use my point and shoot!?" I know... these are REALLY big issues...moving on... The creativity this year, was AWESOME! We had great couples costumes, great mom & kid costumes, family costumes, some story costumes, pop culture costumes and of course the classics.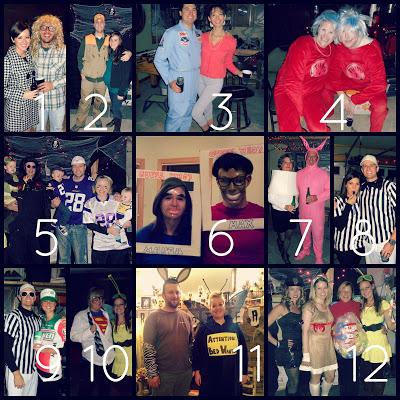 [a closer look at all of our guests in costume][pics; 1, 3, 6, 7, 8, 9 & 11 i borrowed from facebook- thanks friends!]1. Chicken as: Wayne's World's "Garth" & his date "Twiggy"
2. Jeff & Diana as a Hunter and [no costume needed] 36wk pregnant wife [aka the DD]
3. Tim & CTina as: an Astronaut & YouTube's "Prancerciser"
4. Jamie & Christian as: Dr. Suess's "Thing 1 & Thing 2"
5. Aaron & Avire as: "Ozzy" & "The Very Hungry Caterpillar" w/ The Stevens aka a Viking Fan Family
6. The Buxton's as: the game "Guess Who's" Maria & Max
7. K & J as: A Christmas Story's "Leg Lamp" & Ralphie as "The Bunny"
8. Hammer as: a Hockey Ref
9. R & R as: a Blind Ref & a 7-11 worker
10. BRIDget as: "Clark Kent"
11. Ben & Lana as Hayward's Z-Donk! & and Bed Bug
12. Erika- The Cop, Leah- The Sock Monkey, Mom- a Bag of Jelly Belly Beans & Me- the Butterfly
After the group photo and saying goodbye to a few who had parted ways, next on the agenda were the games! I swear someday I am going to throw REALLY fun kid parites! hahaha  The games I had planned required a little bit of space so we moved out to the CHILLY polebarn for a 3 team 'Spider Relay', 'Spider Web Shooting' & (like last year) the hilarious 'Pumpkin Seed Spitting'.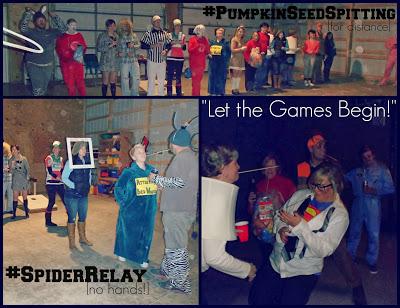 [spider relay took only two rounds to determine a losing team, 
that would be.... team 2!]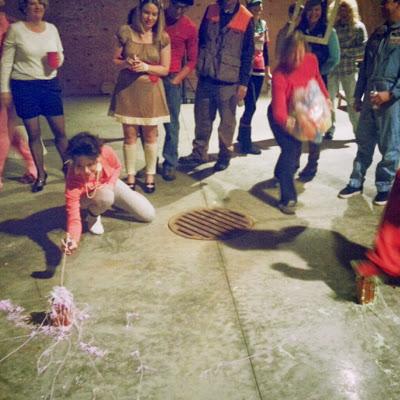 [the silly string aka web shooting was a TOTAL FAIL! but this only made it more funny...]
After we all had enough of the cold, we determined and photographed our WINNER, or ALL events! If you recall last year, Buxton won EVERY game. Well, THIS YEAR we have a new champion and AGAIN a winner of EVERY GAME! Ben aka Z-DONK took victory in leading his team in the spider relay, successfully being the 1st to knock his spider from KUBE with the silly string and spitting his pumpkin seed ALL the way across the entire garage, hitting the back way! Atta boy, ben!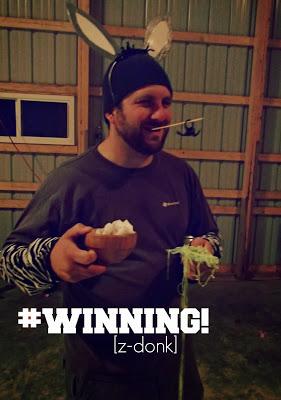 [serious competition]
As if winning all of the games wasn't enough, Z-Donk also won the costume contest. It had been a tight race between him and Christina aka Prancerciser [if you have NO idea who/what that is, YouTube is right now!].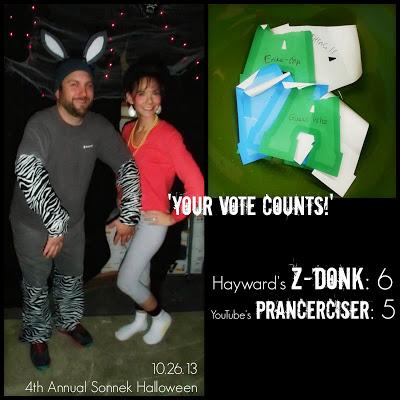 [instead of aaron and i picking a winner, 
we went with a secret vote]
All in all we had a fun party, with some welcomed, late night arrivals and a few overnight guests as well. I had a great time being the usual frantic host that I always am. I tend to really worry about everyone having a good time, making sure there is enough food for everyone and making sure no one goes without getting at least ONE of the famous frozen Pudding Shots. These bad boys are made my my Mom. I am thinking I will need to sweet talk her into making a quadruple batch next year. The supply & demand never seem to match up, no matter our group size!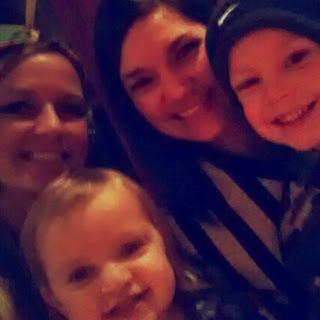 [selfies w/ my besties! above & below]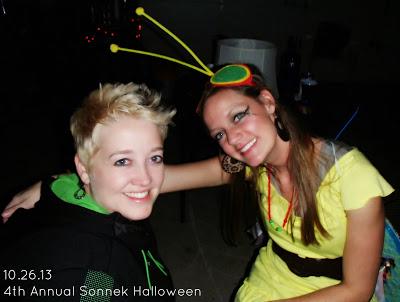 Unlike years in the past, we skipped out on going to the bar for an "after party". A couple reasons being, we didn't have a sitter to stay back with Avrie while she slept AND with running the Monster Dash that morning we had been awake since 6am! Before we knew it the clock said that it was 2am when we headed off for bed. It had ended up being a pretty busy day of litteraly running around!
 But before bed- we had to capture a few of the late night sillies...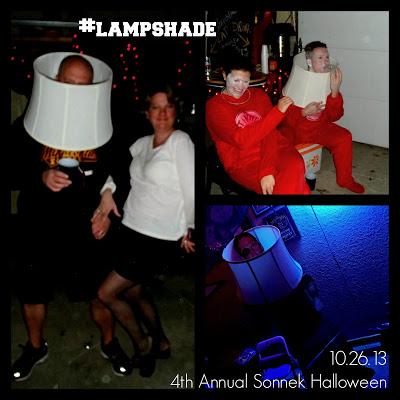 [late night pics are the best!whats that saying about a lampshade on your head...]
I always have ideas for next year and can't wait to host The Sonnek's 5th Annual Halloween Party! If you missed out this year, I sure hope that you are able to make it next year. Until then, scary on!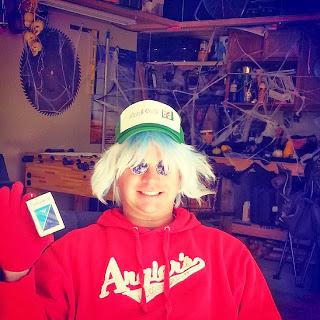 p.p.s. [post party script] we had a GREAT collection of "halloween lost &found" 
after our party cleanup the following day.