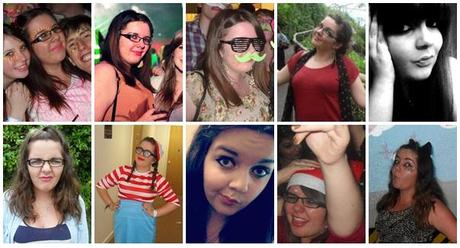 1.  My name is really spelt Kelli on my birth certificate. A lot of people don't believe that is and would rather assume that I'm trying to look 'cool' using an i, but my dad decided giving me a weird spelling was the way forward...cue years of confusion and misspelt names!
2. I had blue eyes until I was 5, then they randomly became green overnight.
3. I am originally from Coventry in the West Midlands, but moved to Bristol in the good 'ole West Country in September 2011 when I started university. I now split my time between both cities.
4. I study Biomedical Science at university, where I am currently in my second year
5. Aside from studying, I have a part time job in retail (you can guess which shop...I work in their second biggest store in the UK)
6. I collect anything owl related. Cushions, knickers, pyjamas, candles...you name it, I probably have it!
7. I've only had one 'serious' relationship in my life, which lasted almost 3 years. My love life since we broke up when I was 17 has confusing to say the least.
8. I am a published poet and journalist.
9. I can't do handstands or press-ups
10. I once represented the UK at a world karate tournament and came 6th in my category
12.  I have 7 piercings - 6 x lobe and 1x helix. I want to add one more helix piercing and get my navel done (once I've lost weight), then I'll be satisfied
13. I own over 60 pairs of shoes, and that's with me practicing A LOT of self control
14. I have two nieces and a nephew - Auntie Kelli is the best kind of Auntie.
15. I've worn glasses since I was 7 (only permanently since I was 12). I'd love to try contacts but I 110% hate putting anything near my eyes - it took me a couple of years to not flinch when applying eyeliner!
16. I listen to all sorts of music, from Blink 182 to McFly to Alexisonfire to The Smashing Pumpkins, all the way through Beyonce and Bombay Bicycle Club.
17. The furthest I have traveled is Australia, and I intend to go to every continent in between.
18. I took German, Latin, Geography, History and Drama for my GCSE options.
19. I have 4 A Levels in Biology, Chemistry, German and Mathematics, and an AS Level in History. I also randomly did an Open University short course in Forensic Science at sixth form (goodness knows why, I was busy enough!)
20. I love anything cherry flavoured, with my main vice being Cherry Coke
21. I've been a member of Girlguiding UK since I was 7 (all the way back in 2000, woah) and have been a Brownie, Guide, Ranger and Young Leader. My highlight of my time in the organisation has to be when I was chosen to represent my region on a trip to Australia in 2010.
22. I can't write notes in one color - I am definitely a very visual learner as my notes look like a rainbow of bright colours and diagrams
23. I've never broken a bone *touch wood*
24. I used to be terrified of the hairdressers and when I was 7, attempted to cut my own hair to avoid an appointment. Safe to say, it was a disaster.
25. I asked for a provisional license and driving lesson money for my 17th birthday 3 years ago, but am yet to actually have a lesson - I am genuinely terrified of the idea of being in control of car but really want to learn to drive. It's a stupid irrational fear and I need to get over it!
26. My thumbs are really stubby and wide. I absolutely detest them and do anything to hide them when I'm in a situation where people can see my hands.
27. I have completed my Bronze, Silver and Gold Duke of Edinburgh awards.
28. My man crushes are Joseph Gordon-Levitt, Olly Murs, Dallas Green, Paul Rudd and a plethora of other men I can't think of right now!
29. My girl crushes are Emma Stone, Rita Ora and Mila Kunis.
30. I only wear high heels if they're super high, as I have a bit of a complex about my height, despite me being 'average' height.
31. Despite that, I have only ever dated men over 6 feet tall.
32. I worked up to my 5km distance and Challenge Honours swimming badge before having to quit lessons.
33. I've tried all sorts of sports and activities over the years. I was on the school netball and athletics teams (throwing discus) and have tried thing like caving, abseiling, gorge walking, kayaking, grass sledging and all other random outdoors-y things.
34. I've never had a pet.
35. I'm the baby of my family - I have an older brother and sister.
36. I love going to as many gigs as possible. My favorite ones so far have to be Blink-182 last summer, Foo Fighters at Reading 2012 and New Found Glory when they played some intimate shows back in 2008.
37. I was in the same citizenship class at school as a Britain's Got Talent finalist (haha)

38. I want to go into medical research once I graduate and (hopefully) embark on postgraduate study
39. I was the only girl in my student house in the first year of university, and will be again in my third year.
40. My left ankle always clicks when I twist it around - I like to do it to make people shudder
41. If we're out, a glass of rose, a SoCo and Coke or a gin and cranberry juice will keep me happy.
42. During my first moshpit experience, I lost a shoe and spent the rest of the night with one naked, bruised and battered foot. I learned to never wear dolly shoes to a gig again.
43. I always wear the ring and necklace I got for my 18th birthday and feel naked without them
44. I cannot leave the house without my iPod, and will sacrifice my timekeeping skills in order to find it before I go somewhere.
45. I get horrendously agitated if piles aren't straight.