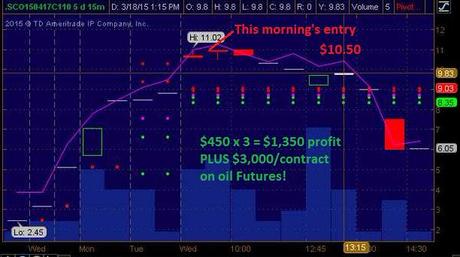 Over $4,300 in one day.
Not bad for sitting at a computer, right?  Yesterday morning, at 9:37, we sent out a Top Trade Alert to our Members (which comes via Text and Email as well as in our Live Member Chat Room) to take advantatage of the morning plunge in oil to $44 a barrel on the May contracts. 
We had, of course, been discussing oil trades all week but it's always special when we make something a Top Trade Idea and this was the moment we had been waiting to take advantage of, when the rollover of the April contracts caused a panic sell-off at the NYMEX ahead of an inventory report that was expected to be disappointing – a perfect storm!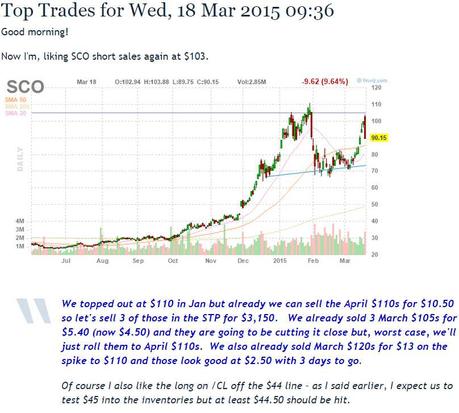 That caused us to send out this Top Trade Alert for SCO, where we sold 3 of the April $110 puts for $10.50 (chart above) as well as a long entry on /CL (oil Futures) at $44.  After the Fed announcement, we had oil at $47 for a $3,000 per contract gain and the 3 short SCO contracts that paid us $3,150 in the morning were available to buy back in the afternoon at just $1,800 (+42% on the day), for another $1,350 gain.
That's $4,350 of that single Alert in a single day – not bad!  Of course we have no reason to buy back the short SCO calls and we expect to make another $1,800 on the trade between now and April 15th (contract expiration) but we took the money and ran on the volatile Futures trade.   
Unfortunately, not everyone can trade the Futures so, at 10:14, we sent out a second Top Trade Alert to allow our Members to take advantage of the oil lows with the following trade ideas:
I like UCO July $5/9 bull call spread at $1.35, selling the Jan $5 puts for $1 for net 0.35 on the $4 spread.  

USO has less decay so safer to sell puts on though there is some decay over time.  Jan $13 puts can be sold for $1.25 to pay for the UCO play or you can establish a similar spread in July with the $14/18 bull call spread at $1.85, which would be net 0.60 if played with the short puts.  

Oil may still have a bit more to fall but, if it doesn't, you might miss one hell of a buying opportunity so I'm for scaling in at these levels (now $44.25 on /CL).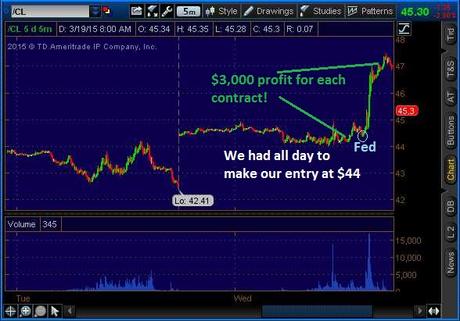 UCO is an ultra-long ETF for oil and USO is a straight ETF.  By the day's end, USO was up 5% and UCO was up 10% and the UCO spread was up to net 0.71, up over 100% on the day and the USO spread closed at $1.03 – up 72% for the day.  
Why did those trades work so well?  Because we followed PSW's Rule #1:  ALWAYS sell into the initial excitement!  When people were panicking out of oil positions the price we were able to ask for the short puts shot up and we were able to sell for a good premium.  Similarly, the in-the-money calls we bought were dropping fast while the out-of-the-money calls we sold held more premium.  

It's just that simple, we used our basic "BE THE HOUSE – Not the Gambler" techniques to turn other people's panic into our opportunity, giving us a chance to double up on our cash in a single day.  
I know a lot of newsletters CLAIM to have great performance but how many of them tell you SPECIFICALLY what trades they like BEFORE they happen so you can see for yourself how well they perform?  We talked about going long in /CLK5 in yesterday's morning post, which was in our subscriber's mailboxes at 8:26 am.  We also REMINDED people that we had already gone long on USO and UCO in Tuesday's FREE Live Trading Webinar (replay available here) and those, my friends, were the same trades that made the above gains.  
To get our PSW Report, pre-market every day, use this link to add a subscription.  It's only $2 a day and we made our readers $4,350 yesterday, so a good value, for sure!  You can also use that line to get yourself a Top Trades Membership but that pushes you over $3 a day – so it's not for everyone.  
If you are an active trader in the top 1% (or trying to get there), we do have some spots in our Basic and Premium subscriptions available but they will closing no later than May, as we're projecting to be over our limit into the Summer.
Meanwhile, we'll see how all this nonsense around the Fed plays out but it looks to me like we're forming a dreaded "Golden Arches Pattern" on our indexes, and that will bring us back to the late January lows in the next 30 days so please – be careful out there: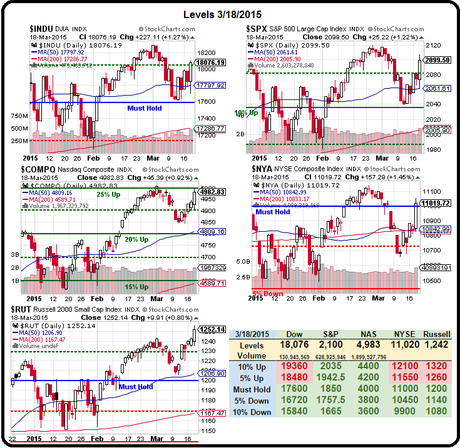 Do you know someone who would benefit from this information? We can send your friend a strictly confidential, one-time email telling them about this information. Your privacy and your friend's privacy is your business... no spam! Click here and tell a friend!