TAKEAWAY: This is part 12 of my occasional series 40 Years/40 Lessons, which I call a "sort of career memoir" capturing highlights and reminiscing about what has been a spectacular journey for me, doing what I love most.  Today's segment: all about the importance—-and sometimes fun—-of adapting.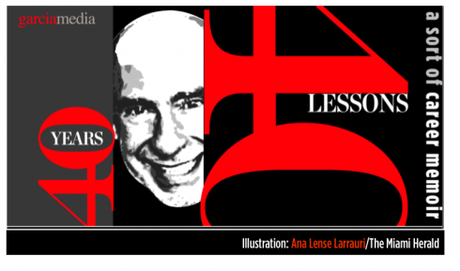 Illustration by Ana Lense Larrauri/The Miami Herald


My frequent incursions into the world of iPad apps, and my recent publication of the blog segments I call TheiPadLab are prompting many favorable responses, and I am appreciative of all your comments and suggestions.
A person just wrote me that "this should be turned into a book, Mario, so that journalism schools can use it in their courses."
In fact, another academic asked a timely question: "Mario, I teach at an American journalism school—-where do you see a unit about news iPad app concepts applied?"
(My answer: forget creating an iPad unit, teach it to everyone in journalism school.  Those students are going to be writing, designing and producing for a tablet publication.  I would start with a unit in basic reporting and continue it all the way to editing/design.  And, by the way, those graduate students who missed out on such teaching as undergraduates, must be exposed, too).
However, three different emails from various parts of the world hit upon a subject that has me thinking: adaptability. This has inspired this segment of 40Years/40 Lessons.
Everyone who knows me is aware that I am 64 years old, with a long career mostly in print, so they "praise" my efforts "adapting" to the world of digital communications, and, particularly my great interest in iPad apps and helping news organizations to create them.
Adapting, that is the key word here.
Nothing too difficult to do when you are a storyteller——which is what I trained to do and what I continue to do and probably will do till the end.  As a storyteller I now have the greatest tool for telling stories: the iPad .It is one that I like, find easy and functional, and, most importantly, one that is likely to become more popular and about which we must learn as much as possible.
Adapting has many shades.
There is adapting to survive, a part I know well.  At the expense of returning to what my children refer to as "refugee stories" (they have heard their share of them from me, their mother and two sets of grandparents), I know exactly what it is to adapt to survive in a country where you arrive with nothing, do not know the language or the customs and must move forward to become a useful citizen.
There is adapting to preserve a situation or a job.  No need for explanation here.  I have encountered masters of decades-old adaptation in jobs they hated, with bosses they despised, and for reasons that always escaped me.  Many bad marriages and partnerships are also strangely based on adapting to preserve what should not be preserved. This is when adapting is easier than the alternatives. Sad.
There is adapting with a sense of purpose, riding the wave with the enthusiasm of those young surfers, and doing it with a smile on your face.  That is the place where I find myself as we turn our attention to all things digital, and to iPads and other tablets.  Adapting means NOT lamenting but celebrating.  Adapting also means tackling the next chapter with the same enthusiasm we tackled every previous chapter—-or perhaps more.
Adapting must be genuine to be carried out with energy and enthusiasm.
Indeed, part of life is adapting, sometimes to little changes, often big ones.  In our industry at this moment, adapting is a necessity.  Not just adapting to survive necessarily, but adapting to improve one's game and opportunities.
Adapting without regrets or looking back.
In fact, if I have any regrets is not to be 29 years old, to have more time ahead for all the positive adapting that seems to be in store.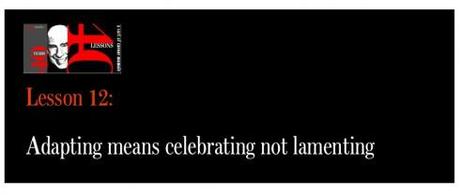 1.Mirrors.
http://www.garciamedia.com/blog/articles/40_years_40_lessons_1—a_look_in_the_mirror
2.Refugee.
http://www.garciamedia.com/blog/articles/40_years_40_lessons_2—refugee
3.Teacher.
http://www.garciamedia.com/blog/articles/40_years_40_lessons_3—teacher/
4.Mentors.
http://www.garciamedia.com/blog/articles/40_years_40_lessons_4—mentors/
5.Consultant.
http://garciamedia.com/blog/articles/40_years_40_lessons_5—consultant/
6.Eagle.
http://garciamedia.com/blog/articles/40_years_40_lessons_6eagke
7.Abroad.
http://garciamedia.com/blog/articles/40_years_40_lessons_7._abroad
8. Books
http://garciamedia.com/blog/articles/40_years_40_lessons_8_books
9. Luck
http://garciamedia.com/blog/articles/40years_40_lessons_9_luck
10. Positive.
http://garciamedia.com/blog/articles/40_years_40_lessons_10positive
11. Culture
http://garciamedia.com/blog/articles/40_years_40_lessons_11_culture
TheMarioBlog post #744