TAKEAWAY: This is part 17 of my occasional series 40 Years/40 Lessons, which I call a "sort of career memoir" capturing highlights and reminiscing about what has been a spectacular journey for me, doing what I love most.  Today's segment: all about taking a daily mini vacation (or two).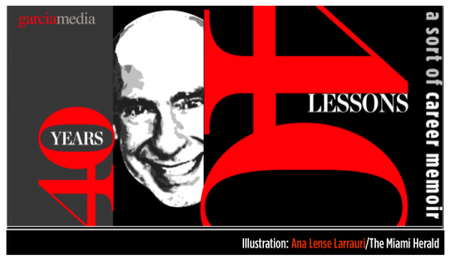 Illustration by Ana Lense Larrauri/The Miami Herald
-

Here I was one early morning two days ago near my house, taking a photograph of a bunch of white ducks enjoying the sun by the side of the Hillsborough River, when my neighbor Susan spotted me and asked: Mario, what are you doing?
Taking a mini vacation, I answered her.
What's a mini vacation?, Susan asked me, her face showing surprise.
That is the question people usually ask me when I tell them I am ready for one, whether it is at 11 in the morning or 5 pm.  I have cultivated the art of the mini vacation for so many years I can't recall when I took the first one.  No reservations needed.  No passport. No ticket. No shopping required to prepare for this most special of times: the one you spend with yourself for 15 minutes, or a half hour,or, if really to truly relax, a full hour.
But mini vacations are never longer than that, or half the fun would be fun.
Mini vacations can be the cheapest source of stress reduction.
True, the concept of a vacation—-for most of us—-is one that is planned for a certain time of the year, with plans to take off for exotic beaches, or skiing resorts, or bustling famous capitals like London or Paris.  The mini vacation is seldom mentioned in holiday brochures.  Travel agents don't get commissions when you take mini vacations.  It is only flights of fancy that you take, if you wish.
Ok, now you are curious about the mini vacation, so I tell you all about it: it is a daily ritual where you engage in something you like to do very much and usually involves nobody else (although not necessarily), but that provides the immediate satisfaction of something to look forward to in the midst of what becomes a more stressful and agitated time for many of us.
There is nothing ordinary or repetitive about mini vacations——not if you let serendipity play a role.  The mini vacation sometimes finds you.  Don't ignore it when it appears.
For some, a mini vacation is the time they decide to step out into the sunshine and walk twice around the block, to get some fresh air, before returning back to the office.  For others, a mini vacation may be catching up with that page turner of a novel, or it could be sitting down to enjoy a small bag of M&Ms without any interruptions.  The mini vacation is NOT an ordinary, scheduled break for coffee in the morning or tea in the afternoon. Not at all. Mini vacations are not scheduled, but once you get used to taking them, they sort of remind you when it is time for one.
They become addictive.
When did I discover the enjoyment of mini vacations?
I remember it well. I was a Ph. D. student at the University of Miami in the 1970s.  I also had a full time job as a journalism instructor at Miami-Dade College, and taught a Spanish 101 class at the University of Miami (as a graduate assistant) twice a week.  I was also a family man and the father of 3 children, on the way to 4.  Real vacations—-the type one takes in July or August—-were out of the question and of our financial reality.  But, alas, mini vacations cost nothing.
I had several types of mini vacations that became my detours in the midst of a highly stressful, busy time:
—Sometimes I would disappear for 20 minutes, never longer, to a section of the University Library that displayed rare books—-none of them dealing with the subject of my doctoral dissertation, of course.
—Sometimes I would walk through the Art Gallery if a special exhibit caught my interest.  I remember that I never had the time to see the entire exhibit, so I would do a 15 minute gallery walk, and it would return me to my studies refreshed and inspired.
—Often the mini vacation was to sit down under the palm trees in the beautiful Coral Gables campus of the University of Miami and eat two Fig Newtons, as simple as that.
I learned that these interruptions recharged me.
It was one of those things that I learned to practice in graduate school and which I attribute with keeping me alert and driven in a crazy world.
Today, the mini vacation is still very much a part of my life.
With my body moving from place to place almost constantly, many think that my life is already one big exotic vacation.  I do not complain at all about the interesting places that I visit, but I remind my friends that it is all done for work, which I enjoy very much, but which has nothing to do with vacations.
However, the mini vacations, those daily interludes, are most enjoyable.
In the past few weeks, I have been monitoring my own mini vacations, sometimes twice a day, as I was planning to write this segment.  Here are some of those moments:
-Between meetings and after lunch one day, I took a two-stop train ride in a major city, so that I could photograph the inside of a double decker passenger car for my grandson who is fascinated by trains.  Time spent: 18 minutes.
-Attended a segment of a sushi making demonstration on the way back from work to the hotel—-16 minutes.
-Stopped (without appointment) to have my beard trimmed by an expert barber. (20 minutes)
-Went into an antique shop and sampled LIFE Magazines from the 1950s and 60s (10 minutes)
-Stopped to listen to the street saxophone player doing a wonderful rendition of What's New== a song that my saxophone player dad used to play so well.  Here was a combination mini vacation and reminiscence. (12 minutes, including a short chat with the street musician)
—Saw a beautiful cat with three of her kittens in tow.  Friendly mother cat she was. I petted them. I am a cat lover.  (Five minutes)
At home, my mini vacations are more directly involved with the grandchildren, seeing the world through their eyes, exploring their interests then joining them as they discover things.
The ultimate mini vacation is brief and it never involves anything that is related to the regular activities of the day. It is, indeed, an intermission, something to look forward to, totally doable if one applies himself, more reality than fantasy, but full of surprises and enjoyment.
And, although I must admit that it is not always a mini vacation, sometimes writing this blog becomes my mini vacation.
Try your own mini vacation. Search for those things that take little time, are enjoyable, and that can be accomplished with a minimum of effort and which provide the greatest satisfaction.
Only yesterday, I had one of those deliciously nostalgic Fig Newton mini vacations. They tasted as good as when I was a graduate student.
Did I mention that sometimes the mini vacations make you feel young?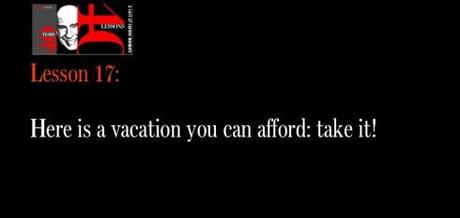 1.Mirrors.
http://www.garciamedia.com/blog/articles/40_years_40_lessons_1—a_look_in_the_mirror
2.Refugee.
http://www.garciamedia.com/blog/articles/40_years_40_lessons_2—refugee
3.Teacher.
http://www.garciamedia.com/blog/articles/40_years_40_lessons_3—teacher/
4.Mentors.
http://www.garciamedia.com/blog/articles/40_years_40_lessons_4—mentors/
5.Consultant.
http://garciamedia.com/blog/articles/40_years_40_lessons_5—consultant/
6.Eagle.
http://garciamedia.com/blog/articles/40_years_40_lessons_6eagke
7.Abroad.
http://garciamedia.com/blog/articles/40_years_40_lessons_7._abroad
8. Books
http://garciamedia.com/blog/articles/40_years_40_lessons_8_books
9. Luck
http://garciamedia.com/blog/articles/40years_40_lessons_9_luck
10. Positive.
http://garciamedia.com/blog/articles/40_years_40_lessons_10positive
11. Culture
http://garciamedia.com/blog/articles/40_years_40_lessons_11_culture
12.Adapting.
http://garciamedia.com/blog/articles/40_years_40_lessons_12_adapting1
13.Dreams.
http://www.garciamedia.com/blog/articles/40_years_40_lessons_13_dreams
14. The Pitch.
http://www.garciamedia.com/blog/articles/40_years_40_lessons_14_the_pitch
15.. Ethics
http://garciamedia.com/blog/articles/40_years_40_lessons_15_ethics/
16. Time
http://garciamedia.com/blog/articles/40_years_40_lessons_16_time
TheMarioBlog post #904