Some real fans go crazy sometimes to show their love to their favorite artists,  bands, and idols. Everyday, you meet a lot of people with tattoos for Pink Floyd, The Beatles, etc. And such things are getting more "okay" with time.
However, as as more "adults" show off their tattoos for the old artists, teenagers are more declined to ink their bodies with the now-famous artists and singers. For example, it would be completely fine to see a teenage boy with a tattoo for Lady Gaga, or a girl who has inked her body with a picture for Justin Beiber or One Direction. But the 40-year-old Carl McCoid decided to over do it.
Not only McCoid has inked his body with tattoos for Miley Cyrus, he has 21 tattoos!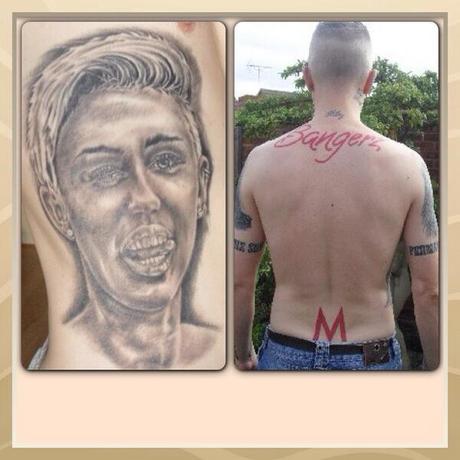 Some of the tattoos that McCoid has are a huge "BANGERZ" written across his back, a big "M" inked at the bottom of his back, and the star's name written in gothic typeface on his chest.
And his latest tattoo is a black and white portrait of Miley.
What do you think? Feel free to comment.
Blessed Be )O(
33.888629
35.495479