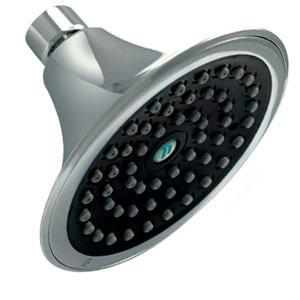 When my wife and I decided to move closer to her family and leave Colorado, it was an immensely difficult decision. In fact, it was so hard we couldn't let go of our condo to sell it. It was our first home as a married couple and where we brought both of our sons home from the hospital (which was across the street). When we brought our eldest home, I was planning on walking home with him in the stroller, which struck the staff at the hospital as odd. I acquiesced and drove, it was February after all, but with our second child, we walked home.
We updated various parts of the home to be more eco-friendly. Among the updates were bamboo floors, which look great, but have not been the highest quality and were not expertly installed. We put ceiling fans in both bedrooms and the living room. Last year, I received a low flow shower head to review and installed it in the main shower. It was with this in mind that I wrote this post.
I left the shower head in place so the tenants (a former coworker of my wife's and her husband) would have it, knowing that we would do our best to take short showers anyway. Apparently it was in vain. Recently there was a leak in the shower with the low flow head. It came out that the tenants took 40-45 minute showers, completely nullifying the effect of a low flow shower. My wife and I are dumbfounded. Anyone taking a 40+ minute shower (they claim that one of them showers then the other gets in right after) seems like an anachronism to me. Growing up in Los Angeles where drought is more a way of life (it's in a desert for Pete's sake) than an anomaly, short showers are just what you do. I'd venture to say its not just the LA effect. People have taken shorter showers for decades. For those who don't follow us, the condo is in one of the driest places in the country, Colorado. It's a high desert.
It's been a few weeks since we found out about the abnormally long showers. My sincerest hope is that the length of these showers comes to represent not the new normal, a return to the profligate ways of our past, but rather a new abnormal, a situation that is deemed outside the acceptable range.