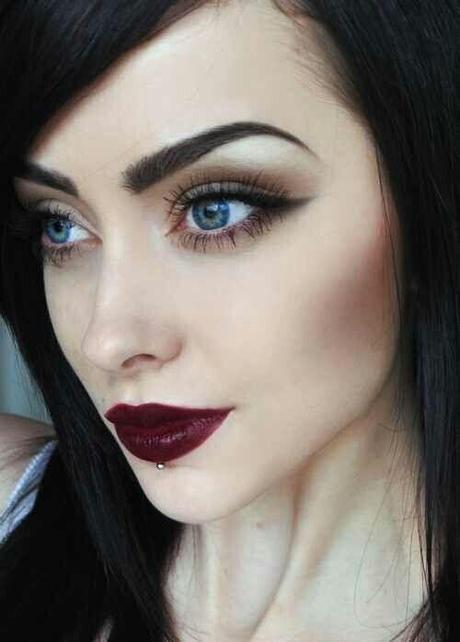 Stacy London, one of the talented hosts of the TLC hit show What Not to Wear, has said multiple times "It doesn't have to match, it just has to go." Even though she's talking about clothes here, the same concept can be applied to wearing makeup. In fact, matching is the exact opposite of what you want to do when selecting colors for cosmetics. While using the same color or product on lips and cheeks can tie your whole makeup look together quite nicely, you want to avoid using the same color on your eyes, lips and cheeks together. This can make your face look too busy and the makeup unnatural. Instead, you want color schemes and palettes that go together rather than match up exactly.
This concept will be crucial when making the transition from your summer makeup routine to a new one for fall. Check out the following tips to help you create a fall look that can be uniquely yours.
Change up your overall color scheme
In the summer, we tend to think aqua blue or bright green eyes and peachy pink cheeks. As fall approaches and nature's color scheme changes, instead of the aqua cream shadow you've been rocking all summer, reach for shades like sage green, eggplant and navy. As for cheeks, a mauve colored crème stick or powder will give you a fresh fall flush. Check out Skinn Cosmetics' Color Affair Collections in Gala and Soiree at ShopNBC. These palettes provide gorgeous fall shades for eyes and cheeks.
Reach for bold lipsticks or lip stains
Glossy, watermelon lips are a summer makeup staple. However, as shiny pink lips don't necessarily go with fall style, you'll need to change it up! Pick lip products that have hydrating formulas or apply some balm underneath the product to avoid chapped lips in the cold weather. Apply lipsticks or lip stains in shades of plum and berry for a fall ready face. Burberry has a new bright plum shade that is divine, or look into Stainiac's dark pink Beauty Queen from Birchbox for a nice colored stain.
Implement a hydrating skin and foundation routine
The chillier temperatures can take a serious toll on your skin. Always accompany your daily cleanser with a hydrating moisturizer that contains SPF. After you moisturize, it helps to use a sealing product to lock in moisture and keep your face feeling fresh all day long. Next, reach for a medium to heavy coverage foundation that has a hydrating formula. Keep in mind that oil free products can still have good moisturizers in them!
Use bronze or deep brown eye liners instead of black
For a uniquely fall look, add bronze or deep, shimmery brown liner to your eye makeup palate, instead of the traditional black. Urban Decay's glide-on pencils come in Urban, a chocolate brown, and Corrupt, which is a touch darker with a hint of purple. You can also apply brown colored eye shadows with bronze or gold shimmer in them, as these colors easily transition from daytime and work-appropriate to nighttime ready.
Whether you're aiming for neutral and feminine, bold and sultry, or something in between, dark and rich fall tones will make for an irresistible makeup color scheme. Browns, dark gold, deep pinks and mauves and especially navy will add warmth to your face as autumn turns bitter, and will serve as a welcome shakeup to your makeup routine.