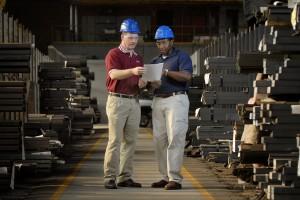 A popular topic in supply chain management involves ways to reduce overall inventory levels. Excess inventory in a network adds unnecessary expense. Annual inventory carrying costs can comprise up to 20-35% of total product value, so the concept of reducing inventory levels will have a direct impact on the cost of goods. Carrying large inventory to compensate for deficiencies in supply chain management should not be a cost of doing business. There are steps to identify and eliminate surplus inventory from a network that would improve efficiency and lower overall supply chain costs.
Lower Supply Chain Costs
Reduce Lead Times - Obviously reducing transport times across your supplier base will result in lower safety stock levels needed. So working with suppliers to better manage carriers' transit times can always be helpful in reducing unnecessary inventory. But there are other ways to reduce overall lead times as well. Internal contributors to lead time include order creation, inbound order receipt, and reorder check times. Any reduction of the time needed to perform these functions will assist in reducing overall lead times. For international shipments, significant delay can occur at customs and roughly 90% of these delays are attributable to administrative errors. A lot of this interruption can be avoided by creating a clean process that ensures the proper paperwork (commercial invoice, bill of lading, certificate of origin, NAFTA certificate, etc.) is being delivered the first time. This will reduce the amount of rework needed and will take valuable days out of global lead times.
Effectively Manage On-time Compliance - Reducing lead times is only part of the equation necessary to decrease inventory levels. It is equally important to reduce the variability of these same lead times. After working with suppliers to reduce them, it is essential to agree with them on specific standards that are developed on an origin-to-destination basis. Once an agreement is made, it is incumbent on your procurement and operations managers to hold suppliers and carriers responsible to those agreed-upon standards. Measure actual lead time versus expected for all your vendors and develop a scorecard for percentage of PO lines that are received on-time and complete. Managing each vendor and carrier by real data and requiring a high level of accountability will help ensure that extra inventory is not creeping into your network to buffer against unreliable service.
Order More Frequently - By ordering more often in fewer quantities, you can effectively cut the amount of cycle stock inventory in your facilities. When this is accomplished, max inventory levels for each item are lowered, resulting in freed up space for other products. This is a particularly successful strategy for domestic suppliers that have shorter, more predictable lead times. It is difficult to take inventory out of transit for these suppliers so focus on approaches that require less of that inventory in your warehouses.
Optimize Your Network Design - In multiple-echelon operational networks (supplier to plant to DC to customer) across large geographical areas, significant inventory reductions can be made through network design optimization. Generally, the fewer stocking facilities used the better, as safety stock inventory is proportional to the number of warehousing locations. Often, a reduction in the number of these facilities results in a significant decline in inventory and overall inventory costs.
To fully optimize a distribution network, a complete supply chain network design analysis should be conducted that takes all transportation, operations, and inventory costs into consideration, as well as any required operational constraints and minimum customer service levels. This analysis will reveal whether reductions in the number of facilities result in enough operational and inventory savings to offset any increases in transportation costs. The resulting network design will transform your supply chain into one that more efficiently operates with less overall inventory.
To learn more about who you can reduce inventory levels by shortening lead times, read our white paper on Lean Guiding Principles "Short Lead Time."