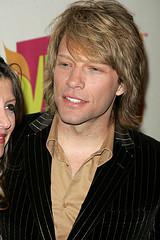 Today's announcement of who was nominated to be in the Rock & Roll Hall of Fame is absolutely exciting because the famous snub of the Wilson Sisters, aka Heart, is no more!
The main requirement for an artist or group to have this honor bestowed on them is that their first album must have been released 25 years ago. However, many have been famously snubbed over the past few years.So here is who the Wild Heart would like to see get into the Rock & Roll Hall of Fame.
Bon Jovi – They were nominated in 2010 but did not make it. However, it's rare that a band that had a nearly 10-year absence from radio can bounce back like they did and, better yet, still record and tour together. Even better, songs such as Livin' On A Prayer and You Give Love A Bad Name are still extremely popular.
Stevie Nicks – Though technically she is already a member by way of her being in Fleetwood Mac; she is not, however, a member as a solo artist. She qualifies because Bella Donna was released in 1981 – 30 years ago. But the main thing that should get her in is the fact that she has influenced many artists from Sheryl Crow, Mary J. Blige, Destiny's Child (who sampled the main guitar riff of Edge of Seventeen for their song Bootylicious), Michelle Branch, Vanessa Carlton, Dixie Chicks, you name it. Also, at the ripe age of 63, she is still putting out records and going on tour.
Nirvana – Cobain and co. will be eligible in 2016. Without a doubt they should be in immediately. They were the true kings of grunge.
The Eurythmics – In The Garden was released in 1981. Annie Lennox, along with Michael Jackson, revolutionized music videos.