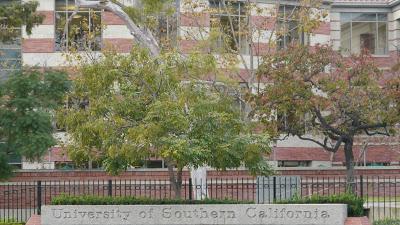 Day 2 of The Women Troy Basketball Classic featured University of Southern California vs. #4 Duke
Photo : Joe Nathan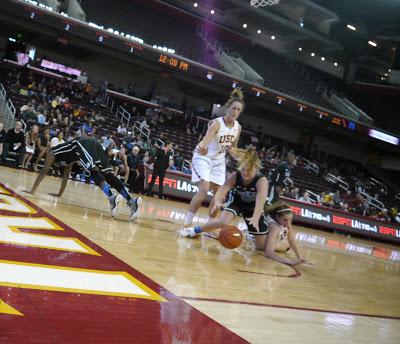 Kate Oliver (#10) and Cassie Harberts (#11) battle Duke's Elizabeth Williams (#1) and Tricia Liston (#32) for a loose ball during Duke's 75 - 60 win over the USC Trojans. Photo: Joe Nathan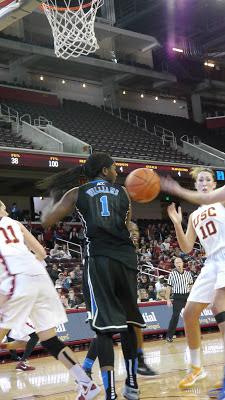 Elizabeth Williams (#1) and Kate Oliver (#10) Photo: Joe Nathan


LOS ANGELES - The University of Southern California played host to the Duke Women's basketball team, in the marquee matchup of The Women Of Troy Basketball Classic. USC Head Coach had his team ready to play against the mighty Duke team. Cassie Harberts, Kate Oliver, and Alexyz Vaioletama led their team with gritty, physical play in the game vs. Duke. Harberts scored on a lay-up with 3:52 left in the first-half to bring her team within two. Duke then went on a scoring spree, ignited by a 3-pointer from Chelsea Gray, to take a 39-30 halftime lead.
To their credit, USC never gave up even when Duke opened up a 20-point lead, on a Tricia Liston 3-point basket with 2:53 left in the game. The Trojans Kiki Alofaituli, scored on a layup as time expired, to make the final score Duke 75 - USC 60.  Duke simply overpowered the Trojans. Tricia Liston, Haley Peters, Elizabeth Williams, Alexis Jones and Chelsea Gray all scored in double figures for Duke.  In addition, Chloe Wells provided a much-needed energy boost and spark to the Duke lineup when inserted with about seven minutes left in the first half. Duke Head Coach Joanne P. McCallie took note of  Well's "leadership" and "energy" in her post-game comments.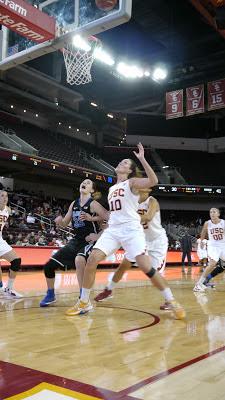 Haley Peters (#33) and Kate Oliver (#10)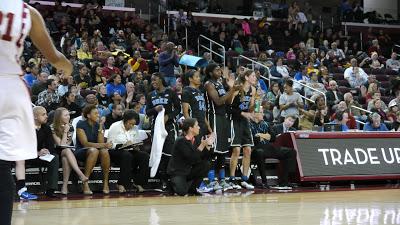 A successful weekend in Southern California,  leads Duke to a 10-0 record. Photo: Joe Nathan



Up next for Duke:  December 30, Monmouth visits Cameron Indoor at 2p.m. (EST)