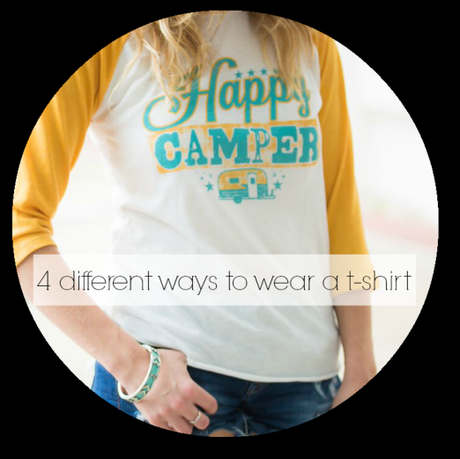 I get dressed every morning. I never wear yoga pants during the day or really unless I'm working out. I'm certainly not hating on anyone who does, but for me personally, I'm super unproductive when I'm not dressed and wearing makeup. Notice I didn't say showered because let's face it, showers are far and few between. #dryshampooismybestfriend
When I was pregnant with Nolan, I discovered this t-shirt. Not only was it super comfortable, it was great for my growing belly and easy to nurse in after he was born. Yes, I still have the same ones and wear them and to this day, it's still my favorite t-shirt. It's super soft and comfortable and I probably wear it a few times a week. A friend of mine who just became a new mom finds herself in the same place now. She also loves wearing t-shirts for the same reasons and let's face it, sometimes you just don't have the energy to put an outfit together when you're running on minimal sleep.
So I decided to put together 4 different ways to wear a t-shirt while still being practical.
A scarf. A scarf can do wonders and you can change it up depending on the season. Throw on a thin scarf for the spring and summer and a thicker one for fall and winter.