1 Flares
Twitter
1
">
Facebook
0
Google+
0
">
LinkedIn
0
">
StumbleUpon
0
">
Filament.io
Made with Flare

More Info

">
1 Flares
×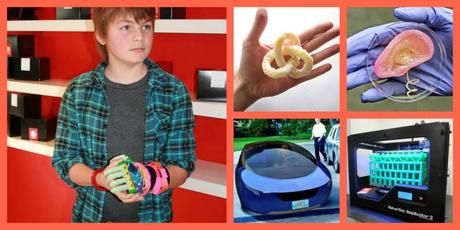 There is a great buzz around 3D printing and its implications for manufacturing, medical advancements, and design.  It is oftentimes associated with heralding in the next industrial revolution and many experts believe we are already starting to see a shift in the way we create, customize, and consume products. For a technology that has been around since the 1980's, what makes it so impressive? Where can we experience it today – and what can we expect from it in the future?
What is 3D Printing?
You've likely heard of the technology and maybe you have even read articles or seen 3D printers on the news. But, what is 3D printing exactly? It is considered an "additive manufacturing technology" whereby you can build a unique three dimensional object layer by layer. It's similar to printing in two dimensions, except it contains a third dimension, which is up (the Z-axis). You design the object using a digital modeling software that gives you a CAD, STL, or OBJ file. From there, you can print the object.
This is very useful for designers and engineers, and creative people – but it has many practical everyday uses as well.
Below, you can see the Makerbot Replicator 2 Printer in action:
Cool Ways 3D Printing is Making an Impact
3D printing involves an array of materials – from plastic all the way to stem cells.  The technology is used for making custom implants, body prosthetics, customized parts used in automobile and aerodynamic testing, and much more.
Just recently, a father was able to print his son a prosthetic hand. His son was born without fingers and doctors recently said he should consider prosthetics. What would have cost $3,000+, ended up costing $10 using a home desktop 3D printer.
A team of engineers are currently building a car mostly made by the 3D printing technology. Called Urbee 2, this new car is expected to use less energy and gas than vehicles on the road today. The team is preparing a cross country journey from New York to San Francisco on only 10 gallons of gas!
CandyFab uses granulated sugar as its medium print and tends to print larger scale sculptures. It is able to fabricate large and complex shapes, made of sugar! In the future, there may be application for creating fancy and impressive food dishes.
While 3D printing has already been used in the medical field for many years, it is now taking the spotlight in some awe-inspiring feats. In 2003, Thomas Boland filed the first patent for printing cells. These days, researchers and bioengineers are printing bones, body parts, skin, and even eyes!
3D Printing Stores Open Up Around the World
3D printing is also making its way into our homes as desktop printers with hard ABS or PLA plastic as the predominant material.  Although 3D printers have been around for decades, it is only in recent years that the price has come down for consumer use. Machines that used to cost $20,000 in just 2010 can cost even less than $1,000 today.
3D printing retail stores are beginning to crop up around the world. In New York, you can visit the Makerbot Store, where you can see their various printers up close and in action. In London, there is the iMakr store, which houses two floors of 3D printers from China, Holland, the US, and other countries.  In Tokyo, there is the FabCafe, which provides an array of 3D printing services as well as laser cutting and serving coffee and treats! Israel has also just opened its first 3D printing experience store, called 3D Factory.  Along with selling various 3D printers and its own products, it gives customers the chance to customize products and even sit down at the workstation and design something completely new and their own.
What does this mean for manufacturing and consumerism, as we know it? It's changing, putting more of the power in the hands of the consumer. Instead of needing to order lost parts to a laundry machine, we'll be able to get the specs from the manufacturer and print it from home.  For manufacturers, it means not being limited to a few factories around the world. Instead, car dealerships could potentially print up parts in-house instead of ordering them and getting them delivered.
The possibilities seem endless when it comes to 3D printing. Keep an eye on this trend as it continues to expand and advance in so many industries and sectors of our lives.
1 Flares
Twitter
1
">
Facebook
0
Google+
0
">
LinkedIn
0
">
StumbleUpon
0
">
Filament.io
Made with Flare

More Info

">
1 Flares
×

Ben is the founder and editor of TechDrink. A huge fan of technology and social media, he has been blogging on those and many other subjects for well over five years. You can follow him in many places, including Twitter,
Facebook
and
Google+
.

Latest posts by Ben Greenwood
(see all)
3D Printing: Get Ready for the Next Industrial Revolution

- December 11, 2013

Ways BYOD Can Help You Go Green

- December 6, 2013

Santa Tracker – Google or Microsoft?

- December 3, 2013