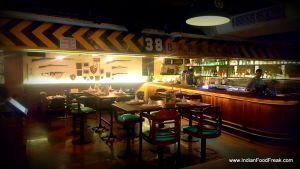 Connaught Place is now buzzing with new eateries that open every day but barring a few, they are hardly known for food and have started catering to the young population who need a place to sit and get some pocket friendly drinks. No wonder that as soon as a new place comes in, old joints lose their sheen and see a drop in footfall. I visit a newly opened restaurant called 38 Barracks without much expectation. Much to my delight, it's a theme based restaurant on the concept of a Navy Colonel's house made into a make-shift restaurant.
38 barracks has primarily three zones – the drawing room at the basement, living room on the first floor and an open porch overlooking the lanes of CP. There are books, uniforms, some real guns, weapons and other personal belongings that immediately give a sense of belonging. Seems someone did their research well.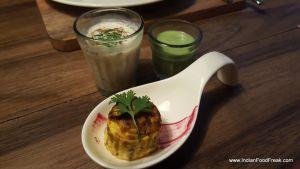 I start with the Barrels Paneer Tikka. Made in the shape of a barrel, it is stuffed with nuts and raisins and grilled in salamander.  I never enjoy paneer tikka as no flavor easily gets infused in the paneer but this one is different with all the stuffing and I love it. This paneer tikka is washed down by chaach and I find it so good that I ordering a big glass for myself. The restaurant obliged even though the chaach is not in their menu.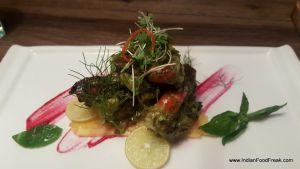 Charmoula Grilled Jumbo Prawns with mustard micro greens are next. The prawns are firm and nice though I feel that instead of pineapple carpaccio on which they were served, the prawns will go better with grilled caramelised pineapple.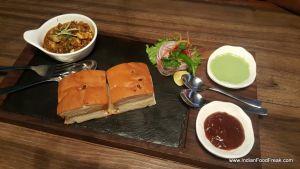 I have never tried Seafood Pavbhaji before. This pavbhaji has a mish-mash of calamari, prawns and fishes. It is nice and experimental though it will take time to adapt to the mindset (especially mine) where bhaji denotes presence of aloo while there is none in this case.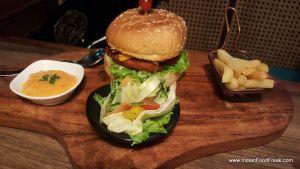 The American Military Cheese Burger with moist and juicy lamb patty gets it flavours from the ocheddar cheese and it very innovatively uses papad. The papad lends it flavours of black pepper in the right quantity. It's a love at first bite.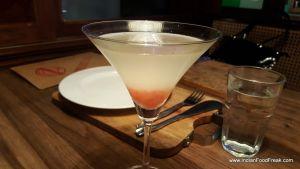 Even the drinks are very innovative. I try the Cosmopolitan that has cosmo spheres with color coming from blueberry compote. A well balanced drink made with reverse sphereification. I enjoy the Boston Beach too that is made with whiskey, gin, vodka, triple sec and cola. I find it very competitively priced at Rs. 249.
38 Barracks is a good addition to the CP dining place. While the focus has been on the theme, no compromise has been made on food or drinks. A place that certainly deserves a visit.
Ratings (Out of 5)
Food: 4.0 | Ambience: 4.5 | Service: 3.0 | Overall: 4.0
Meal for Two: Rs 2000 | Wheel Chair Friendly: No | Credit Card: Yes | Alcohol: Yes
Address: M-38, Outer Circle, Connaught Place, New Delhi | Phone: 011-33105860
Disclaimer: This review was done on an invitation from the restaurant. Due judgement and care has been applied by the author to remain objective and unbiased in the review, but readers need to consider this review keeping this fact in mind.