Looking for banana baby food recipes ?
Tired of giving the plain banana mash and now is on the lookout for more banana recipes for babies and kids?
Does your little one hate banana just the way mine does?
Don't worry today we bring to you the 33 banana recipes for babies and kids. Here I have compiled a lot of banana recipes for babies from 6 months to 10 year olds.
I guess banana is the only tropical fruit that is available round the season - be it monsoon, summer, spring or winter. Different types of banana varieties are also available round the world likes nendran, green robusta, palayam kodan, poovan, red robusta, elakkai, golden banana etc.
Unfortunately, this monkey's favorite fruit is NOT liked by most of our little monkeys 🙂
Anshika used to like bananas earlier, nowadays the liking depends entirely on her mood and the ripeness.
Most of the time it's BIG NO!
A whole lot of ripe bananas lying on the dining table compelled me to write this article. If you are also sailing in the same boat, this article is apt for you.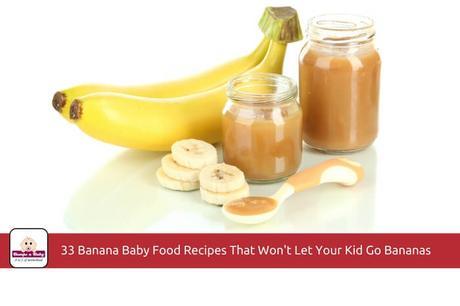 Facts about bananas:
Before we move onto the various banana recipes for kids, here are some of the known and unknown facts about bananas.
Can be taken as a whole meal, drink and even as a snack
One of the best natural antacids known to human
Banana trees are actually not trees. They are the tallest herbaceous plants in the world
Bananas are often considered as a substitute of rice and wheat
Have a water content of 75%
Like coconut trees, every part of plantain tree is beneficial for human beings - right from the leaf to the stem.
Good source of Vitamin C
4th most widely consumed produce on the Earth
The term 'banana republic' was coined for the states that were primarily run by giant banana companies along with the support of dictators
Oxford English dictionary was the first to record the phrase 'going bananas'
The riper the banana, the more the benefits - thanks to the TNF ( Tumor Necrosis Factor) produced by the dark patches on the banana skin
Cheapest pre and post workout meal
Health benefits of bananas:
Bananas are rich in Vitamin A, C, B6, E, potassium, magnesium, calcium and iron. Monkey's favorite fruit is beneficial for us too in many ways.
An average banana has 3.1 gms of fiber which is helpful to maintain good bowel movements. Hence banana for baby constipation is a good remedy. I would say a banana a day, keeps the constipation away - which is essential for even adults!!
You can also read about constipation during pregnancy, treatment and remedies.
Want to have a complete body detox? Banana is the answer. Bananas are found to be removing even heavy metals from the human body.
Acts as an excellent pre-biotic

Bananas promote the growth of gut friendly bacteria thereby acting as the best prebiotic of nature.
When can I start giving bananas to my baby?
Banana is the most convenient food for any mother who is all set to start solids for her 6 months baby. You can introduce bananas from 6 months in the form of mashes and purees.
Always look for cold, cough or any other allergies after giving bananas.
How to store bananas?
A wide variety of bananas are available in green, yellow and red colors across 100 countries. Since they are available all-round the season, you need not store it in bulk.
Bananas can be stored in a brown paper bag at room temperature. If you feel like not having overripe bananas, you can store it in the refrigerator as well.
How to choose good bananas?
If you are not planning to consume it the same day do not go for overripe bananas as it might get spoilt easily when stored more than a day. Go for firm and ripe bananas with a tint of green color on it if you wish to store for a week.
Go for ripe bananas only if you are planning to use it in recipes immediately or one the same day.
33 Banana baby food recipes apt for toddlers and kids too:
Here are the simple and easy banana recipes suited for babies and kids alike.
#1. Plain banana mash
The easiest banana recipe ever!
Just mash a ripe banana with fork or blend to a smooth puree. I bet it will be your baby's favorite first foods!
One tip: Peel and mash bananas just before the baby is ready to eat. This is because homemade banana baby food turns brown easily. You can mix a few drops of lemon juice to prevent this discoloration if the baby has started having citrus fruits.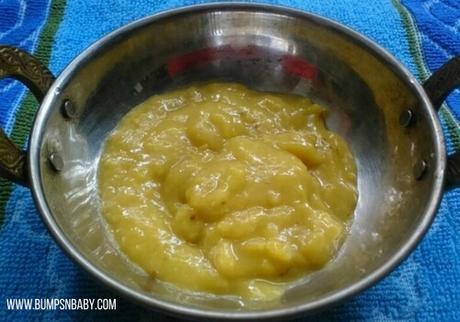 Read: Kerala banana mash for your 6 month old

#2. Banana sheera
Banana sheera or banana rava porridge, the authentic prasad recipe of Maharashtra can be your little one's favorite too.
Roast rava in ghee. Add chopped bananas to it and add milk. Saute till the milk is absorbed and rava is cooked.
You can read the banana sheera recipe to get the step-by-step instructions.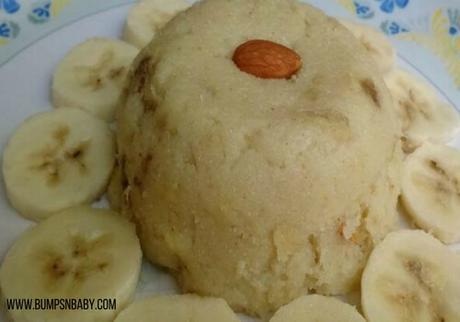 #3. Sweetened rice flakes with banana/ Banana with poha
Beaten rice flakes sweetened with jaggery and added milk/ coconut water is called 'aval nanachadu' or 'aval vilayichadu'.
If your kid loves the above combo, add finely chopped bananas to it ans it makes is one of the yummiest banana baby food recipes. A wholesome breakfast or evening snack is ready for your children.
#4. Banana fried in ghee
Cut bananas into thick discs. Add ghee to a kadai and sautee the bananas. Add sugar and let the bananas caramelize. Sweet golden brown banana discs are ready!
#5. Banana pancake
The delicious pancake you can cook for your child - yes by sneaking bananas into it.
Make a batter of whole-wheat flour, eggs, mashed bananas and milk. Pour out a ladle onto a butter-greased tawa and make yummy banana pancakes.
Drizzle honey for kids of 1 year and above.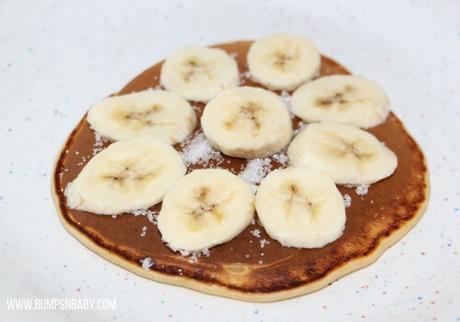 Also try this Blueberry Pancakes Using Whole Wheat Flour for a change when your kid needs a change of taste.
#6. Banana kheer / Pazha pradhaman
If your kid loves kheer, then you should definitely try this recipe.
Steam bananas and mash it. In a heavy bottomed kadai, saute the banana mash in ghee. Add jaggery and add thin coconut milk. Let it boil.
Once it thickens, add the thick coconut milk, cardamom powder and ghee roasted coconut pieces. Add ghee roasted cashews and raisins to it.
This recipe is suitable for kids above 1 year.
#7. Banana avocado puree
Known for its yumminess, this is quite a hit among adults too. Scoop out the flesh of avocado and blend it with a banana. Your baby would love it, I am sure you too.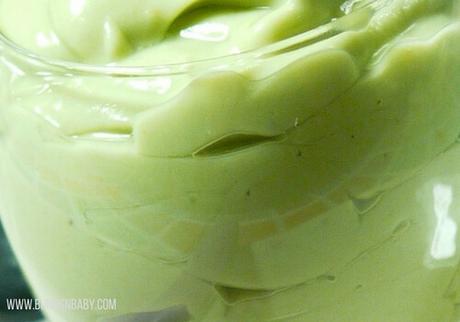 Read: Avocado Mash for Babies and Kids
#8. Avil milk
Avil milk is a Ramzan special recipe in the Malabar region.
Usually the poovan pazham is used to make this.
In a glass, mash 2 bananas. Add sugar and mix it well followed by cold milk, roasted peanuts and rice flakes.
This can keep your kiddo full during his morning rush to school.
#9. Banana shake
Well the green robusta variety of banana known as 'njalipoovan' or 'pacchanaadan pazham' is apt for making this banana shake. This shake is usually known as the ' Sharjah shake'.
Blend a finely chopped banana with enough chilled milk, 1-2 tbsp of chocolate powder, ¼ teaspoon coffee powder and sugar. You can top it up with chocolate chips, ice cream, honey, powdered almonds or anything your kid loves.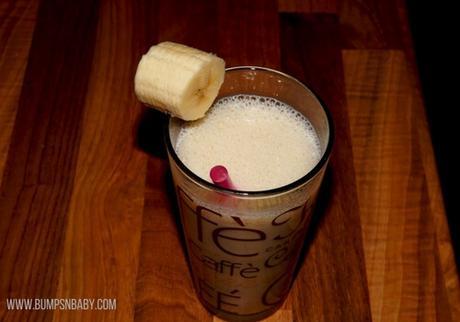 #10. Banana bread
This is the softest bread you can make!
I tasted the banana bread when my colleague brought it for her birthday. I loved the soft texture of the banana bread and here is how you can make it.
Make the batter of all-purpose/whole wheat, baking soda and salt. Blend eggs and bananas together. Add cream, sugar and butter.
Combine everything into a greased loaf pan and bake at 350 degree F till the tooth pick inserted to the center comes out clean.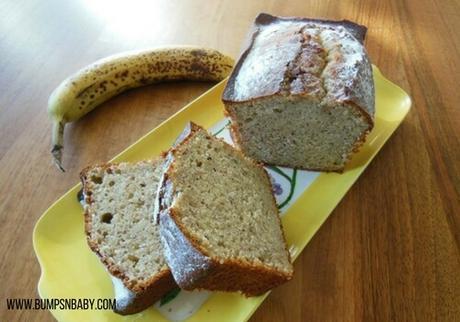 #11. Banana Rice Pudding
This is an apt recipe for 8 months+ babies.
Blend cooked rice, banana, yogurt and a hot water to make an instant rice pudding for your baby.
#12. Banana fritters / pazhampori
A synonym of evening snack in Kerala, pazhampori, ethakappam or banana fritters would be loved by anyone - especially kids.
Make a thick batter of white flour, turmeric powder, salt and sugar to taste. Cut banana into fine finger sized wafers.
Dip the banana wafers into the hot oil and deep fry till it turns golden yellow. Serve hot.
If you want to go for a healthier version, go for whole wheat flour, but I don't think it tastes as good as compared to the maida one.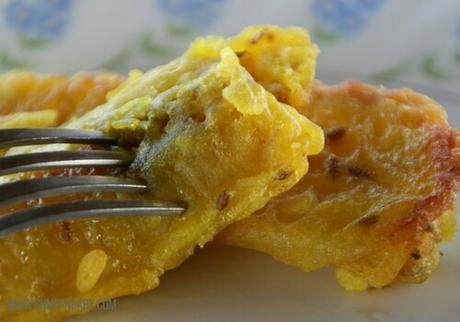 Note that Kerala bananas are the best for making pazhamporis.
#13. Banana halwa
Overripe bananas are the best for making banana halwa. Usually the banana halwas available from the market is made out of nenthran banana and is in black color.
Here is the recipe of banana halwa I have made using Kerala banana, but yes the golden bananas are well apt too. Use the same recipe but replace kerala bananas with golden bananas if don't have the former variety.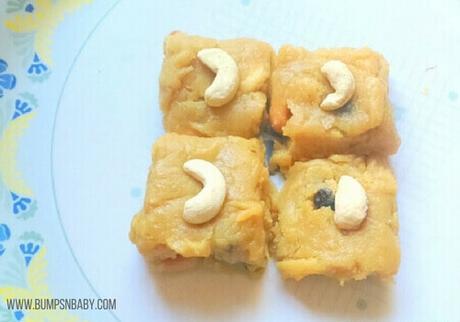 Try our carrot halwa, beetroot halwa, kesari halwa , foxmillet halwa and Shinghare ke atte ka halwa if your child likes the texture of halwa like dishes.
#14. Unni madhuram
Unni madhuram is the sweet banana dumplings made by deep frying balls made out of banana, dry fruits, cardamom and bread crumbs.
#15. Caramelized banana pudding
Caramelized banana pudding takes your plain pudding to the next level. What you need to do is caramelize sugar and butter. Heavy cream and bananas are added.
When the mixture tends to get thick, switch off heat, add salt and vanilla extract. Let this cool down to room temperature. You can pour this sauce over the pudding or serve it along with pudding.
#16. Banana appam
Traditional unniyappams with the twist of banana - which makes it soft, supple and tastier!
Adding the mashed banana into the rice flour, cardamom and jaggery batter assures you soft, spongy appams. Try this as an evening snack or as a snack box item - your munchkin will go crazy after these.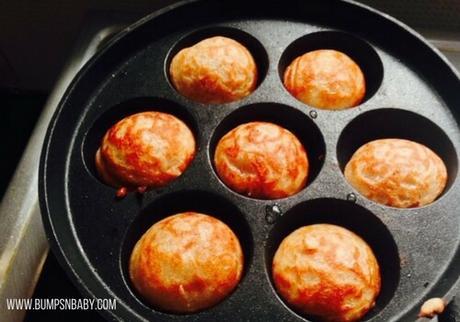 #17. Banana boats
This is one recipe that caught my attention while attending a buffet party.
In the fruit salad counter, there were these boats made out of banana and honey was drizzled over the top of each banana boat.
Quite an interesting way of presentation and think, how appealing would it be for kids. You can also make it more interesting by adding chocolate syrup, icecream and waffers just as shown in the pic here. Yes do try this at home.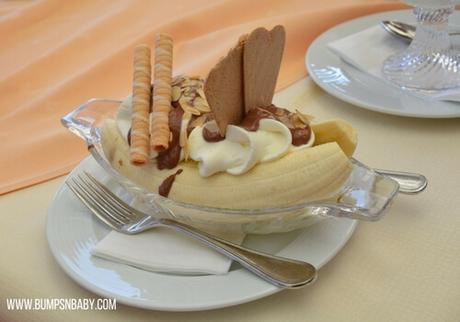 #18. Banana panchamritham
Panchamritham literally means a combo of five amrits - or elements that represent amrut.
Beat grated coconut, jaggery, cardamom and ghee in a bowl. Add chopped bananas to this and give a slight mash with the spoon. Banana panchamrit is ready.
You can also use rock sugar instead of jaggery.
#19. Banana puri
How about the traditional puffed puris made out of bananas? Yes here comes our banana puri recipe.
Mix sugar, mashed banana, butter and salt. Add equal quantities of whole wheat flour and white flour to the mashed banana mix and make a thick soft dough.
After a while, roll out puris and deep fry until it's puffed.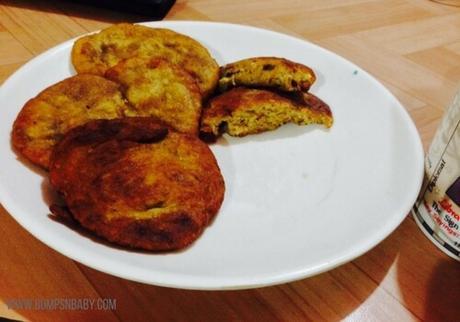 #20. Pazham nirachadu with coconut
Bananas stuffed with cooked grated coconut and sugar/jaggery syrup is then ghee roasted. Pazham nirachdau is ready.
#21. Banana muffins
Mix white flour, baking powder and salt in a bowl. In another bowl, mix mashed bananas, egg, sugar and butter. Add both the dry and wet mixture together and let it fold together.
Preheat oven to 180 C and pour the mixture into the paper lined muffin tin.
Bake for 25 to 30 minutes.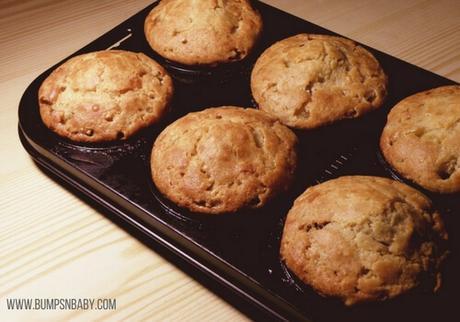 #22. Banana peanut butter and chocolate sandwich
This is a great 'pick me up' recipe if your kid is bored of the usual cheese and vegetable sandwiches.
Smear peanut butter on a bread slice and top it up with chocolate sauce. Arrange chopped banana slices over it. Close it with another slice.
You may or may not toast this banana peanut butter and chocolate sandwich.
Yummy and delicious banana peanut butter and chocolate sandwich is ready to be devoured!
#23. Chocolate banana pops
Well, I am sure this will be a winner for kid's birthday party menu.
Chocolate banana pops can be presented just like a chocolate fondue, where you can present a bowl of melting hot chocolate and a tray of freshly cut banana fingers with toothpicks to hold onto.
When it's the time to serve, ask children to pick the banana toothpicks and have a swirl on the hot chocolate making it the perfect birthday party chocolate banana pops. You can also add chocolate or color sprinkles to coat the pops.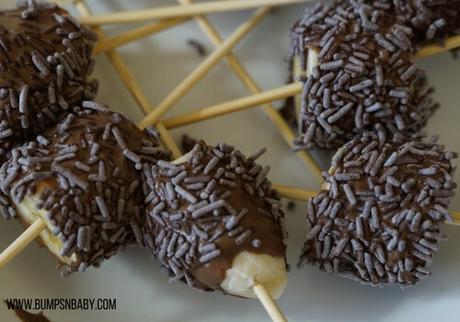 Make sure you do not keep the bananas chopped before hand, as it might turn black by the time it has to be served.
#24. Banana jam
Jam using bananas? Yes its really tasty.
Pressure cook palayamkodan variety banana for 2 to 3 whistles. Sieve and strain to get the puree.
In a pan, add the banana puree, cloves, sugar and lime juice. Stir well till it forms one thread consistency.
You can also add citric acid if it's available.
#25. Banana chocolate muffins
Well banana chocolate muffins became my favorite after I saw it being prepared with so much of love by Nigella Lawson. Over ripe bananas are perfect for these muffins.
Preheat the oven to 200 degrees.
Add oil, mashed bananas, eggs and sugar into a food processor. Then add the white flour, cocoa powder, bicarbonate of soda such that the flour coats the wet mixture.
Spoon this batter into the lined muffin tin and bake for 20 minutes.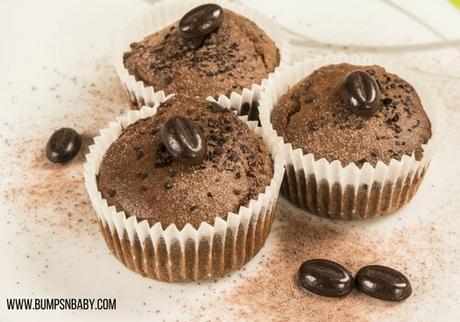 When we talk about muffins a must try recipe is this Wheat Pumpkin Muffins for Toddlers and Kids.
#26. Banana nutella crepes cake
Crepes are like our dosas but usually made out of white flour and eggs with some filling.
To make these banana nutella crepes, blend milk, eggs and vanilla essence in a blender. Next blend in the white flour, sugar and salt followed by butter and salt to form a smooth batter.
Make creeps just like you make dosas on a skillet. Now take 2-3 crepes and smear nutella over it and put chopped bananas in between each layer again sealing it with nutella.
Slice it just like a cake and serve immediately.
#27. Banana chapatti
Banana chapatti is one of the banana recipes for toddlers when he/she has this appetite slump.
Mash a banana in the roti dough and roll out chapattis like you normally do. Use ghee to cook these banana chapattis and let them have these banana chapatti rolls.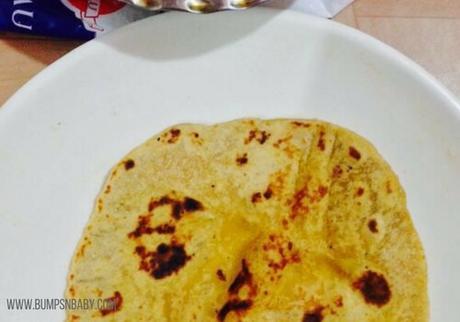 #28. Banana ice cream
This delicious ice cream needs only one ingredient to make. You guessed it right - bananas.
Blend 2 bananas till it becomes soft and smooth. Continue to blend until it shapes up to be a soft serve like ice cream.
You can then freeze it overnight in an airtight container to have a firmer ice cream the next day. Top it up with cinnamon powder, chopped bananas, chocolate chips or jellies. Isn't it one of the banana baby food recipes even adults won't say no to?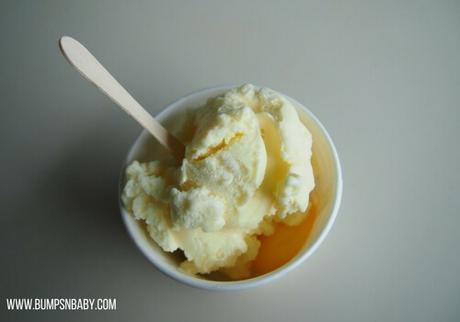 Read: Homemade Mango Ice Cream Recipe Without Icecream Make
#29. Banana blondies
Banana blondies look like cake but with brown sugar frosting. It's a makeover for the banana cakes if you want to call them.
#30. Banana smoothie
Here is the recipe for a quick fix banana smoothie.
Blend a banana until its soft. Add in milk, yogurt, honey and almonds/oats. Add a teaspoon of peanut butter and blend till its smooth.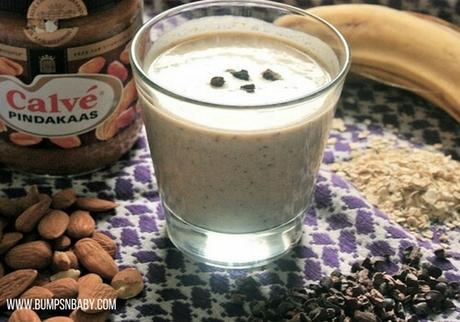 #31. Dates banana shake
One of the easiest milkshakes you can whip up in a jiffy is this dates banana shake.
Blend ¼ cup deseeded dates, 1 peeled banana and ¾ cup milk to a smooth consistency. Pour and serve in a tall milkshake glass to your kid.
#32. Banana Toffee
This is a Darwinian dish that I happened to catch in one of the street food shows on TV.
Banana is chopped into bite size pieces and kept aside.
Meanwhile sugar is caramelized to a dark colored thick consistency. Each of these banana chops are swirled in this caramelized syrup and then put in a jar filled with ice cold water. Once these are taken out after a minute, banana toffees are ready!
#33. Banana Crepe Wraps
Beat eggs, milk, butter, vanilla essence and salt together in a bowl.
Sift white flour and sugar in another bowl. Mix the dry and wet mixture together until smooth.
Heat a dosa tawa with butter and pour batter onto it. In another pan sautée banana halves with cinnamon, butter and nutmeg powder.
Wrap these banana halves with the crepes and serve with a sauce of your choice poured over.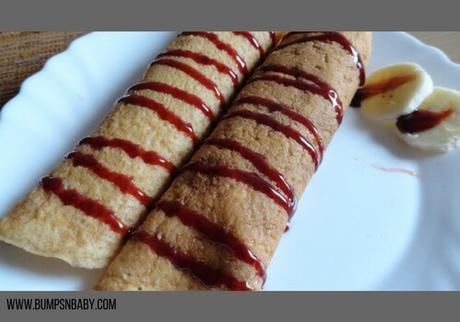 Hope you love the compilation of the banana recipes for babies and kids.
When it comes to bananas the recipes never ends. There are n number of ways you can use it to make healthy recipes. For more banana recipes made exclusively with Kerala Bananas click here.
Is your baby fond of bananas? How did you introduce banana for baby? Do you have any other banana baby food recipes to add to this list?
Do let me know in comments.