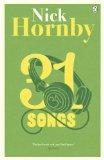 31 Songs is also known as Songbook.
I read this book as part of The Rory List
Synopsis (from amazon)
31 Songs is best-selling author Nicky Hornby's ultimate desert island disks
Through thirty-one songs that he either loves or has loved, Nick Hornby tells us what music means to his life. These personal and passionate pieces – refreshingly free of pretension – are a celebration of the joy that certain songs have given him. Together with additional writings on music from his column in the new Yorker – seen in the UK for the first time – 31 Songs is for Hornby what many of us have always wanted: a soundtrack to accompany life.
Review
31 Songs is not really a book of music criticism. It's an ode to music. Nick Hornby talks about music the way one might talk about a beloved friend. He focuses specifically on 31 Songs (plus 14 albums, and with a quick mention of the top ten albums when he was writing). They are not neccersarily his favorite songs but they are songs which he has played obsessively at one point or another. Sometimes they are songs which he connects with memories, and that's part of what makes them special. Sometimes he talks about how much he loves the lyrics, or the music.
The songs do tend to be in a similar vein, with a couple which break the trend- songs like I'm Like a Bird. Sometimes he really made me want to listen to the songs- which were often ones which I wasn't familiar with. The Beatles- Rain I still want to listen to, but it's not on Spotify.
Actually I think I prefer Nick Hornby's non-fiction to his stories (although I've enjoyed them too). There is a certain amount of passion in it, although it's interesting to see how some of the music he loves links to some of his novels- especially (as would be expected) High Fidelity.
Probably the main thing which I'd say negative about this book is that it is a bit dated. There are a couple of extra sections which update it, but they are still a little out of date. There is a discussion of the top 10 albums in August 2001- but that's a good 13 years out of date (wow that makes me feel old- I remember most of those albums), but it's generally negative, so the same love for music doesn't come through. Then there's a list of favorite songs from 2000-2010, but it's just a list, no discussion.
I tried to listen to the songs on Spotify. Unfortunately there were some songs missing, however if you're interested you can have a listen to what is there.
Oh almost forgot, I bought this book in Shakespeare and Company!
4/5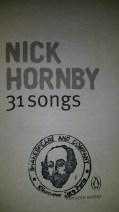 Buy it:
Paperback (£6.20)
Kindle (£3.41)
Other reviews:
Did I miss your review? Post me a link in comments and I will add it here.