30 Day Smoothie Bowl Challenge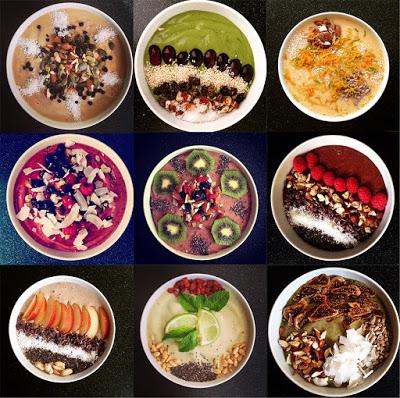 If you follow me on Intagram you will know that I have been taking part in
Abigail Geer's 30 Day Smoothie Bowl Challenge
throughout April. I'm sure you might by thinking, surely you have been eating smoothie bowls for ages? Well the answer to that is definitely no and I have had a number of reasons. The first being the amount of sugar in the fruit which I worried as I have always suffered from difficulties containing my blood sugar. The second being that it just felt strange having a smoothie for breakfast.
So when this challenge came around I thought I would give it a go, I could always stop part way through if it really was not working for me. However I have found it quite an amazing experience and one I am really glad I took part in. Through the whole of the challenge I have been keeping a record of the smoothie bowls eaten and how it has made me feel, including appetite levels.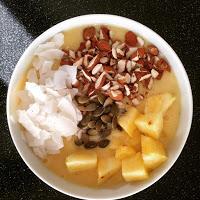 Day 1 - Zesty Surprise
made from banana, orange, pineapple and lemon which I topped with pineapple chunks, chopped almonds, coconut chips and pumpkin seeds. This was my first smoothie bowl and I loved it but have to be honest I found it so filling I was not sure I would get throught it. I did though and then found I stayed full for longer than I ever could have expected and getting through until lunch was easier, in fact easier than I normally find. All I could think about is what I would be having tomorrow.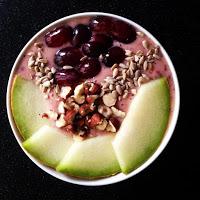 Day 2 - Purple Powerhouse
made from banana, melon, plum and grapes and topped with melon slices, grapes, chopped hazelnuts and sunflower seeds. I think this was even more filling than yesterday's smoothie bowl and although it was so yummy it seemed a bit sweet to me so the sugar levels made me a bit anxious. However I still found I stayed comfortably full until lunch.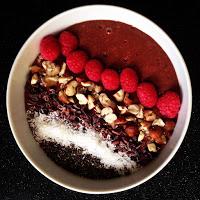 Day 3 - Love in a Bowl
made from banana, raspberries, cocoa powder, flax seed and almond milk and topped with raspberries, chopped hazelnuts, cacao nibs, desiccated coconuts, chia seeds. This bowl not only looked fantastic but was rich and tasty and too good to be as healthy as it was. It was a great choice for Good Friday and was enough to ensure I had a full belly until my next meal. One thing I noticed is that it was slightly easier to eat then on my previous two mornings. An important thing to note is that I jumped out of bed in the morning with loads of energy and felt better than I have for months.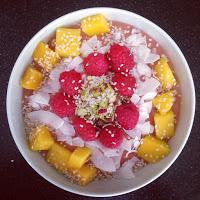 Day 4 - Mango Twist
made from banana, mango, raspberries and coconut water, topped with mango chunks, raspberries, coconut chips, chopped pistachios and sesame seeds. This has probably been my favorite so far, I love mango. In terms of appetite I was going to watch a football match at 12:45 which I hate because it goes over lunch but I had my smoothie bowl at about 10:30am and managed to go until almost 3:00pm without eating anything else at all which is something I normally would find impossible so a big bonus there. So with the reduced appetite and increased energy I was loving the whole campaign until my mom started asking me about calories. Then I started checking and realising the smoothie bowls were quite high in calories and I would need to be careful about what I ate. So I would then start weighing myself every day to see how it was going as I have had a lot of problems with my weight recently.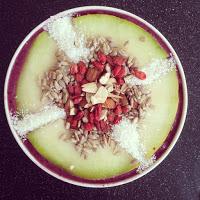 Day 5 - Forest Tropical
made from banana, blackberries, gala melon and coconut water. My choice of toppings for today were melon slices, chopped almonds, sunflower seeds, goji berries and desiccated coconut. This looked stunning, even if I do say so myself and it tasted amazing. I used frozen banana and blackberries which meant I ended up with a very thick smoothie that was more like an ice cream than a drink. This would make a fantastic dessert in the warm weather for sure. I went to a friend's house for lunch today and coped without any snacks, then after a big lunch I only needed a coup,e of oat cakes with peanut butter and jam in the evening. Oh on the weight issue as well I weighed in at 10st which was actually about where I thought I was.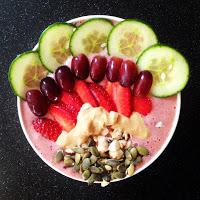 Day 6 - Strawberry Cleanse
made from banana, strawberries, red grapes and cucumber plus I added a small amount of coconut water. I got very excited with the toppings for this smoothie bowl and went for cucumber slices, grapes, sliced strawberries, chopped Brazil nuts, pumpkin seeds and cashew nut butter which I slightly thinned with walnut oil so I could drizzle it. This was a really refreshing bowl with the cucumber coming through nicely which is great because I love cucumber. It felt very healthy and I noticed this as being more filling than the last couple of days. As it was Easter Monday and I went out on the Sunday I was having a Sunday like day which meant roast dinner. I had my smoothie bowl at about 11:00am as I got up a bit late and we decided to have our roast at about 3:00pm. I know that with my usual breakfast I would have been starving leading up to eating and would have had to have something to eat but today it was no problem, I had a nice level of hunger but it was definitely bearable plus my energy levels are still great and weight still at 10st. I will definitely keep going with the smoothie bowls once this challenge is over.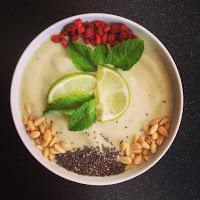 Day 7 - Simply Sandia
made from banana, melon, mint and lime topped with pine nuts, chia seeds, goji berries, mint and lime. This was a super tasty bowl and one that will become a regular. The other thing that I discovered today is that I am not a big fan of pine nuts in smoothies, in pasta or salads they are amazing but on top my smoothie bowl they just don't really work but I guess you have got to try these things out to know them.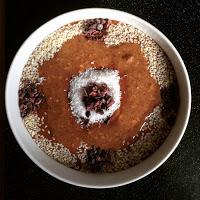 Day 8 - Chocolate Orange
made out of bananas, oranges, cocoa, flaxseed and almond milk which I topped off with sesame seeds, coconut, cacao nibs and peanut butter. I absolutely love chocolate and this is amazing especially with the orange flavor that is so amazing and then topping it off with peanut butter just made it taste like heaven. I am still getting a great energy boost from these smoothie bowls and am now comfortable only eating 2 meals per day.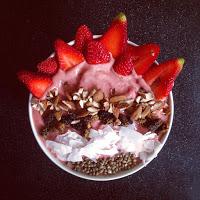 Day 9 - Figalicious
made from an amazing combination of bananas, strawberries, figs and almond milk that I topped with hemp seeds, coconut chips, mulberries, chopped almonds and strawberries. This is the first time I have tried mulberries and they will definitely become a regular on my smoothie bowls. If you have not tried them then I can definitely recommend them.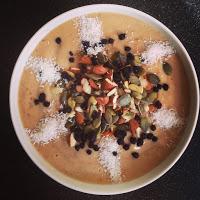 Day 10 - Apple Pie
made from bananas, apples, dates, cinnamon and almond milk that I topped with chopped almonds, pumpkin seeds, bilberries and coconut. This smooth was so sweet and tasty and really reminded me of apple pie. There is nothing like having a dessert for breakfast especially when it is good for you and leaves you full for hours. I am now a third of the way through this challenge and I absolutely love it. I can comfortably see that this will become a regular breakfast for me.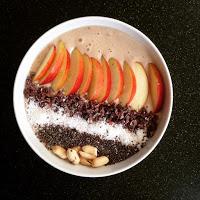 Day 11 - Peanut Butter Bliss
made from bananas, dates, peanut butter and almond milk all topped with apple slices, cacao nibs, coconut, chia seeds and roasted peanuts. This is literally bliss in a bowl and one of the tastiest smoothies I have ever tasted. My mom has been having a small sample of every bowl too and she has definitely come to the conclusion that this was her favorite but then who doesn't love peanut butter.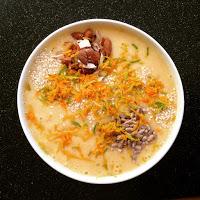 Day 12 - Citrus Crunch
made from banana, orange, lemon, lime and hemp seeds which I topped with the zest from my citrus fruit, sesame seeds, sunflower seeds and almonds. I am a big fan of citrus fruit and something like this so so sharp and sweet and a fantastic combination for a smoothie. I am now at the stage of being really excited about having my smoothie bowl everyday and it is a great way to get yourself going in the morning.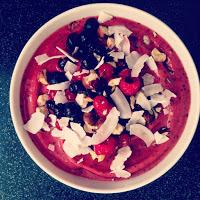 Day 13 - Berry Blast
is a fantastic way to get your nutrients in the morning made from banana, mixed berries, goji berries and coconut water. The toppings that I chose for this one was coconut chips, hazelnuts and some more berries. This was my most popular picture on Instagram and I think it looks really pretty and I can promise you it tasted pretty great too plus berries are perfect for keeping your blood sugar in balance.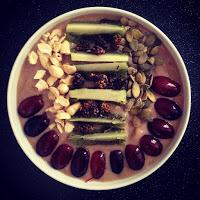 Day 14 - Kaleberry
showed me just how you can get you greens in a really tasty way with this one made from banana, kale, raspberries and almond milk. I topped this yummy smoothie off with kiwi, mulberries, grapes, cashew and pumpkin seeds. You would never know that there was kale in this smoothie and has really opened my eyes to the way to get foods full of nutrients into a smoothie.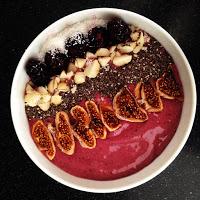 Day 15 - Radiate
made from banana, blackberries, mango and hemp seeds topped with figs, chia seeds, macadamia nuts, coconut and some more blackberries. I love smoothies with blackberries in, it reminds me of being a kid when I used to pick blackberries and eat them as we were going because the never last. One of the bad things about them never lasting is that I very rarely have them now unless I can find some frozen ones which I have been able to get recently. Then add these to mango which is great in anything and you get a fab smoothie.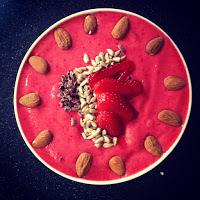 Day 16 - Rooty Fruity
made from banana, strawberries, orange, carrot be beetroot and topped with almonds, cacao nibs, sunflower seeds and strawberry. This was a new experience for me and one I was a bit nervous about. Over the last couple of years I have developed a problem with purple food that is either cooked or juiced. I know that neither of those same thing are the case with this smoothie but beetroot juice always gives me mild nausea just after drinking so I avoid it and was worried this migh have the same effect. I needn't have worried and have discovered that I love beetroot in a smoothie and it added such a great color that it makes your smoothie look amazing too!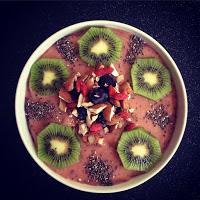 Day 17 - Fresh Start
made from banana, papaya, blueberries, lime and mint all topped off with kiwi, almonds, chia seeds, goji berries and blueberries. It is definitely right to call this smoothie fresh as anything with mint and lime in it refreshes you. Plus I have to say that this my first time eating papaya which I enjoyed but I am not sure it is worth the extra cost at the green grocers, it is one of the most expensive fruits there and I think the melon might be a good alternative for a much better price but that is just me.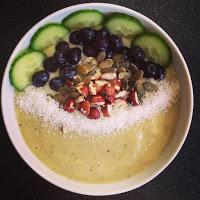 Day 18 - Spring Detox
made from banana, pear, celery, cucumber, ginger and lemon topped with cucumber slices, blueberries, pumpkin seeds, hazelnuts and coconut. One of the things I have discovered doing this challenge is that I love the flavor of cucumber in a smoothie. Add that wonderful refreshing flavor to lemon and ginger and you have a combination that will liven up your tastebuds. I am now a long way through this challenge and still love getting my weekly shopping lists and stocking up my fridge and freezer every week which I did before having my breakfast today. I am sure my local greengrocer must think I am a bit strange for buying 21 bananas every week but who cares if it makes me feel good.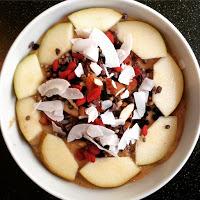 Day 19
- this was my disaster day because there was supposed to be pomegranate in this smoothie but I couldn't get any and so got grapefruit instead and this was put together with banana, figs, vanilla and almond milk topped with pear, almond, bilberries, hemp seeds, goji berries and coconut. I have to say this smoothie bowl was horrible and I had to throw it away. Grapefruit has never been my favorite thing but it totally overpowered the flavor of everything else and was just vile. I know one thing I will definitely not be putting grapefruit in my smoothies again.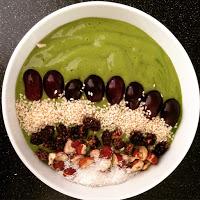 Day 20 - Spinach & Pear
made from bananas, spinach, pear and dates and topped with grapes, sesame seeds, mulberries, hazelnuts and coconut. This tasty smoothie is sweet and tasty and so full of flavor. This is one of my top five smoothie bowls and one that will become a regular on my list of smoothie bowls. I am now only have a third of the challenge left and I cannot believe how quickly it has been going and that I only have 10 days left. I am looking forward to all the fab recipes that will be coming my way over the next 10 days.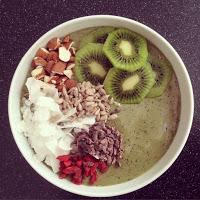 Day 21 - Green Boss
made from banana, spinach, blueberries, dates and soy milk with the toppings of kiwi, coconut, sunflower seeds, almonds, goji berries and cacao nibs. You can see that i was getting very excited about my toppings today and literally throwing everything at it in the best possible way. I absolutely loved this one, I'm not exactly sure why but I do seem to love the ones with dates in them the most. Dates are another food that I have only recently got round to trying and am i glad that I did, well in some ways because they taste so amazing but in another way not because I am sure I eat way too many and can't bare to think what it is doing to my waistline!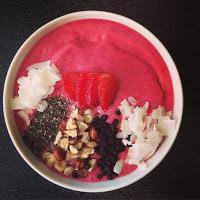 Day 22 - Strawberry Beets
made from banana, pineapple, strawberries and beetroot topped with hazelnuts, chia seeds, bilberries and coconut. Here we go with beetroot in my smoothie today and I still absolutely love it. Plus bilberries are a recent addition to my superfood stash and although not readily available in most places they are worth giving a go if you some across them. They are tiny little berries a bit like a dried blueberry but maybe a bit sweeter and a bit smaller.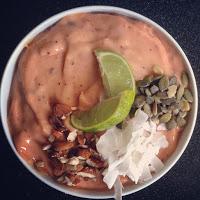 Day 23 - Exotica
made from banana, mango, papaya, grapes and lime with the toppings of coconut, pumpkin seeds and almonds. This is a really fresh and fruity recipe that has some of my favorite ingredients in it, mango and lime. They are definitely top ingredients for a smoothie, mango for the sweetness which I don't think can be bettered and maybe only equalled by pineapple and the there is the lint, refreshing and sharp and can lift almost anything.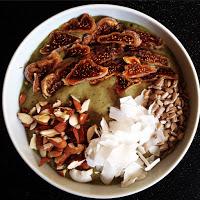 Day 24  - Vitamin C Booster
made from banana, kiwi, kale, blueberries and almond milk and topped with figs, almonds, coconut and sunflower seeds. I now only have a few days left of this challenge and am feeling pretty amazing and my skin is glowing and generally I cannot be more positive bout eating smoothie bowls. This one is the perfect way to keep things going, we can all do with a bit more vitamin C, especially living in a big city. We cannot make or store vitamin C and it is used up by stress and also the pollution actually means you need more too so if I can get more by eating something so tasty then why not.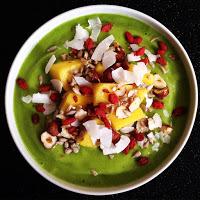 Day 25 - Green Blaster
made from banana, pineapple, spinach and coconut water topped with mango, hazelnuts, sunflower seeds, coconut and goji berries. This one looks really amazing, it is just so green and anything that color must be doing you good. I can promise that this tastes as good as it looks and the toppings just help to make sure you are getting something so full of flavor with the right amount of crunch. I am so glad that I decided to do this challenge.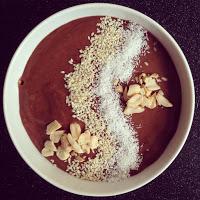 Day 26 - Chocoholic
made from banana, pear, cocoa powder, flaxseed, dates and vanilla and I simply topped it with peanuts, sesame seeds and coconut. I am sure I have already mentioned in this post somewhere that I love chocolate and these bowls where they are sweet and full of chocolate really do get my day going well. I can easily see how this is the kind of smoothie bowl I will love to eat when I need a bit of comfort food.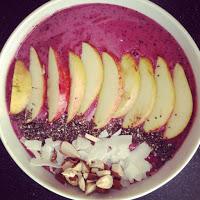 Day 27 - Hormone Harmony
made from banana, blueberries, apple, almond milk, mac powder and pomegranate juice topped off with apple, chia seeds, coconut and almonds. I have to say that the original recipe did not have apple in it and called for actual pomegranate which yet again I could not get. I did not want another disaster like the grapefruit fiasco and so I just put some apple in and use pomegranate juice instead and it really did taste great. There is a good balance between the mac powder and the pomegranate which are the two strongest flavours and yet more wonders to enjoy. Only 3 days to go now!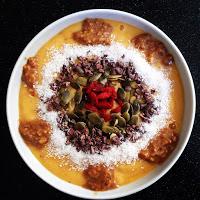 Day 28 - Ginger Ninja
made from banana, apple, orange, carrot and ginger, topped with goji berries, pumpkin seeds, cacao nibs, coconut and peanut butter. This is such a lovely orange color and a wonderful combination of flavours. The carrot really helps to add depth to this smoothie and then the orange is the perfect complement to the ginger. All in all this is one of the best recipes of the month and a great way to keep people motivated so close to the end of the challenge.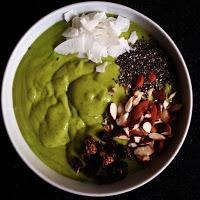 Day 29 - Nutri Booster
made from banana, kiwi, avocado, mango, spinach and almond milk topped with coconut, almonds, chia seeds and mulberries. So this is officially the first time I have had avocado in a smoothie and I can promise you I did not know what I had been missing. This smoothie is so amazingly creamy and rich. It is the most amazing way to make a smoothie decadent but using something that is so totally good for you. I absolutely love it and can't believe I only have one day left.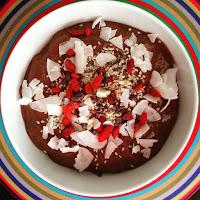 Day 30 - Choccie Mint
made with banana, avocado, mint, dates, cocoa powder and almond milk topped with hazelnuts, cocoa nibs, sesame seeds, goji berries and coconut. Now ending on chocolate is always good but chocolate and avocado it is basically like a really tasty chocolate dessert but for breakfast, now who would complain about that (well I know someone with a chocolate allergy who might but you get my point).
I just want to finish by thanking Abigail Geer and all of the other participants that have made it such fun on Instagram, it has definitely been an experience. Also to let you know that I will continue with the smoothie bowls and to put the recipes on Instagram so head on over there and follow Vegetarian Yogi to be kept up to day.