Great Britain is an amazing destination full of intriguing landscapes, historical treasures, dramatic coastlines, tranquil countryside and gorgeous cities. It is however not a cheap destination and you may have to dig deeper into your pockets to enjoy a holiday in this exciting location. Here are a few ways to help you save money so that you can explore England while minding your pennies.
SELF DRIVE TOUR
Taking a UK self drive tour is a great way to explore all the treasures of Great Britain; you can rent a car or use your very own and hit the road. It is an inexpensive way yet very rewarding as you get to enjoy the road at your own pace. You have the total freedom and flexibility to get to places off the beaten and spend as much time as you want there.
Driving yourself to your favorite destination is effortless; you generally set the pace for your own holiday and pulling over your best attractions as you enjoy privacy and comfort. Take the family and decide where you head to the next day: will it be a family trip to Devon, or an exciting ride to the coast in Cornwall? When you're at the wheel, you can choose on the morning!
Great Britain has a wonderful network of roads which means that you can explore any region you choose; all you have to do is arm yourself with a good map and hit the road. It is cheaper than booking expensive tours with hotels and you get to as many places as you wish.
RENT A CAMPERVAN
A campervan holiday is an exciting experience, families and groups have been enjoying such kind of holidays for ages and it is becoming a popular way of travelling without having to rob the bank. Nowadays campervans feature modern facilities such as fridges, Wi-Fi connections, satellite televisions and fully equipped kitchen areas.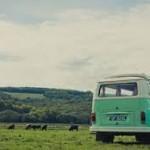 There is a wide selection of campervan rental companies which offer great services and you can hire the vans for as long as you wish. You can have fun traveling on the road and enjoying free camping zones in scenic places – hire a camper van in Scotland and then set off south and through England into Wales for beautiful places to visit at every turn. There are even designated areas where campervans pull over for the night. You will be able to meet other travelers along your route and end up making new friends. This form of touring is cheap and convenient to visit more places than if you stayed in fixed locations. You do not have to pay for hotel rooms and you will be able to prepare your own meals.
MAKE GROUP HOTEL BOOKINGS
If you are travelling as a group you can make arrangements and book your holiday as a group, this is a great way to save money because most hotels are willing to offer discounted rates for large groups. Hotels make money by selling rooms, food and services such as laundry hence they are willing to accept large groups.  The more potential your group is to buying many services from the hotel, the more leeway you have for negotiating an incredible group discount. However group bookings should be done early before the peak seasons; hotels are less willing to offer group discounts if they can get individual clients easily.