Wedding is a lifetime affair and thus some love to celebrate this in a very unconventional way that has something different for others. Well, if you are planning for such- I have this post today that can help you with the wedding dress to suit the theme.

The dress to suit this theme has to be something that's chic, flirty & fun. This needs your

wedding dress

to be informal but at the same time is

glamorous

.

Since vintage era short wedding dress have been in trend and still loved even on the catwalks and for the wedding dress of 2016.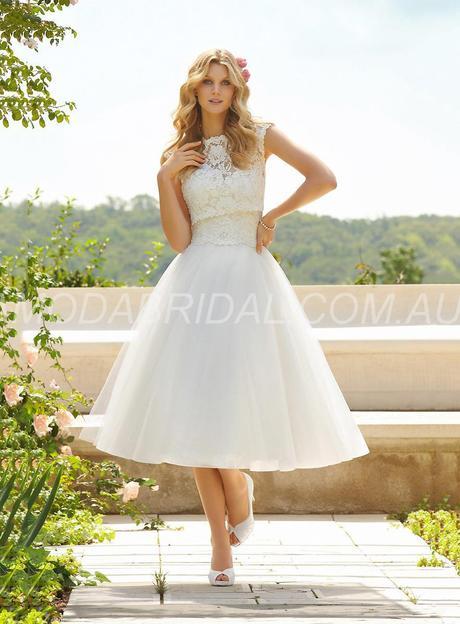 Check these 3 Types Of Gorgeous Short Wedding Dresses
The length of Ballerina wedding dresses are also called as tea length. This falls between the mid-calf & ankle. It looks best when flaunted with elegant bridal high heels that add an extra demure. It's even more traditional than the actual tea length and has a flirty hint.
And if you've a budget amodabridal has many such wedding dresses which you won't believe are available in such cheap price.
Tea Length Wedding Dresses looks so girly, feminine and girly. This has its own vintage charm and depicts elegance & glamour. Tea Length wedding dress is below knee & the mid-calf. Wear it with tulle petticoats to look stunning or silhouette that's waist cinching to add flirty & fun bridal look. If you are planning for a rustic or relaxed wedding, these dresses look quite sober for the classic church wedding.
Short Wedding Dressesare any dress that's above the knee and not actually tea length. They are just short!!!  Short & sassy doesn't always have to be known with slutty, these can also be chic. Short wedding dresses tend to show off a little more skin and that makes it too perfect for the bride with short height. This adds a height illusion and makes you appear taller and elegant.
Amodabridal short wedding dresses has many such gorgeous and iconic dresses to make you a style icon.
What's your choice for a short wedding dresses? Make tea length wedding dress trend a part of your wedding to make it unconventional and breathtaking. This trend of bridal wear is just too perfect and guaranteed to woo all your guests!