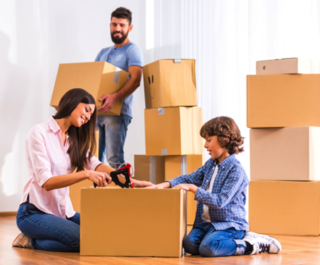 Moving is a hassle. Many people report staying in their current home, apartment or condo much longer than they planned solely because they dreaded moving. The logistical headache is bad enough. Even if you hire the best movers in the world, the process of boxing up your more precious items personally, let alone deciding which things that you have accumulated won't make the trip, is never easy.
Then there is the emotional strain. If you're moving just across town, at least you won't be changing your whole life. But if you're moving somewhere far away, you will have to get used to a new community, new job, new school, new grocery stores and new salon — the list goes on and on. Fortunately, there are ways to make it as painless as possible. A few key pointers will take some of the pain out of relocating and can even bring your family closer together in the process.
Finding a New Apartment
You are likely moving to a specific location for a specific reason. Whether it's a new job or family commitment, you may not be able to choose the city or town that will become your adopted home. But especially in bigger cities, like Los Angeles or New York, there are many neighborhoods to choose from. Let your kids be involved in the apartment hunting process. Show them photos online of some apartments for rent, using a site like ForRent.com, and see what features seem to be most important to them. Whether it's having a pool, finding a nearby park or something else, there will likely be one thing that they can get excited about.
Naturally, the final choice will be up to you and probably come down to price, square footage, condition, school district and proximity to work or family. Making your kids feel like they are part of such an adult decision-making process, however, will do wonders to get them eager — not fearful and tearful — about the change.
Packing Pain
Your kids, particularly young kids, will be an emotional wreck if you make them throw away a single possession. Even old items they haven't touched in years will instantly turn into treasured goods. This is generally more about anxiety over change than it is about an old Teddy bear. But rather than simply putting your foot down, treat them like grown-ups. Give them a quota — maybe 10 toys or lesser-used items — that they must elect to throw out. Offering incentives in the form of small rewards or making it into a contest can help.
Tell them that life is about making tough choices and that they must decide what things are most important to them. If they are convinced that their selection process can really help the family during a challenging transitional time, they will feel more connected to and accepting of the entire experience.
Moving In
Choosing rooms in a new home is never easy. Multiple children always end up wanting the same room — and usually only because their sibling said they wanted it first. This must be handled diplomatically at the outset. Eventually, they will not care, but in the first weeks of the move, they will be looking to lash out at any perceived problem with the new apartment.
If they won't back down, you'll need to make a choice. Start with having the kids explain fully, with actual reasons, why having a specific room is so important. Then ensure that they understand that someone is going to have to make a sacrifice. Let them know that whoever steps up to make their sibling happy can be rewarded with other benefits. The selection process can be a good learning experience about how people must sometimes make concessions. In order to move, the whole family needs to help each other adjust. Be thoughtful and truthful about how this needs to be handled. Tell them how change is never easy, and that you also had to leave things behind when you made the decision to move.
If it all goes perfectly, this part of the move can teach them a valuable lesson. When the hassle is finally over, your children may come away understanding that their willingness to help each other out and put their loved ones first is what makes families so special.