Hi everyone,
With quite a few big events running around this time of year – Easter, The Autumn Racing Carnival, Fashion Week and just the usual birthdays and events that pop up in life, the appearance of your skin is something that will be on show quite a lot, so why not follow a few simple steps and give yourself some soft, glowing, perfect skin to show off!
Below are the 3 steps I follow to improve the appearance of my skin and some of the products I use to achieve it.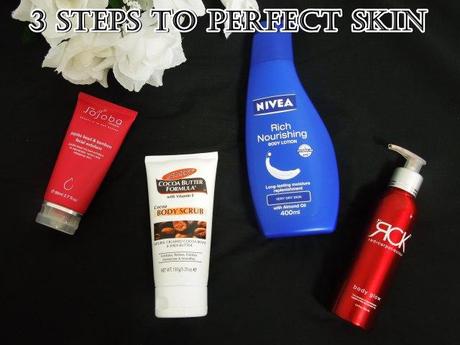 Step 1. Exfoliate
Exfoliating is one of the most important steps in any skincare routine as it removes the dead skin cells which can clog pores and cause breakouts, as well as removing any dry or flaking skin. Exfoliation allows the skin to breathe and regenerate while the products to come after an exfoliator in the skincare regime will be able to deliver better results as it will be able to better penetrate the skin. My top tips on exfoliating would be to not over exfoliate the skin, whether it is by doing it too frequently or using too much product or force as this will all lead to irritating the skin which may cause flare ups. The recommended usage for most exfoliants is 1 – 3 times a week.
For the face:
The Jojoba Company – Jojoba Bead & Bamboo Facial Exfoliant (EE Cream)*
Now I know many may be over the whole beauty alphabet but don't let this EE cream trick you into thinking it's just another beauty fad. The Jojoba Bead & Bamboo Facial Exfoliant is an amazing 2 in 1 product! It acts as an exfoliator and treatment face mask (just leave it on for 10-15 mins). Aimed to rejuvenate, renew and rebalance the skin, this product is gentle on the skin yet effective in giving the skin a deep cleanse, leaving you with smooth, glowing, hydrated skin. It doesn't leave your face feeling dry or tight after use either and when worked into the skin in soft circular motions, you can really feel it do its job. Targeted for all skin types, this product is suitable for sensitive skin and its active ingredients include: Australian jojoba, Bamboo, Ivory clay and Salicylic acid. It is chemical, paraben and mineral oil free with no artificial fragrances or colours. 
For the body:
Palmer's Cocoa Butter Formula Body Scrub*
Previously coming in tub form, this product is now available in the tube for easy application. This product promises to exfoliate, refine, polish, moisturise and smooth the skin through its crushed cocoa bean and shea butter formula. This body scrub feels really luxurious on the skin and smells absolutely amazing when worked into the skin! It gently exfoliates and leaves the skin soft and moisturised with a beautiful glow and gives an overall healthy look to the skin (it's quite hard to describe!). The scrub isn't too coarse but it really does work well to remove problems areas of dry skin and moisturises at the same time. Its active ingredients include: Cocoa butter, Shea butter, Vitamin E and Micro crushed cocoa beans and is now Paraben and Phthalate free as well.
Step 2. Moisturise
Moisturising everyday is something I've really worked on in 2014 as I used to be quite a bit lazy when it came to moisturising but since moisturising every day, I can really see a difference in my skin and so even though it may seem like a hassle some days when you're really tired (or lazy!), its definitely worth it! It keeps the skin moisturised, smooth and stops it from looking dull, instead leaving it looking healthy and young. I haven't included a facial moisturiser in this post as each person's skin type and skin concerns lends itself to a different moisturiser but I have discovered a body moisturising product.
For the body:
Nivea Rich Nourishing Body Lotion
I was recently at a friend's place and needed to use some moisturiser and this was what was on their shelf. I liked it so much that I went out and bought a bottle myself! I really like that this is quite a rich body lotion so its perfect to use overnight. It isn't a sticky formula and has the iconic Nivea scent. It leaves the skin soft and very moisturised and is quick and easy to work into the skin. After applying it at night, you wake up with silky soft, hydrated skin the next morning. The pump on the bottle also allows for quick and easy use.
Step 3. Finishing Touch
This step was something that I didn't do until I was introduced to a product that somehow just made my skin look perfected and gave a red carpet glow that you see on all the celebrities!
Get the Glow:
RCK Red Carpet Kolour by OFRA Cosmetics*
This product was created by celebrity MUA Joanna Schlip and OFRA Cosmetics who aimed to create a luminous body lotion that could hide skin imperfections such as pigmentation, veins, cellulite and stretch marks whilst giving a red carpet glow. Because it was first created for celebrity clients, RCK is non transferable and water resistant, ensuring you keep that perfect skin look all day and night – it can be used on the face and body. It comes in 3 shades: Light, Medium and Tan and celebrities such as Isla Fisher, Kate Beckinsale, Sandra Bullock and Jennifer Lopez are all users of this product! I opt for the Light shade for my fair skin (though it can be used on all skin tones) and gives a beautiful healthy glow and 'soft focus lens' to the skin, giving it a perfected appearance and your skin is just left look so healthy. It goes transparent when rubbed in with circular motions and smoothes into the skin easily. The formula is fast drying, non streaking, and paraben-free.
I would say that RCK is a very similar product to the This Works perfect look skin miracle as they provide the similar results; however, when comparing the two, you get 3 times the amount of product for a lower price if you choose RCK! It's now also available at Priceline stores.
I think this 3 step regime really does deliver perfect skin and it's something I've been following whenever I have a party or event to attend because it definitely acts as a confidence booster when someone compliments you on it! It's also easy to follow for everyday life if you're looking to improve the appearance of your skin and you'll be able to see and feel the difference immediately.
What are your top tips to achieving perfect skin? Leave a comment below!
Like this post?
Follow me on Bloglovin'!
Like my Facebook Page
Follow me on Twitter
Follow me on Instagram
That's all for now,
triedandtestedblogger XOXO
*These items were kindly provided to me for the purpose of reviewing them. As with all reviews I post, it is 100% honest and of my own personal opinion. For more information, visit my Disclosure Policy.