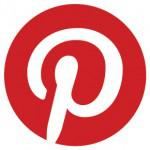 The social mobile community Pinterest – where people "pin" images to "boards" and share them on the Web and through Facebook and Twitter – is taking the world by storm. Last year was Instagram's year, but 2012 is the year Pinterest exploded in popularity.
But what is Pinterest, exactly? I recently defined it for a friend like this:
Pinterest is a social network around images – like Instagram  -but where Instagram has developed into more of a "life image stream," Pinterest tends to be more "aspirational" 
You can create "boards" which are topic-based and categorized, and you can add to those boards either via a bookmarklet that you can add to your Web browser or via the free Pinterest iPhone app. But why would you want to get a Pinterest account (at the moment, you need to ask for an invitation to get in – if you need one, let me know)?
Here are 3 straight-forward ways you can use Pinterest…
1. To "bookmark" things you like
While there are a number of more clear-cut bookmarketing sites for links to content such as Delicious, you can use Pinterest to save images for a variety of uses. Whether you're decorating your home or redesigning a website, as you browse websites researching your project, you can "pin" images and designs that catch your eye. Then you can refer back to what you've saved to Pinterest for inspiration.
Beth Kanter has a rich Pinterest profile and includes a variety of images covering a range of topics from Social Media Tips and Best Practices…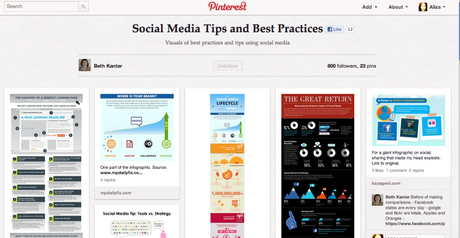 To African fabrics…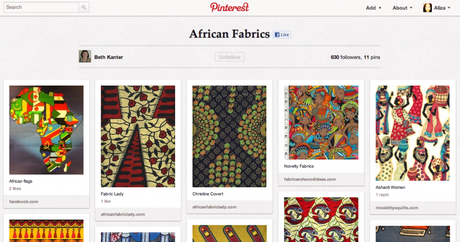 2. To define your personal brand
Beth Kanter's Boards above illustrate her diverse tastes and interests. Another example of a Pinterest profile that showcases a personality and sensibility is that of Mariel Hemingway. When you view her boards, you get an instant first impression. With boards like Nature, A New Earth, and Simplicity, you begin to get a sense of the image Mariel wants to project.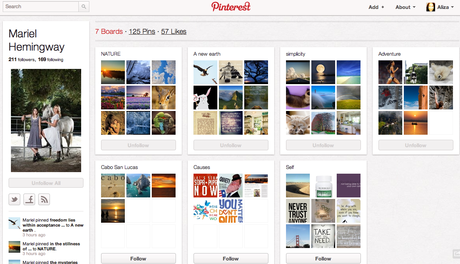 3. To promote what you do
From artists and photographers to crafters and hobbyists, Pinterest can be used to visually promote what someone does.
For example, Rachel Durik, a photographer and mom, showcases her work and her inspiration on Pinterest. She even wrote this great post about How to Use Pinterest for Photographers.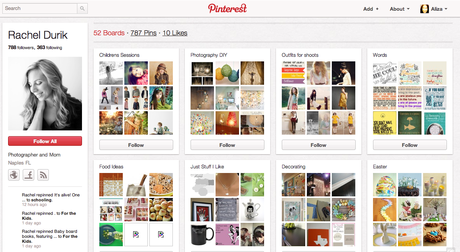 Brands are getting into the action as well. Here is the Pinterest for Whole Foods. You immediately see their brand attributes coming through as they pin images related to healthy living, food, home, lifestyle and recycling.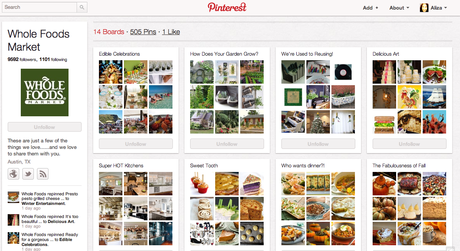 One of my clients, Wine Sisterhood, is using Pinterest in a variety of ways including creating Boards to showcase the cities where they'll be attending food and wine events.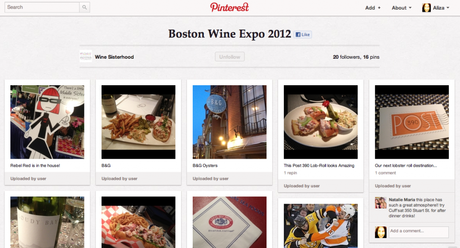 Because they are a lifestyle brand, pinning images of food, travel, entertainment and wine accessories makes sense. They can also promote their products by including interesting shots of their products in use or in relevant environments rather than just product glamour shots. Then they can leverage these pinned images beyond Pinterest, feeding it into their website or posting select ones to their Facebook Page.
Pinterest gives you the ability to curate eye candy. Turning that into something useful isn't a big stretch as thousands of people are discovering.
How are you using Pinterest? (You can find me on Pinterest, too!)
Additional reading:
7 Creative Ways Your Brand Can Use Pinterest (SearchEngineWatch.com)
Subscribe to my Weekly emails – get my QR Basics Handbook