When you started planning your business, you probably had at least a brief spurt of wild creativity ~ complete with ideas or sketches for logos, what your website would look like, your favorite colors, etc.
But one of the things I most commonly find with my clients is that after the fairy dust settled and it was time to get down to brass tacks, those initial thoughts didn't get developed much further.  And that led to frustration or confusion later on.
Maybe you hired someone to design a logo or your website, and maybe it turned out great.  But now that it's time to market your business you are finding that you don't know what to say, or that the 'stuff' (graphics or written content) you created earlier on is not giving quite the right message about your business…
The problem might be that you moved too quickly from concept to action (kudos, though, for jumping into ACTION).  You may have missed a crucial step in your early brainstorming, the part where you figure out your company's personality.  This 'personality' is an essential component because it allows you to find 'relatable qualities' to use in your marketing efforts.
So, how do you find your business personality?  Here are 3 Questions to ask yourself: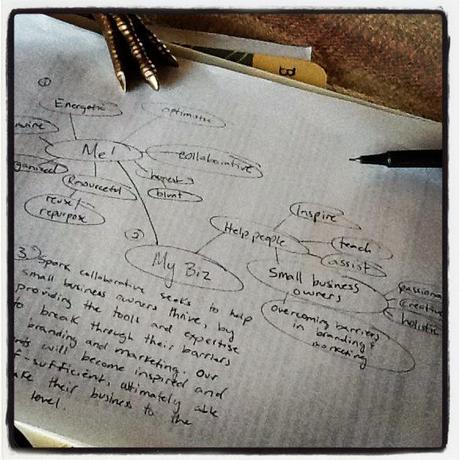 1. What is MY Personality?  Start by listing some characteristics about you, specifically ones that relate to what you do for your company.  After all, this is YOUR business and you are very much a part of your brand.
If someone meets you at a networking event (or in an elevator for that matter), how will you behave when telling them about your company?  Why would they choose to connect with you later and potentially hire or buy from you?
2. What problem does my company solve for people?  Try to focus on an emotional component, not just the literal solution.  People purchase almost everything based on emotion (even things we have to purchase, it still brings effects an emotion).
Say you provide financial planning services for women in transition.  Your goal is to help women who are trying to make a positive change in their lives.  You offer assistance and guidance, yes, but how to they feel after working with you?  Unburdened, in control of something that was previously out of their control, hopeful and excited for their future.  You are not just solving a tangible problem, you are solving an emotional one.
3. What is the core philosophy of my company?  This answer sort of comes out of the two questions above.  It's the WHY of your business – why you are passionate about doing this?  The answer to this question should be the focus of all your branding.  Every image you create, everything you share in social media, your auto-responders  to email forms, the way you answer your phone.  EVERYTHING that other people see about your business should consistently reflect the passionate philosophy of your company.
After answering these three questions, you may find a need to revisit your branding elements.  If your logo doesn't visually represent the philosophy I highly recommend you update it.  If the colors or the fonts you use seem unfriendly (or maybe too friendly), change those now!  From this day forward, make a commitment to your company by sharing only what makes sense for your brand.
If you need help solidifying your philosophy, updating your branding elements or planning your marketing strategy, Spark Collaborative is offering a 10% discount on all services until September 30th.  Get more information here.