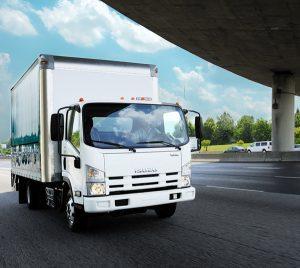 From engines to economics, the new name of the game is "efficiency"
With Valentine's Day fast approaching, we've identified a few key trends in light duty trucks -you know, those vehicles that get millions of flowers into the hands of happy people! These trends tie back to one key theme for the entire trucking industry - efficiency. From energy consumption to fleet size and configuration, winning at a time like Valentine's Day is all about precision.
Trend 1: More efficient vehicles. Each model year, smaller light duty trucks and cargo vans get more efficient - a win for both owners and the environment. For example, Ryder's Metro Van runs on a 6-cylinder turbo diesel performance engine and gets up to 25 MPG. This setup gives the driver power, reliability, and fuel efficiency that competes with most regular-sized cars. In the end, less money in the gas tank means more money back in your pocket.
Green Car Reports recently looked deeper into the fuel-efficient commercial van market and saw strong demand and technological improvement: "Smaller vans are growing quickly...and suit lighter-duty businesses - especially those making urban deliveries - just fine. Some dealers report steady demand as more businesses become aware of the new vehicles." These trucks sound perfect for stop-and-go deliveries over Valentine's Day.
The efficiency trend has long-term legs, too. EPA goals set last year that aim for U.S. car fleets to average 54.5 miles per gallon in 2025, along with new electronic data logging requirements for the trucking industry, will further drive the march toward better fuel economy.
Trend 2: More flexible fleets. There's no denying it: We're living in the age of 'Uber-ization'. Today's commercial economy is being driven (no pun intended) by a high-stakes game of delivery. Companies like Amazon, Uber, Lyft, InstaCart and Postmates have created nimble, on-demand delivery networks for everything imaginable, which has conditioned our expectations in remarkable new ways.
What does this mean to light duty trucking? Everything. If you noticed Amazon-branded vans this past holiday season, that's the company's new light duty vehicle network for high-speed delivery of Prime and Prime Now goods. Modern companies don't invest heavily in permanent staff and hard assets; that's the business model of yester-year. These new capabilities are built on seasonal workers and a fleet that expands and contracts based on demand. Amazon also just rolled out Flex, a new Uber-like platform that lets independent contractors deliver using their own vehicles.
The trend here is that companies want a larger, nimbler, on-demand network of small to mid-size vehicles that can better service local delivery needs. And if this network is built on increasingly fuel-efficient vehicles, you have a recipe for better business margins.
Trend 3: On-demand owner-operator trucking services. A few startups are competing to bring reliable on-demand trucking services to market. Among the leading three are Convoy, Cargomatic and TugForce, all of which are taking aim at traditional brokerages and load boards.
Matt Young, a Morningstar analyst in Chicago, recently told Trucks.com, "There could be a niche for it in regional freight, where they're not dealing with as long a time frame or distance - maybe 50 miles or less, where there's less of a chance of damage or late delivery."
In today's transportation industry, success is equal to your ability to respond to demand quickly and precisely. Underestimate the market and find yourself unable to meet demand, opening the door for competitors to step in and take your profits. Even logistics giants like UPS, FedEx and the USPS can underestimate demand spikes, causing them to scramble for rental trucks at the last minute. Overestimate demand, and find yourself holding a bag of infrastructure and labor that isn't generating enough revenue.
The solution? Stay flexible, respond nimbly, and have on-demand options in place that can quickly grow or shrink your fleet, so you always stay right-sized...and above all, efficient.