0 Flares Twitter 0 Facebook 0 Google+ 0 LinkedIn 0 Pin It Share 0 Buffer 0 Buffer Reddit 0 Email -- Email to a friend 0 Flares ×
Deciphered under countless numbers of definitions and quotations, success has always been an existential question throughout the centuries. Tracing forward to modern times, it still evolves huge interest amongst the society of Today.
However many questions, related to the nature of success, are yet to be solved; still searching for answers. Luckily, Great Minds have left us a priceless heritage of wisdom, coming from the past to light our success path to the future.
The concept of Success has continuously been enriched during the years, running through the generations and carrying the specific marks of ages. Plenty of success quotes are absolutely immortal and have stood the test of time, bringing their helpful advices to the present, should we know how to read between the lines.
Feeling stuck after a recent failure in business? Lacking confidence to face your professional challenges?  Lost on your way to success? Need a clue on how to successfully reach new horizons?
This article will help you take the most out of 3 famous quotes about success, being twisted through the lens of their "contemporary" meanings.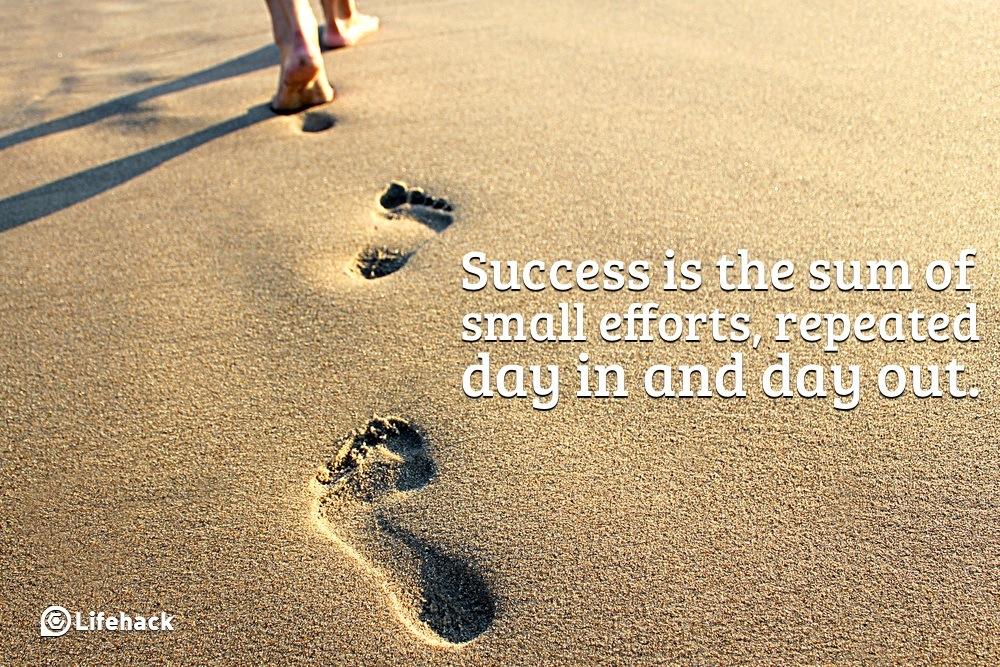 1.    Success is the sum of small efforts, repeated day-in and day-out. ~ Robert Collier
The bottom line: Success is not easy to come by and there is nothing like shortcuts to success. It never comes spontaneous but is a fairly deserved outcome of continuous efforts.
a) – Work, work, work. Dreams won't work unless you do – No doubt, talent is absolutely needed but it is hard work that is crucial for success. If determined to succeed, then it's time turn the working mode on. Embrace the idea of spending long after hours in the office and even skip vacations when needed.
b) – Be stubborn and persistent – Little by little, day after day, triumph comes at a steady pace, dressed in small efforts. Follow your success road assiduously and take tiny achievable steps, each one at a time. Winners are those, persistent to progress, obstinate to never give up and patient to wait for the results.
c) – Discipline matters – Steel discipline and self-imposed control are required to keep the rhythm up. That only means one thing: get ready to be fully devoted to achieving success. Lacking discipline, you might find yourself buried in your desk, catching up with tons of tasks left behind deadlines.
d) – Plan and organize in advance – Good planning equals to 50 % of success. Learn how to arrange your priorities and manage your time. Productivity is all about good time management and thoughtful planning. Put small targets and chase them until fully completed. Learn how to optimize your time schedule so you can make the most out of it.
e) – Concentrate on the goals – As Henry Ford says "Obstacles are those frightful things you see when you take your eyes off your goal." In other words, the best you can do is to dismiss fears of failure and duly focus all your energy and efforts on the targets. Letting no other distractions stay on your way, will save you precious time for what really matters.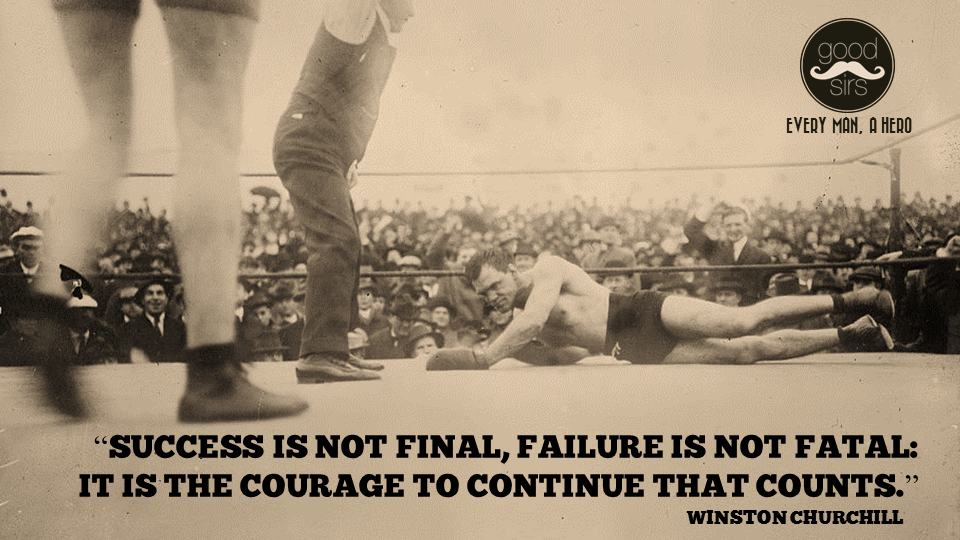 2.   Success is not final, failure is not fatal: it is the courage to continue that counts ~ Winston Churchill
The bottom line

: To achieve the greatest success, you have to face the prospect of failure first. Whether constructive or destructive, the nature of failure depends on how you handle it.

a) –  Accept failure and quickly move forward – Admit failure as inevitable part of life, recover fast and keep on trying if at first you don't succeed.  Don't be afraid to step   out of your comfort zone. Take it as a challenge, recharge your courage and get back on the track again.

b)  - Don't let discouragement dominate over your enthusiasm – There are times we all feel lost when things go wrong. Why don't you think of all the famous people such as Walt Disney and Albert Einstein who have first faced failure before reaching success? Follow their lead, instead of being disheartened to death and ready to quit the "competition".

c) – Take failure as a "necessary evil"– Think of your failure as a signal that something didn't work quite properly before. Take the chance to figure out how to fix the flaws and bring your success plan to the next level.

d) – Don't get the role of victim. Be a real fighter – Do you remember what they say: What doesn't kill you makes you stronger". True! Proudly accept the lost battles and get ready for the next defiance, being now equipped with a stronger will to succeed. Let your winner attitude take it from there.

e) – Think of failure as a priceless experience – It's quite simple. The faster you learn how to constructively use the lessons of defeat, the faster you will know how to successfully turn impediments into opportunities. Leverage from your mistakes, make the most out of your experience and learn how to develop success from failures.

f) – Never take success for granted – Once achieved, success is not final. Don't underestimate the fact that competition never sleeps. Today's market is highly aggressive so even if successful, you need to stay on alert and double the efforts. Success is not permanent; it has to be proved and provoked on a constant basis.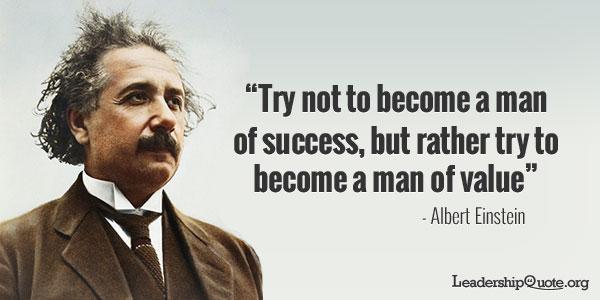 3.  Try not to become a man of success, but rather try to become a man of value. ~ Albert Einstein
The bottom line

: Success is to be treated intelligently. The eagerness for success is addictive but should not be turned into an end in itself. Never let success deprive your individuality and take over your personal beliefs. It's just a function of your efforts to achieve great summits.

a) – Evaluate the price of success – You need to seriously figure out the following: What is the price that you are ready to pay in the name of success? Where do you put success in your list of life priorities? Only after having a clear idea on what success means to you, should you be able to understand what sacrifices you are ready to make to reach your goal.

b) – Whether you Win or Lose, do it fairly – Be honest and honorable on your way to success. It's the smart moves, not the mean tricks that are needed to succeed.  Play fair. Be a sportsman. Don't let your strive for success turn you into a disrespectful and unreliable person.

c) – Remember the start – Often turn back time to those start-up years when you timidly made your first steps to success. Never forget the tough beginning. By recalling the volatility of success, you will push yourself to work even harder for retaining it.

d) – Be grateful – Appreciate all the courage and understanding you have been given by your family and friends. Being always there for you, they fill your life with meaning, share your efforts and sweeten the joy of success achieved.

e) – Respect your rivals – Treat your competitors exactly the way you would like to be treated. Be tolerant and professional. Stay loyal and generous.  Being well-respected by people is already success "in your garden".

f) – Stay true, stay you – Don't become dependable on success. Take control over it so you can stay faithful to your personal values and stick to your life principles. Success comes and goes but dignity stays for life. After all, be a man of Value!
Benefit from wisdom of the past but find your own comprehension of success. That's how you will feel confident when chasing after it.
As Michael Irwin defines it: "Success belongs to those who believe in the power of their ideas." Only when convinced in what you do and why you do it, will you be able to free your full potential. Even if the route to success is never smooth but rather bumpy, it is all about having the right mindset from the start.
Fiercely fight for your ideas and remember: Nothing works without passion. Your inner fire is the sparkle to fuel the mechanism of success. Be proactive and energetic, passionate about your goals and stubborn to pursue new ventures. Be courageous to follow your heart and one day you might find yourself just on top of what they call "Success".