There are only three days left until the Opening Ceremony!  If everything goes as planned (and I hope they do this time) it will be one BIG party.  No doubt, there should be plenty of jaw-dropping moments to enjoy from your TV at home.   There are some exciting new innovations and from what I have experienced of Rio, the ceremony describes Rio's artistic contributions to wold culture in a stunning way.  Also, in case you missed any posts or are curious, by clicking the button above that says "Behind the Scenes: Rio 2016," you can find all my earlier posts.
With that said, since I've been on my feet all the time, I've been walking many miles every day, sometimes eating small meals at strange intervals.  So today I made sure to have a decent, sit-down meal downtown by the Old Cathedral.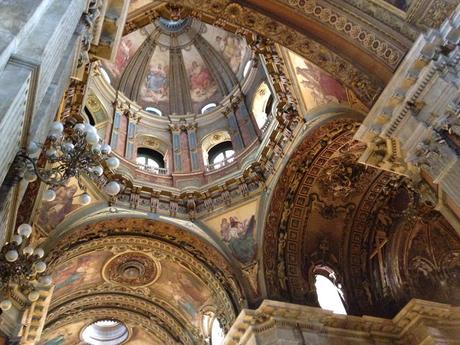 Old Rio Cathedral - they still perform mass here in chant!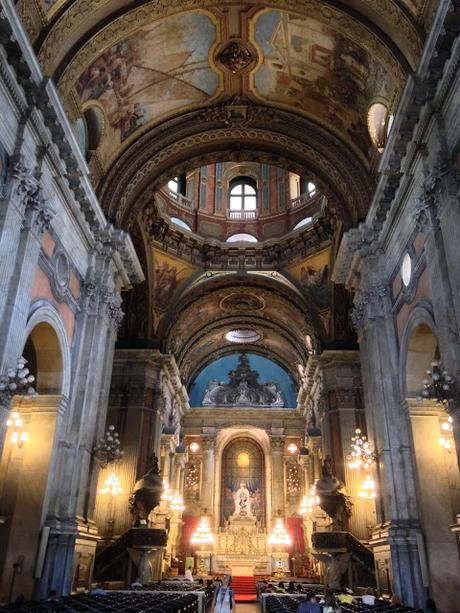 Not the largest church, but certainly beautiful!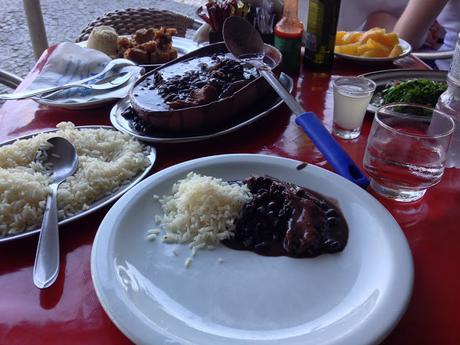 No, I couldn't make a "happy plate"
To give you an idea of what is going on here - this is called Feijoada, and I've had it before in Miami with my Brazilian/American friend and former college dorm roommate, Michael.  He also introduced me to Guarana, which is a soda - more popular than Coke down here.  My feijoada meal pictured here is stewed black beans and various pork parts (quite salty), rice, water, a shot of tequila and lemon (for some reason - I didn't ask for that, but I wasn't going to complain!), cooked cabbage with bacon, mandarin oranges, fried pork chunks, and masala.  The people around me laughed at the sight - as did I - but how should I know that it would be so much food?  It cost me $13.50 USD!
For Americans, you would certainly enjoy Rio (especially in Winter) - they have had significant negative press lately, but hopefully once the games begin, and the media lands in Rio, you will hear again and again the same things that I write about and that many of the tourists here comment.  It is a friendly place, you get a bang for your buck (as you can tell), and especially in Winter - it is cool, beautiful, and you will have a hard time finding any bugs, or anyone who has had a bug sighting.   I feel safe, there are many police out and about, and yeah, it smells terrible sometimes, but so does New York City, and I love that place too.
Tomorrow is the last of the dress rehearsals.  There are still a few areas that need work, or need to be tested.  Sometimes a segment is dropped from the program because the visual effect or preparation just isn't up to snuff.  That may be the case here, but there is still time to tinker so we'll see.
Today's "teaser" needs a bit more explanation than the past ones.  For months, I've been preparing for Rio, but back in May, long before I arrived on site, a special construction project began in Maracana specifically for the Opening Ceremony.  The grass was removed, a wooden stage was erected covering the stadium floor, and thousands of seats were removed!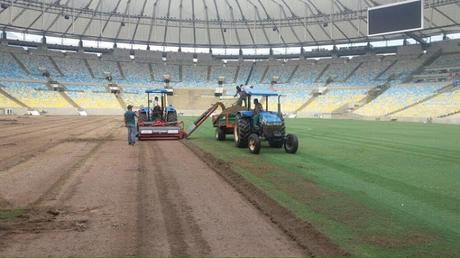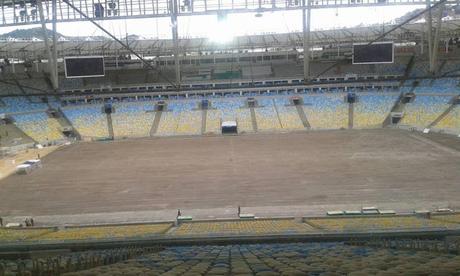 This was just the beginning of the process, and I'll give you two more great teasers before the ceremony, but the concept behind this was to create a ceremony that best described Rio's history.  You will see this unfold in great spectacle, but in describing Rio, the history of all the music that originated here (samba, bossa nova, funk carioca, choro) and in describing the ethnic diversity - all of those stories begin in the favelas, the slums of Rio.  Even the great Brazilian film, City of God, which is also Rio's nickname, is about life in the favelas.  Not surprisingly, the director of that film is the chief artistic director of the ceremony.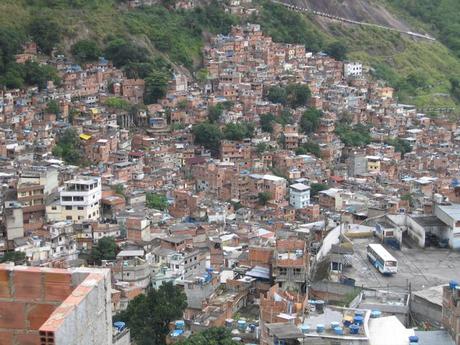 Rio Favela
As they plaster the sides of the many mountains, which tower over the beaches and wealthy, seaside neighborhoods, the favelas are a curiosity to most but a vital part of the cultural history of this city.  So, thousands of seats were removed and slowly, a large "favela" was built within the stadium, serving not just as a backdrop, but a feature from which the story of Rio will be told in the ceremony.  Is your imagination racing yet?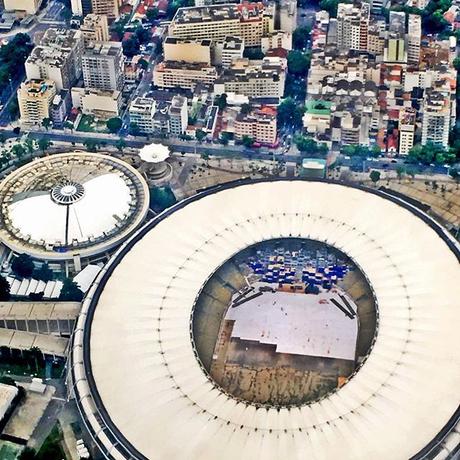 Under construction!