Composition to Completion
June 21 - 23, 2019Ellis Art StudiosKelowna, BC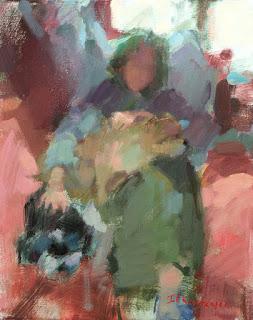 After years of teaching strictly from life, I've finally figured out how to teach from photo references! This is no small thing! (Hence the extravagant punctuation). 
Photos are tricky because they have enough detail to lull painters into thinking they can work from them.  Invariably, though, the artist will end up staring intently at the photo, trying to imagine what colours could exist in those uninformative shadows and bleached lights, and wondering where all the midtones have gone.  We long for an interesting composition, but struggle to shape one from the camera's limited and monocular view.  
Through long trial and error in my own work, I've come up with strategies to overcome these limitations. 
I'll be teaching a 3 day workshop at Ellis Art Studios that tackles the photo reference head on, covering everything from composition and color to alla prima paint application.  It's a comprehensive workshop that will use each artist's own photos, and turn them into paintings that are based on the reference but go far beyond it to become personal interpretations.  
I hope you'll join me.
This workshop is suitable for oil and acrylic painters.  My demos will be in oil
For details and registration, see
Ellis Art Studios
.