Hi everyone,
Today I thought I'd share with you some of my current favorite (as well as long term favourite) beauty blogs to read as well as beauty lovers on YouTube I just cant get enough of! I wish that I could include all of my favourites but then this post would be a VERY long one so I've narrowed it down to my current top 3!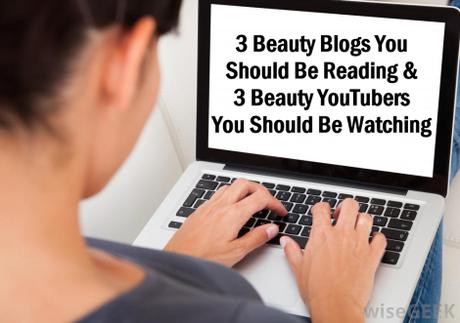 Image Source: Wisegeek
BLOGS:
More Than Adored: MTA is run by the lovely Sarah and her blog has been a favorite of mine for a very long time as her content is fab! After her recent site revamp, her blog has become even more amazing (if that's possible) and she's now expanded to include regular fashion and lifestyle posts, along with beauty.
Cassandra Myee: I cant exactly remember when I discovered this blog but I'm so glad I did! Cass is located in New Zealand produces stunning photos to accompany her beauty posts which are always informative and honest, helping you make the best beauty purchases.
Vivianna Does Makeup: I love Anna's YouTube channel and her blog is equally a favourite! Her posts are just so easy to read, as if you're reading some notes about your best friend wrote down. The mix of drugstore to high end products is another aspect I enjoy about her blog.
YOUTUBE CHANNELS:
GlamLifeGuru: Tati's videos are straight to the point and one thing I really love about her channel is that she is totally honest when she reviews a product – drugstore or high end. She has a great mix of videos from hauls, first impressions, tips, favourites and tutorials.
BeautyLifeMichelle: Michelle also has an equally fantastic blog and her YouTube channel features high quality videos on creating stunning makeup looks as well as reviews, first impressions of products and more. She uses a great range of different makeup brand in her videos.
Goo Roo Beauty: Jodi's videos are so easy to watch and they're really informative and help you decide on whether or not to try a product thanks to her honest feedback. She produces a great range of content from reviews of products, tutorials, favourites and more.
What are some of your favorite beauty blogs and YouTube channels?


| Bloglovin' | Facebook | Twitter | Instagram |