Salil Desai is back at it again. After the very successful first two books in the Inspector Saralkar series ( Killing Ashish Karve and The Murder of Sonia Raikonen), he is back with 3 and a half murders - which I have to say is the absolute best in the series so far.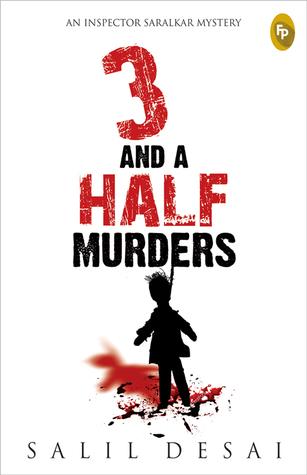 Synopsis
Two corpses . . . a woman lying dead on her bed, a man hanging from the ceiling fan.
A suicide note cum murder confession.
And a name . . . Shaunak Sodhi.

When the case comes their way, Senior Inspector Saralkar has just been diagnosed with hypertension and PSI Motkar is busy with rehearsals of an amateur play.

What appears at first to be a commonplace crime by a debt-ridden, cuckolded husband, who has killed his unfaithful wife and then hung himself, soon begins to unfold as a baffling mystery.

~ Synopsis from goodreads
My Review
Like I mentioned earlier, this is a very strong book, and the absolute best in the series so far. Inspector Saralkar and his sidekick Motkar are back investigating what seems to be a straight-forward murder-suicide by a husband-wife couple. However, as they investigate their backgrounds, unsettling facts come to light, which makes them question whether this could be a murder.
And if so by whom?
Soon they are on the track of the mysterious Shaunak Sodhi who is named in the suicide letter. But why would a killer openly put his name in a suicide letter?
Very soon, the case deals us some very surprising twists and turns. And I have to tell you that these twists were magnificently done.
I read this at the same time I read a very hotly promoted thriller ( Into the Water by Paula Hawkins), and I have to say 3 and a half murders was the superior book when it comes to keeping the mystery alive till the very end. I couldn't guess the killer correctly until the reveal - and of course when it does happen, every incident so far in the book made perfect sense.
On the personal front, there is Motkar who is inveigled into participating in a play. Unfortunately, the case gets in the way of his rehearsals and that he is forced to endure unrelenting mockery of his acting ambitions provides the comic touch to the book. I have always enjoyed this back and forth between Saralkar and Motkar and think their rapport is one of the biggest strengths in these Salil Desai novels.
Saralkar's hypertension makes a couple of guest appearances in the book, but doesn't really get in the way of his solving the mystery and catching the culprit. And again in this book, I enjoyed the salty Saralkar's relationship with his wife.
In short, this was one very enjoyable book. I like police procedurals generally but am always wary because such plots can get repetitive as the series progresses. So far, Salil Desai has avoided that particular pitfall providing us 3 very different types of mysteries in this series.
I am definitely looking forward to more such high-caliber books.
Huge thanks to Fingerprint books for providing a copy of this book for review consideration.