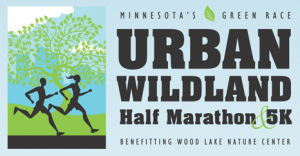 2nd Green Revolution will be this year's bib sponsor for the Urban Wildland race in the Minneapolis, Minnesota suburb of Richfield. The race, comprised of a 5K and a half marathon, takes place on Saturday, August 6th. The half marathon will begin at 7:00am and the 5K starts 15 minutes later.
We decided to sponsor this event because of the focus on education and environment, two aspects that coincide with our mission. For a bit of history,
The Urban Wildland Half Marathon & 5K was founded in 2003 to save the partnership between Wood Lake Nature Center and the Richfield Public Schools to provide environmental education curriculum to the student. The race itself has become an opportunity to demonstrate environmentally-friendly practices. All materials are either recyclable, reusable, or compostable, most of the food served at the event is organic, and every aspect of the race has been considered in an effort to leave a gentle footprint on the environment.
In past years, the race has exhibited a plethora of sustainable practices. These include shoe recycling available at the race. All clean and dry pairs of shoes are recycled by Wipers Recycling. The shoes were will be either "re-used in the community or donated to flood victims in Minnesota. The other half of the shoes are made into new items", all of which are made in Minnesota.
All electricity needed to run the race (timing devices, music, public address system) will be generated from solar power provided by the Minnesota Renewable Energy Society. Medals handed out are carved on wood sourced from sustainably managed forests. Those that are unwanted are donated and used in hospitals for children fighting cancer.
As part of the runners' fees, "$1 of each registration will fund the planting of 100+ hardwood trees at the Santa Familia Primary School Kanan Kaax Model Teaching Garden in Cayo, Belize. Dominant Maya forest trees, like Mahogany, Cedar, Zapote, Yaxnik, Jobo, Chicle, and many others, capture tons of CO2 and the garden is used to teach kids the time-honored practices of forest gardening."
In addition, all participants will receive "a tech shirt made from recycled post-consumer waste: each shirt uses about four 16.9 oz plastic water bottles! The shirts are made by Greenlayer Sports using Repreve fibers."
[Image source]