Today is the birthday of one of our favorite True Blood writers, Nancy Oliver. A woman responsible not only for the greatest episode of the show EVER, season 2 "I will rise up", but also for one of the absolute highlights of last season – Drunk Amnesic Eric. Here at Eric & Sookie headquarters we are more than a little fraught that Nancy's name has not yet appeared as one of the writers for the first half of season 5, but fingers crossed her writing pen will grace the second half with its trademark emotional punch.
As Nancy is so damned good – I'm cheating today and it's a double quopic!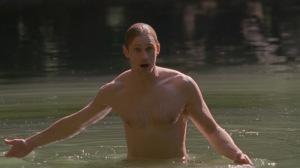 "There's gators in there you crazy viking, get on out and let's go home before  one of them chomps off your you know what".

—————————————————

"You'll care for him, Eric?"

"I'm not sure, you know how he is"

"I can take the blame for that too"

"Maybe not, Eric's pretty much himself. Are you afraid?"

"No, no I'm full of joy"
We hope you have a wonderful birthday Nancy, and thanks for all the amazing True Blood moments you have given us!
Let us know how you rate Nancy Oliver's writing in the comments below.
Advertisement