We've been keeping track of firefighter product sales through all of 2020, and we put together a list of this year's highest rated fire items.
It's expensive to sell retail this season, so the most innovative items are available on line, especially during quarantine.
Monopoly – Firefighters Monopoly 3rd Edition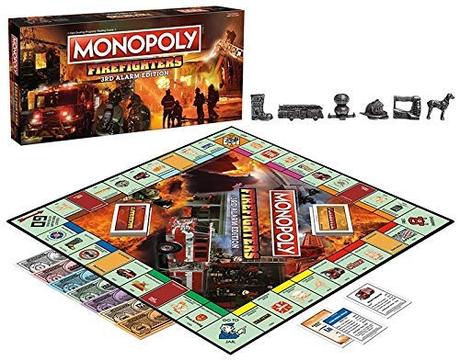 Race around the Firefighters 3rd Alarm Edition of MONOPOLY, honoring the men and women on the front lines of firefighting worldwide from Firefighter Play. Designed by firefighters for firefighters (plus families, friends of the fire service and fans), your response will take you from Dalmatian Drive to Truckie Terrace with a fun mix of incidents and mayhem along your route.
Designed by firefighters for firefighters
Perfect for the crew room, or a great gift idea.
Set includes with 6 brand new tokens, new spaces and new artwork
Nearly 40,000 copies of the 1st and 2nd Edition have ,
For ages 8+
Firefighter Rescue Turnout Fire Gear Bag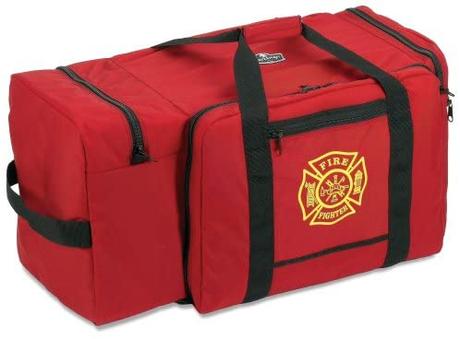 The heat of battle is no place for the weak of heart. That's why our Fire Bags are designed for all guys and all glory. In their trial by fire, these bags have been found guilty – of tenacity in the first degree. Arsenal Fire & EMS Bags hold and separate turnout gear, equipment and personal items unlike any others. We got your super-tough nylon or polyester exterior that's guaranteed to resist abrasions, tears, scuffs, and punctures; a water-repelling double-coated polyurethane interior; and vault-sized compartments to capture it all. This combination repels water and resists abrasions, tears, and punctures. Heavy-duty zippers, lots of ergo, and pockets aplenty finish it off nicely And don't forget the suspenders – this is no time to get caught with you pants down.
EXTREME DURABILITY Made with 1000D polyester to keep turnout gear, helmet, and other gear clean and dry
PLENTY OF STORAGE Main interior pocket has more than enough room to store all of your gear 21in x 15in x 15in (53cm x 38cm x 38cm). Large end pockets can hold a fire helmet, SCBA resipirator or other fire gear
OPTIMAL COMFORT Adjustable and removable padded shoulder strap makes it easy to carry and transport your bag
CONVENIENT Two haul handles on the ends of the duffel make it easy to grab when removing from a fire apparatus, truck, ambulance, or other emergency vehicle
30in L x 15in W x 15in H (76cm x 38cm x 38cm) 7,280 ci. (119 l)
Saint Florian Patron of Firefighter Challenge Coin

St. Florian is the Patron Saint of Firefighters and this is a prayer coin of firemen. In our firefighter challenge coin, one side is a man help the litter angel pouring the water and his right hand is holding a cross. The reverse side is the fire department symbol. The words in the reverse side are ?honor, courage, duty, and sacrifice?. This coin is to memorialize fallen comrades and honor their sacrifice. Firefighters are the heroes to protect country and families.
57″ diameter and 0.11″ thick, iron with antique bronze plated
Prayer coin and gifts for firefighters
Commemorate firemen?s devotion and sacrifice
Suit to your challenge coin display case and put on your wallet or anywhere you want
Every coin is packaged with transparent plastic case
Apple Watch Series 3 – with Black Sport Band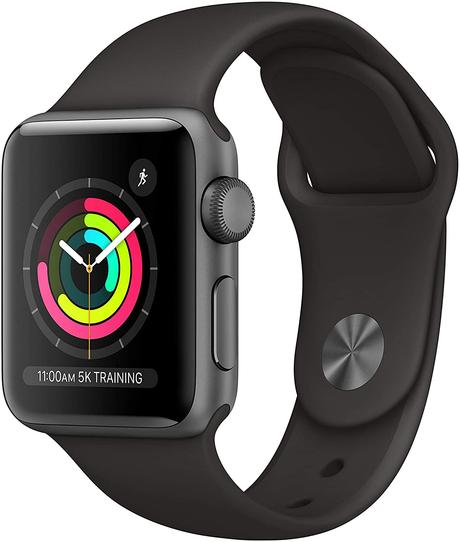 Why do people love their Apple Watches? It's just a watch, for pete's sake! But if you have one you know right away. There's a small miracle that happens in a busy life when you can answer your phone (er, watch?) with your hands full. Or just glancing down to see the text message you just got. Or even completing those freaking rings (don't know? of you will). There's very little bad I can say after having my Series 2 for the last couple of years. I'm happy to get the 3 to have the always-on feature of cellular. I can leave the house and it's not even a problem if I left my phone. Or go for a walk without having a heavy phone in my pocket. It's not even about style, there's just a huge practicality of having a small device attached to your wrist that makes so many problems go away.
GPS
Retina display
Swimproof
Optical heart sensor
Stores music, podcasts, and audiobooks
Elevation
Emergency SOS
S3 chip with dual-core processor
watchOS with Activity trends, cycle tracking, hearing health innovations, and the App Store on your wrist
Aluminum case
3-in-1 Fire & Rescue Tactical Knife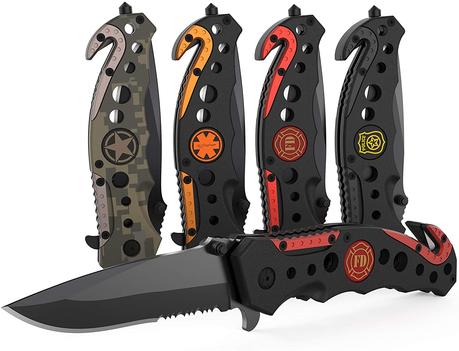 The Ultimate Tactical Fire Department Knife for First Responders and Firefighter Personnel.
NEW 2020 DESIGN: High Performance Steel Blade with Lightweight Aluminum Handle and Pocket Clip
MULTI-FUNCTION 3-in-1: Built in Glass Breaking Tip, Seatbelt Cutter & Stainless Steel Knife Blade
DIMENSIONS: 3 ½" Stainless 3mm Thick Steel Blade, 5″ Closed Length, Fits in Swiss Safe EMT Holster
SECURE: Built in Safety Lock, Spring Assist, and Hand Grip Made for Emergency Rescue Situations
100% MONEY BACK GUARANTEE: Full refund offered if not 100% satisfied with product for any reason!
Firefighter Knee Compression Sleeve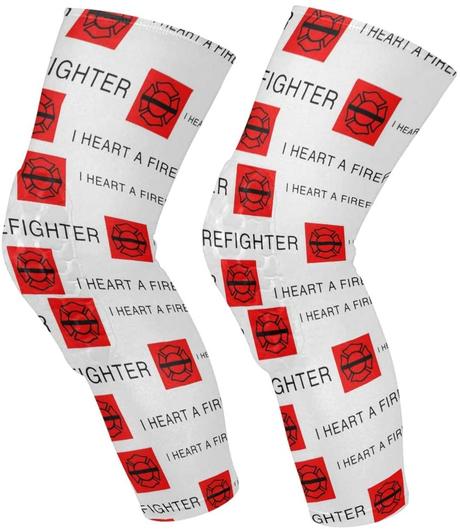 Ergonomic design, super lightweight, provides freedom of movement. Whether you're a total exercise novice or a fitness pro, make sure that you get comfort, style, and value for money, that's why we perfected our knee sleeves with high-density strengthen foam for breathable and secure fit.
The combination of Polyamide and spandex makes this product very soft, stretchy and comfortable. This combination makes the product very high in quality.
One Size, length 18.6 Inch, thigh bicep 12.8 Inch.
Closed cell foam padding that gives every athlete, in any contact or collision sport, the remarkable advantages of protection, durability and confidence.
Can be used for the knee, elbow or shin.
Suitable for all sports activities that involve a great amount of stress on the joints like running,basketball,soccer,football,golf,cycling,tennis,hiking,volleyball,skiing and much more.
Flash Drive Photo Stick for iPhone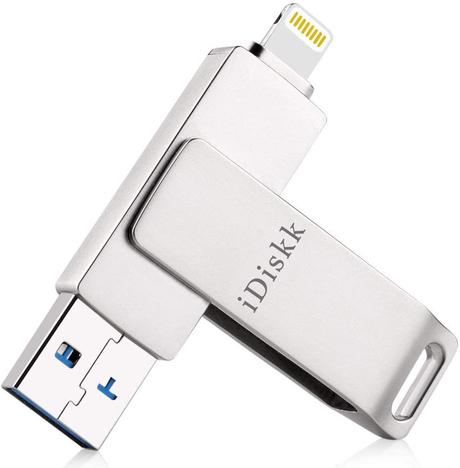 This little thing is awesome. I'm lucky to get an electrical device turned on and I was able to figure out almost immediately how to quickly and easily transfer photos directly from my iPhone to the usb. And I was able to easily set up different folders on the usb for certain photos. Like "family" "work" "outdoors" etc etc. now anytime I take new pictures I simply plug it in and within 60 seconds my newest photos are backed up on the usb in their appropriate folder. I highly recommend this product.
FAST FREE UP SPACE WITH 128GB EXTERNAL STOGRAE – Just connect in the lightning Photo Stick, easily move photos, videos and other files off your iPhone or iPad and onto the flash drive, from the drive, you can also transfer these files into your Mac, PC or other devices.
WATCH MOVIES DIRECTLY FROM THE PHOTO STICK- Connect and play, enjoy movies or music's stored in the flash drive when you are on trip or travel, most video formats are supported: (VIDEOS: AVI, M4V, MKV, MOV, MP4, MPG, RM, RMVB, TS, WMV, FLV, 3GP; AUDIOS:FLAC, APE, AAC, AIF, M4A, MP3, WAV)
AUTOMATIC PHOTO or VEDIO BACKUP- Every time you connect the flash drive in, use "iDiskk Max" App camera to take photos/video ,which will be automatically stored into the flash drive.
HIGH-SPEED TRANSFERS WITH USB 3.0- Mfi Certified flash drive guarantees fast and stable data transfers,one HD movies ( approx. 1GB) only needs about 20s.
COMPATIBILITY & 12 MONTHS- iPhone 11 Pro,iPhone X, 5 5s 6 6+ 6s 6s+ se 7 7+; iPad (iOS 8.0 or higher), Computer OS Support Mac OS X v10.6+, Windows 7/8/10
DEERC – Drone with Camera for Adults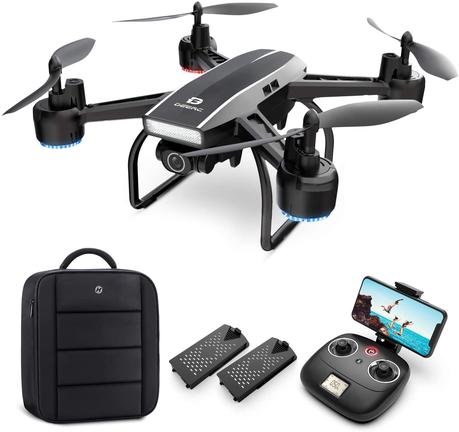 First thing that you notice when you open it is the case. Very nice case for carrying it. It is super lightweight and it will fit the controller, drone, batteries and spare parts.
I was surprised to find out that the batteries are charged with a micro-usb cable. It includes 2 batteries and 2 cables so you can charge both batteries at the same time. They will take about 1:00 – 1:30 hrs to charge. Flight time was about 10 to 15 minutes from each battery while having very strong winds.
Considerate Designs: Come with a backpack to store the drone and all accessories, 2 batteries support up to 24 min flight, make this drone a best companion when you play outside.
1080p Clear Footage: Built-in 1080p Full HD Camera with 120-degree field of view and adjustable angle, create high definition footage and FPV live videos, allow you to see a wider and clearer view.
Easy to Use: Equipped with auto-hovering; one key operation enables you to start it, land it or change speed by pressing a single button. 3 Speed modes can satisfy both beginners and the advanced.
Add Fun to Your Play: D50 can perform 360° flips, rolls and circle makes the drone more attractive; With Waypoint, you can define an exact route on the App map, brings you spectacular experience
More Smart Features: With the newest voice feature, you can play the drone with simple voice comments like "take off" "landing"; pose to the camera it will take a photo or video
Thin Red Line USA Flag, with Embroidered Stars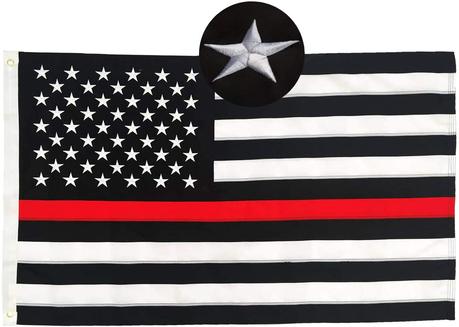 It's been up for about a month now and so far it's holding up great. The stitching was nicely done, we've had no pulled threads sticking out even with all the rain we've been getting! The stars are embroidered on. It's lightweight enough to flow nicely in a breeze but heavy enough it doesn't get all tangled on the pole. We have it on a pole that's designed to not get it wrapped up and so far it's worked! After a month out there's no holes or fading! This was definitely great quality for the price
Quality Materials: USA flag constructed with strong 210D nylon material to withstand any outdoor weather. Specially treated to dry quickly and highly UV protected to resist fading. Long lasting nylon built for outdoor use. a true all weather flag. Fly your American flag proudly in rain, snow and sunshine!
Embroidered Stars: The best quality craftsmanship makes USA flag. Beautifully crafted, right down to the top notch embroidery on the stars. The stars are embroidered using densely filled rich white thread. The nylon stripes are sewn together with two rows of double stitches for added strength. Four rows of stitching on the fly hem improve durability, avoids fraying quickly and will ensure a longer lasting flag.
Perfect For Countless Purposes: This high-end American flag will make an excellent replacement for all standard American flags. Ideal for both indoor and outdoor use, it will fly proudly to underline your patriotism in political events, sports organizations, football matches or the world cup!
Perfect Gifting Idea: Easy to fly, reliable and competitively priced, Our American flag will make the perfect gift to all Americans, highlighting their pride in the USA honorable history! Ideal for household or commercial use, it makes a large American flag that will have the lucky recipient thankful for your excellent taste!
No Reason to Hesitate: American flag comes with a Warranty-100% refund if for any reason you are not satisfied. We want you to love your flag as much as you love your country. God bless America!
Fireflex Firefighter Rolling Travel Bag (Gold)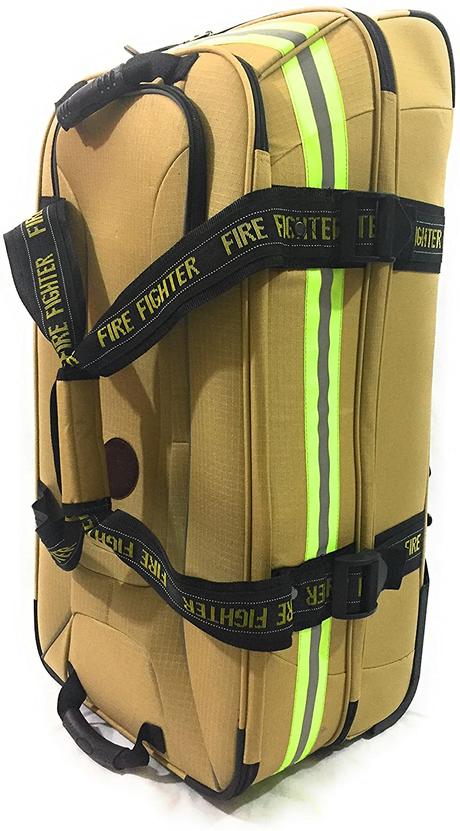 The Fireflex Rolling Duffle Bag is a large, versatile travel or out-of-county bag with the extreme durability. The duffle bag has a large drop-bottom compartment with hold down straps for securing your belongings. Included are two side storage compartments for your shoes and other travel needs. Pull the duffle with a heavy duty locking, telescoping handle which extends 41 inches. The duffle rolls on extra large, durable rubberized wheels allowing you to easily take all your travel necessities wherever you may adventure. You won't find a more durable, quality aggressive looking rolling duffle bag on the market. Bag dimension are 30" L X 18" W X 18″ D .
Large capacity rolling travel bag
Heavy duty rolling wheels
Moisture resistant
Durable Fireflex ripstop material
Durable hardware throughout bag with heavy duty zipper closures
Universal Firefighter Classic Series 3-Piece BBQ Set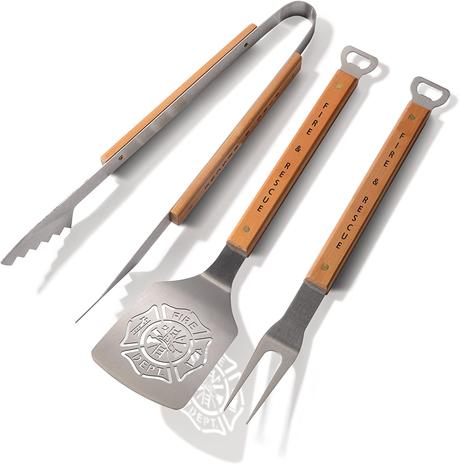 Get your grill game on with this set of Firefighter sportula barbecue tools. The barbecue tool set includes a sportula a pair of tongs and a grill fork. Each tool is made from heavy-duty stainless steel with brass-riveted handles. The design is laser cut through the blade of the sportula. The sportula and the fork both come with an integrated bottle opener. An unforgettable gift and the most noticed accessory at any tailgating event.
Dimensions: 22″ x 9″
Unique Laser-cut design
Heavy-duty stainless steel
Hard maple handles with durable brass rivets
Convenient integrated bottle openers
Care: Hand wash
Firefighter
Anker Wireless Charger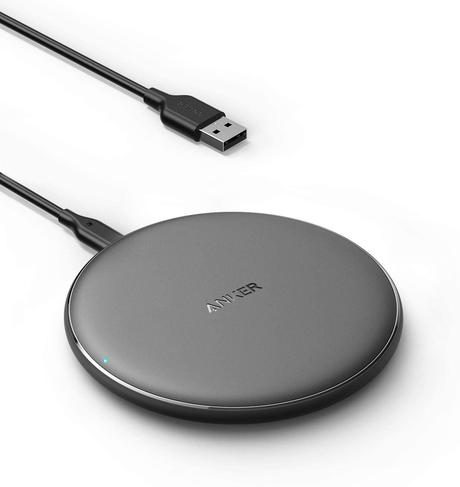 Use with my new Samsung Galaxy S10. No problems yet, and I've had it for a couple months. Works as expected! Admittedly, I don't have testers like others for actual speed of charge, etc – but phone indicates it's fast charging.
I have a Spiegen cover on my phone & no interference.
Generally, I like Anker products (and their pricing & cust service), which is why I went with this one, and so far this charger keeps that expectation met.
The Anker Advantage: Enjoyed by over 50 million users worldwide, our leading technology will change the way you charge.
Complete Charging Convenience: Instantly charge your phone or earbuds simply by placing them in the center of PowerWave Pad. Never fuss around with plugging and unplugging cables again, just set down and power up.
Universal Compatibility: PowerWave Pad provides 10W output for Samsung Galaxy, 7.5W for iPhone, and 5W for other phones or wireless earbuds (including AirPods).
Through-Case Charging: Don't fumble with your phone case. PowerWave charges directly through protective cases up to 5 mm thick (not including cases with magnetic or metal attachments).
What You Get: PowerWave Pad, 4 ft Micro USB Cable, welcome guide, worry-free 18-month warranty, and friendly customer service.
Streamlight – Survivor LED Right Angle Flashlight

The Streamlight Survivor LED (Alkaline Model) is a lightweight, hand-held light with right angle head designed for use in hazardous locations. The light offers microprocessor controlled high and low lighting modes and emergency flash mode. It is the Brightest, Right-Angle LED Flashlight in the World. The Luxeon LED will never break or burn out, it'll never have to be replaced. This ultra-bright, 3-watt Luxeon LED has a 50,000 hour life with 65 lumens. There is no need for spare bulb. The deep-dish, parabolic beam generator creates a long-range (500 feet), focused beam, and ample side lighting for multi-use applications. It's weatherproof, microprocessor controlled, push button switch is raised to make it easy to use with gloves. The three position switch (high, low, and locator strobe) is a raised push button switch recessed in a polymer housing for protection. The Streamlight Survivor LED will run up to three hours on high beam and up to six hours on low beam. It is powered by four AA Alkaline batteries. No tools are needed to change batteries. It's rugged nylon polymer body is virtually indestructible and passes the 30-foot drop test. It's O-ring sealed for water resistance. The newly redesigned clip doesn't deform like metal clips! It Grabs onto a belt or clips to turnout gear for easy hands-free use. Limited lifetime warranty – the last right-angle light you'll ever buy.
Rubber dome push button switch easy to use with gloves
Dual power source: Rechargeable NiCd battery; also accepts 4 "AA" alkaline batteries
C4 LED with high, low, emergency flash and moonlight modes
High for a super bright beam that pierces through smoke: 41,000 candela; 175 lumens; 405m beam distance; runs 3.5 hours (NiCd); runs 4 hours (alkaline)
Low for bright light and longer run time: 14,000 candela; 60 lumens; 237m beam distance; runs 13 hours (NiCd); runs 15 hours (alkaline)
Flashlight case is made from high impact, super tough nylon and is "O" Ring sealed
Unbreakable Lexan Lens with silicone anti scratch coating is assembled in a heavy duty bezel; O ring sealed
3 watt Luxeon LED, impervious to shock with a 50,000 hour lifetime
Run time: high up to 3 continuous hours, low up to 6 continuous hours
6 3/4 inches high by 2 3/4 inches wide; 3 inch diameter
JBL Tune – True Wireless in-Ear Headphone – Black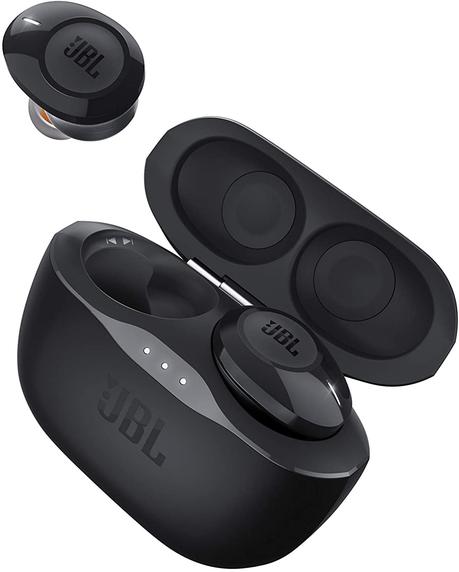 No wires. No hassles. Introducing the completely cord free JBL TUNE120TWS. They are powerful in sound thanks to a 5.8 mm driver featuring JBL Pure Bass sound and colorful in design. The earbuds combined with the elegantly designed portable charging case provide 16 hours of unrestrained musical enjoyment. Ergonomically shaped, they also ensure long lasting comfort. Equipped with intuitive and handy controls that are conveniently located on each earpiece, including one click access to Siri and Google Now.
JBL pure bass sound
Truly wireless
Hands-free stereo calls. Dynamic frequency response range (Hertz) – 20 Hertz – 20 kilohertz. Charging time (hours from empty) – <2hrs from empty. Play time (hours)- 4 hours with BT on
4H Playback for earbuds + 12H for charging case
Affordable stylish design
Tile Mate (2020) 4-pack -Bluetooth Tracker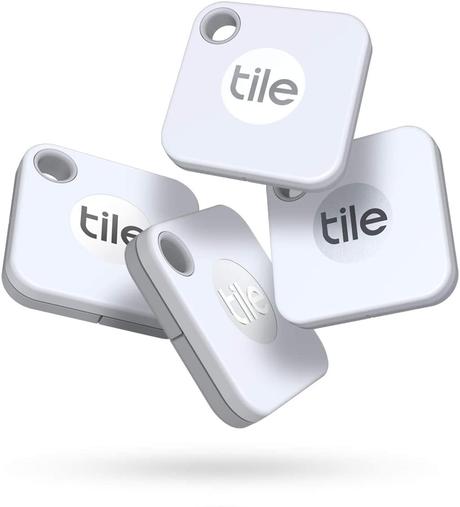 Attach Tile Mate to your everyday things like keys, backpacks and other stuff you need to keep track of regularly. You'll gain peace of mind knowing you can open the free Tile app and tap Find to locate your stuff. Tile requires installation of the Tile App on iOS or Android, registration for a Tile account and acceptance of Tile's Privacy Policy and Terms of Service (available at Tile.com). Payment required to access additional Premium services.
FIND KEYS, BAGS & MORE — Mate is our all-purpose finder for a wide variety of items like keys and bags. The easy-to-use finder and free app work with iOS and Android. Keep track of more for less or give them to your friends and family as a gift.
FIND NEARBY — Use the Tile app to ring your Tile Mate when it's within 200 ft.
FIND FAR AWAY — When outside of Bluetooth range, use the Tile app to view your Tile's most recent location or enlist the safe and anonymous help of the Tile Network.
FIND YOUR PHONE — Use your Tile to find your phone, even when it's on silent.
UPGRADE YOUR FINDING EXPERIENCE — Subscribe to Premium or Premium Protect for proactive finding features and enhanced services including Item Reimbursement, Smart Alerts, and Free Battery Replacement.
Intra-Fit Rescue 79314 Extrication Gloves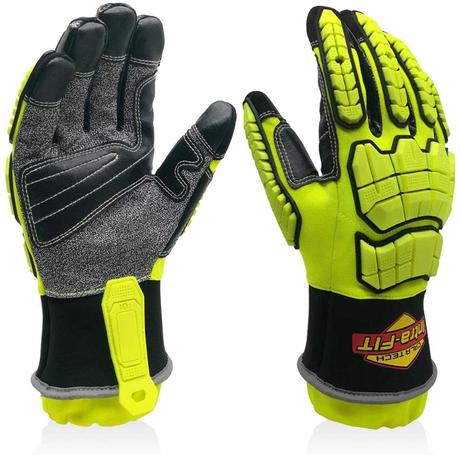 Great fit! Good dexterity. I like there better than my more expensive pair of Ringers.
CERTIFICATION:EN388:2016 certified:3X44EP
IMPACT PROTECTION:TPR impact protection, CE EN 13594:2015 CERTIFIED
WATER&OIL REPELLENT:HIVIs green stretchable back fabric, highly breathable, water & oil repellent. GLOVES ARE NOT WATER-PROOF
STRONG PHYSICAL PROTECTION: Cala-Tech material which is high breathable resists puncture damage at the highest level and provide leading abrasion, cut and tear resistant.
STRONG DEXTERITY: simple construction ensures excellent dexterity and comfortability
OUYZY – Neck Gaiter Face Scarf Cover Mask

96% Polyester, 4% Spandex
Imported
MULTIFUNCTION: OUYZY mask makes a great gift for anyone. It keeps hair out of the face, Wick away sweat or protect yourself from the sun in hot days, in the early morning sun wear it as a mask to protect your skin! It can be used as a head band, cap, beanie, neck gaiter, wind or dust screen, balaclava, pirate-style cap, scarf or a helmet liner, a yoga session, fashion and much more. It is also perfect for various sports and outdoor activities: running, hiking, walking, cycling motorcycling, fishing, hunting, etc;
MATERIAL FEATURE: 96% Polyester Microfiber. The fabric is stretchable, comfortable and breathable. Head wrap is sweat wicking and dry quickly to keep your healthy in your daily life and adventure. We highly recommended hand wash in cold water and do not wash or dry with cotton terry towels or jeans/canvas etc.
SUN PROTECTION: OUYZY head wear pass SGS UPF TEST. You will discover that the harmful ultraviolet rays will be blocked under the burning sun when going out for fishing, hunting, cycling, motorcycling, running, or other activities. Wearing our heard wear, balaclava, face mask, or neck gaiter will block up to 95% of the harmful sunshine from your head, face, neck and ears to further protect your skin from being over exposed to the harmful of the sun.
SIZE: Natural length and width: 19.5inchX 9.7inch. High stretchable circumference is about 21.25-25inch. Thickness: 0.5MM. They are durable and stretchy, great fit for heads of all shapes and sizes to keep far away headband headaches, keep hair out of the face in sports, you actually look better after wearing our headbands.
WASHABLE & REUSABLE MATERIAL: High quality and durable feature make this product can be serviced in longer time. Machine or hand wash both at all. Wind dry it in naturally. Lightweight and easy tidy up to outside.
React 7-in-1 Vehicle Emergency Multi-Tool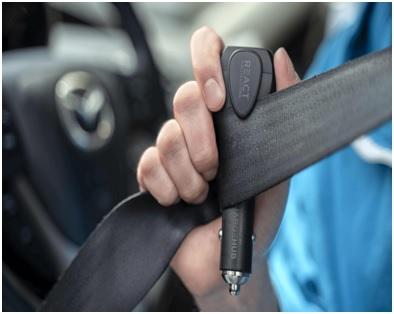 React Powered by ChargeHub is a 7-in-1 multi-tool built for use in a variety of emergency situations, big or small! It is the ultimate all-in-one portable solution that is capable of charging a dead mobile device, providing an S.O.S. signal, and even escaping a vehicle in an emergency.
CAR CHARGER: Provides one USB port to charge most USB devices using patented SmartSpeed Technology through the vehicle power socket.
POWER BANK: Conveniently packs 2200mAh of power to recharge a USB device while on-the-go!
WINDOW GLASS BREAKER: Helps escape a vehicle in an emergency with the powerful and concealed steel spike.
SEAT BELT CUTTER: Is covered for day-to-day use, yet razor-sharp and easy to access to cut through a safety belt if a passenger is unable to release it normally.
FLASHLIGHT: Is equipped with two modes, high and low, and is the perfect tool for daily use, traveling, outdoor activities, and searching in the dark.
Skullerz Odin Safety Sunglasses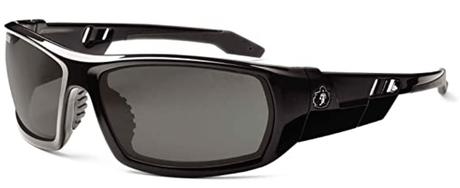 For safety glasses, these things are pretty nice. They look much better than most industrial and science type eyewear and they are have a high speed impact rating. I use these for cycling and doing projects like metal and woodwork. Tint on the lens makes it useable inside. My range of view is not compromised by the frame.
Rubber frame
Glass lens
Polarized Coating coating
IMPACT RESISTANT – Meets ANSI Z87.1+, CSA Z94.3 & MIL-PRF 32432 Ballistic Impact
ANTI-SCRATCH + UV PROTECTION – Scratch-resistant lens blocks 99.9% of harmful UV rays
DURABLE FULL FRAME – Durable full-frame design bends and flexes without breaking
NON-SLIP DESIGN – Rubber nose piece and rubber temples keep the glasses secure and resist sweat
DUST-BLOCKING GASKET – Optional foam gasket insert reduces dust/debris entry
Thin Red Line Beverage Can Cooler Sleeves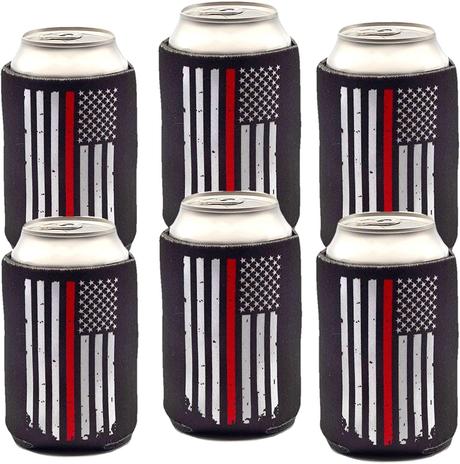 Every time you order one of our Thin Red Line 6-Pack of Can Coolers, a fire house dept siren sounds and all our employees stop what they're doing to give high-fives because firemen rule. Wouldn't you love to hear that you are the reason for our happy customer service department?!
KEEPS DRINKS COLD LONGER – This pack of thin red line firefighter flag can holders are designed to provide you, the chief and other first responders with a patriotic and stylish way to keep your soda and beer cans cool for longer making these must-have accessories for any proud American fire department. Made using lightweight, extra thick, open-cell polyurethane foam, our insulated beer sleeves prevent the cold from escaping ensuring you have an ice cold beer in hand.
PERFECT FIREFIGHTER GIFTS – Ideas for men and women with the thin red line American flag design, these insulated drink sleeves for bottles and cans make the perfect firefighter presents and gear for both men and women. Besides being a great fireman gift, these also make great birthday or Christmas gifts for sons, veterans, fathers, husband, dad, brother, uncle, mom, sister, wife, first responders, friends, family, co-workers, ems, emt, boss and all other freedom-lovin' Americans you know!
PRINTED IN THE USA & 100% MONEY BACK GUARANTEE – Just like the heroes in fire engines are patriots, our thin red line beverage cooler sleeves with the firefighter flag are incredibly patriotic, protective, and practical. They are a perfect fit for 12 oz cans or 12 – 16 oz bottles. These collapsible can coolies fold flat and are machine washable. If you aren't satisfied within 30 days, return your product for a 100% money back guarantee!
SUPPORT A FIREMAN – When your life is on the line, fire fighters hear the call for rescue and put themselves in risk to keep us safe which is why we designed our thin red line beer and soda coolies with a redline American flag to help you show your appreciation and patriotic spirit and make the perfect stocking stuffers firefighter present or decor.
FIREMAN BBQ APPROVED – Throttleneck thin red line beer bottle sleeves are perfect for use whenever you need a cold beverage. Whether you're hanging out with fellow firemen, cruising with a cold soda in your pumper engine celebrating Veterans Day or just partying you can count on this collapsible can insulator set to keep cans cold for longer while keeping your hands dry.
Snow – The Painless At-Home Teeth Whitening Kit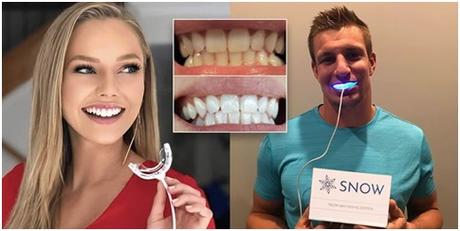 If you're anything like me… I brush every day, twice/day, floss.. but still my teeth never seem to get white. Most importantly, they are so damn sensitive all the time. Crest whitening strips hurt more than when I had kidney stones, but this is something I was cringing about when I purchased them. I was so on edge about how sensitive my teeth would be…….. literally nothing. No pain. At all. My teeth are so much whiter and the sensitivity gel they give is incredible
DENTIST-QUALITY RESULTS:? Nothing's a bigger confidence booster than bright, white teeth. But going to the dentist is expensive (goodbye $600) and teeth whitening strips don't actually whiten — but our kit does. ?Our proprietary advanced teeth whitening system uses award-winning LED activating technology to offer professional results for as little as $1.50 per treatment.
JUST 9 MINUTES A DAY TO A WHITER SMILE:? It's easy — just brush your teeth, apply the proprietary teeth whitening gel, and let the USB-powered mouthpiece work its magic, while you catch up on your shows, work, whatever. Rinse, and you're well on your way to a brighter smile.
SAFE FOR SENSITIVE TEETH, BRACES, BRIDGES, CAPS, CROWNS & VENEERS:? Whitening your teeth shouldn't hurt, and now it doesn't have to. Designed with sensitive teeth (and gums) in mind, our whitening kit helps brighten teeth and remove coffee and wine stains — without causing pain. The Snow at Home Teeth Whitening System is also safe for braces, bridges, crowns, caps, and veneers.
NO "SOLD SEPARATELY" RUNAROUND:? Our proprietary whitening system includes everything you need to get a whiter smile — faster. From the mouthpiece with patented LED teeth whitening light to the whitening progress tracker, we've thought of everything. The best part: You can get about 75 whitening sessions out of one kit. It's worth every penny.
5-YEAR WARRANTY THAT WORKS:? We've all been there — a product stops working. You contact the company, and it's "conveniently" not covered. That's not the case with us. If any piece in our home teeth whitening kit fails to do its job, we'll replace it for free, just reach out to our friendly customer support team.
Waterproof Ultra Portable Bluetooth Speaker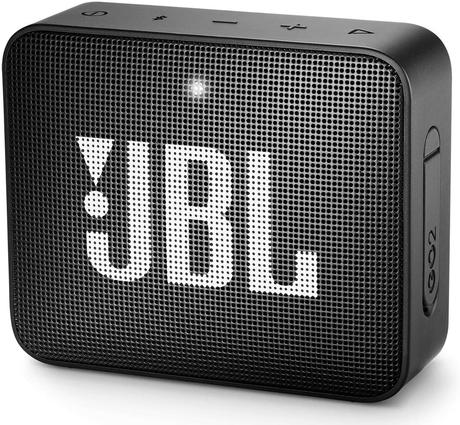 Nice construction JBL quality. Sound quality is good it's not tinny or hollow. Highs and mids are crisp and clear bass is thumpy. No droning or distortion. Easy to connect and no drops. Phone calls are good. Person on the other end heard me clearly. Battery life is good. Overall volume level is good although some may want it to be louder. For this size it's good i can hear it while I'm showering.
Wireless Bluetooth streaming
5 hours of playtime
IPX7 waterproof
Speakerphone
Audio cable input
Included components: Speaker; Micro USB cable; Quick start guide
Straw Firefighter Hat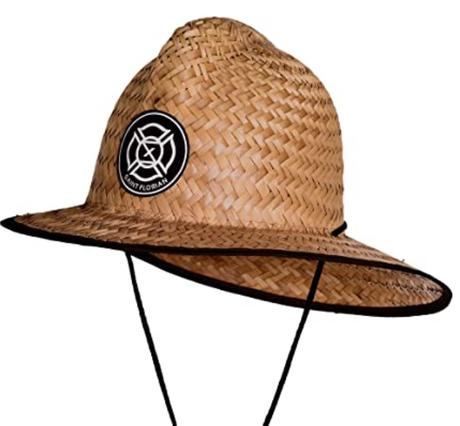 This patented Straw Firefighter Hat features a flex fit design and also includes a removable chin cord! Large/XL size is designed for fitted hat sizes 7-1/4″ and larger Please note: Each hat is pressed in a fire mold to obtain our patented shape. With this method, the straw is subject to flames at extreme temperatures. No two hats look alike due to the differences in heat applied, age of the palm straw and moisture content of the material. Some hats have more character than others due to the flames. Some may contain burn markings in several places, some only a few, some none at all. Each one truly is its own work of art.
Removable chin cord
Flexible design
Water resistant
Holds shape very well!
Long rear brim
24
Fireman's Die-Cast Iron Mechanical Coin Bank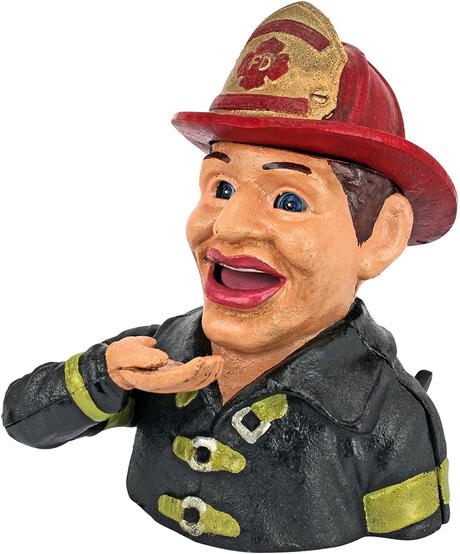 Let our Fireman's Fund die-cast iron mechanical coin bank be a hero to you! Our brave Firefighter from bygone days – originally designed by John Harper and Company Ltd. , England, circa 1940 – is looking fierce in his leatherhead helmet with his large gold badge, his smart "bunker gear" and a well-honed sense of duty. A perfect gift for your favorite volunteer firefighter, fire marshal, or any member of the local ladder company. To activate our Fireman's Fund die-cast iron mechanical coin bank, place a coin in the Fireman's hand, depress the lever on his back, watch as his eyes roll up and he eats the coin, for safety of course! Our finely-detailed Design Toscano replica coin bank is cast in foundry iron directly from an original then authentically hand-painted and distressed just enough to replicate a true antique. Makes a clever desk-top gift, a fun collectable, or an educational tool to teach children the importance of saving. Unscrew to open. 6½ "Wx7″Dx8″H. 7 lbs
Dimensions: 6.5″Wx7″Dx8″H 7 lbs.
Quality foundry cast iron collectible crafted using age old techniques
Each piece is individually hand-painted by our artisans
Fully functional bank is a fun collectible an educational tool to teach the importance of saving
Exclusive to the Design Toscano brand and perfect for your home or garden
Firefighter Prayer Challenge Coin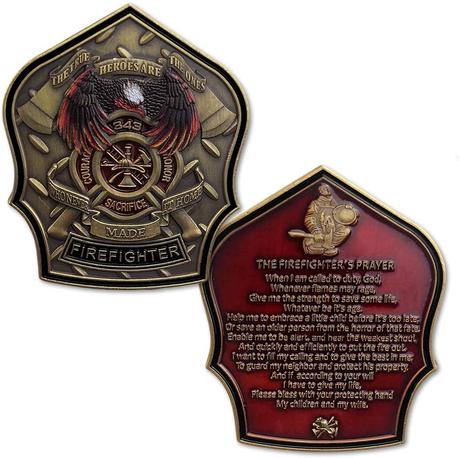 Firefighters risk their lives to serve the people and this challenge coin helps capture the honor of their service. Makes a great keepsake or gift for anyone in the fire and rescue service. Perfect to hand out to the men and women of your local fire station.
Dimension is1.7″W x 1.96″D, 0.12″ in thick.
One side features Maltese cross firefighter department logo.
On the reverse side is showed the Fireman's prayer.
Show Support for our Fire Fighters.
Great gift for anyone in the fire and rescue service.
Hanging Leather Toiletry Bag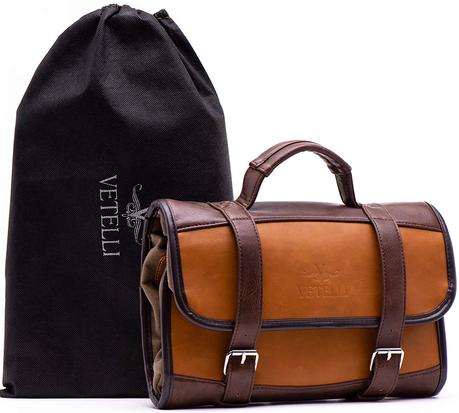 This bag is perfect. I store all of my beard and shaving products in this bag and keep it hanging all the time for easy access. So I use the bag every day. Whenever I need to go away for a few days, I just roll up the bag and I'm ready to go. There's no more running around looking for stuff to pack. It's all there, ready to go.
The bag looks amazing and it is really well made. The leather is of very good quality and the canvas is strong and sturdy. I have received many compliments about the bag, as it looks like it is much more expensive than it costs. Moreover, there is A LOT of storage room in the bag. The pockets are nice and big, and you can really fit a lot of stuff in it. If you're in the market for a classy looking travel bag, that can hold a lot of stuff, you will lot go wrong with this product.
LOTS OF POCKETS – Our Leather Toiletry Bag Features 4 internal pockets. 2 x zipped pockets measure 11.2″ x 6.7″  & 11.2″ x 4.5″ , both expand to easily hold large travel accessories. Also features 2x snap-fastened square pockets measuring 5.1″ x 4.7″ . The Bag itself is 12″ X 8″ and can be used lying flat or as a Hanging Bag
EASY TO CLEAN – The Vetelli Dopp Kit is made of premium high grade PU leather, which is easy to clean and water resistant. The bag interior combines PU leather with a heavy duty canvas to resist spills and leaks and prevent damage while you travel.
EASY TO USE – With the metal hook, it can hang on the back of the door or on towel racks so it's always easy to access.  Featuring high quality durable material canvas/leather construction with hard wearing durable zips and buckles that you can rely on for years to come
PLENTY OF ROOM – More than enough pockets and compartments to store all of your toiletry and grooming accessories. Whether you're traveling for pleasure or business, the Vetelli Hanging Wash Bag is an excellent choice.
A MUST HAVE for all travelers and an ideal present for family and friends. Makes a perfect bag for your shave kit and is backed by Vetelli's premium warranty.
Personalized Stainless Steel Firefighter Tumbler
 
Double Wall Vacuum Insulated, Stainless Steel Tumbler that will keep ice cold for up to 24 hours and hot drinks warm for up to 6 hours. We want to make sure your Tumbler lasts, so each Tumbler is powder coated to keep the Tumbler from chipping or scratching unless it is put in the Dishwasher. The Tumbler's sleeker base allows it to fit into any cup holder making this a great gift for anyone always moving. The Crystal Clear Airtight sealing lid also keeps your drink in the Tumbler and not on your clothes, the see-through ability lets you know when its time for a refill with ease.
TOP QUALITY – These Stainless Steel Tumblers are made from durable stainless steel, more specifically Premium 304 18/8 Food Grade Stainless Steel, whereas other tumblers from other stores may use a cheaper, lower quality Steel. So know that you are receiving the best of the best!
KEPT HOT OR COLD – These Stainless Steel Tumblers have vacuum insulated walls that can keep ice cool for up to 24 HRS, or keep beverages like coffee hot for up to 6 HRS. And you'll never have to worry about your drink being overly freezing or overly scalding to touch! Because of their insulators, our cups are kept at a cool, comfortable temperature.
SPILL FREE – While taking this cup on the go, you may be concerned about risk of spillage and making a mess. Not to worry! Stainless Steel tumblers come with lids that cause the least amount of messiness possible.
FREE OF CONDENSATION – These Stainless Steel Tumblers have double wall, vacuumed insulators that will keep the cold (or hot!) in and your cup dry! After buying our tumblers, you'll never have to worry about using a coaster again!
ENVIRONMENTALLY FRIENDLY – Regular plastic cups are not good for our earth, and although paper cups are biodegradable, they disintegrate in your hands. These Stainless Steel Tumblers are safe for the environment due to being reusable!
Fireman's Axe Tattered American Flag Vinyl Sticker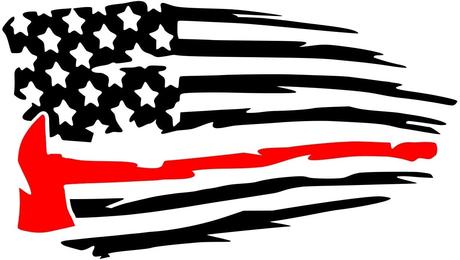 Brought to you by UR Impressions LLC and made in the United States, UR Impressions was created for you, to give you a way to express yourself and be you through vinyl art. UR Impressions brand decals are die cut and made with a high gloss* polymeric calendered vinyl film that is suited for outdoor or indoor uses. This vinyl film is great for applications requiring flexibility, durability, resistance to sunlight – more durable than a paper sticker and may last up to 6 years outdoors. These decals apply similar to a temporary tattoo and are designed to be installed at temperatures ranging from 50°F/10°C – 90°F/32°C to clean, smooth surfaces: vehicles, boats, motorcycles, scooters, RV's, ATV's, surfboards, skateboards, residential or commercial windows, laptops, tablets, computers, interior walls, and much more. When the time comes the decals are removable with the use of a hair-dryer or heat gun, and leave no damaging residue. Any residue left behind can be cleaned using a terry cloth towel with mineral spirits or automotive adhesive remover (we recommend 3M.) However, once removed the decal is not reusable. All decals are packed in 100% recyclable rigid envelopes or cardboard tubes to help minimize our carbon footprint. Application instructions are also provided to guide you with your installation. Have a question, looking for a different color, need a custom size, or a custom design? Drop us a line, we'll be happy to assist – or check our FAQ and Help pages for more product information, installation tips, and in-depth application instructions. BE confident with your purchase – all UR Impressions decals are backed by a 30-day replacement plan (see legal disclaimer for details). Remember, UR Impressions is here to celebrate you and your uniqueness – so get UR's today. *Matte finishes may also apply and are noted in description of product.
This is a high grade vinyl die cut transfer decal single color with NO background color – FAR better than a bumper sticker and available in a variety of colors and custom sizes
The vinyl is made to last up to 6 years* for exterior applications, and can be applied to most clean smooth surfaces; vehicles, windows, mirrors, laptops, mobile devices, interior walls, and much more
We provide application instructions to assist, along with information on our HELP and FAQ pages that include detailed cleaning and application instructions for different types of surfaces
Clear or translucent transfer tape is used so the application process is much easier
Manufactured and shipped in the United States by UR Impressions LLC and backed by our 30 day replacement plan