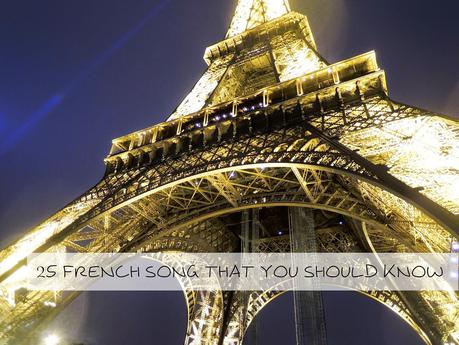 From classic to mainstream!
Dalida Garde – Garde-Moi la Dernière Danse (1957)
A Franco-Italian diva who dominated the French disco in the roaring 60s. This song brought her huge popularity, though it was just a cover of The Drifters "Save the Last Dance for Me". 
Edith Piaf – Milord (1959)
The little sparrow, the French Diva and just a fantastic singer who's songs will always have a very special place in my heart. I love this tune because of the melody and this rolling "R" whe she sings Milord :)
Edith Piaf – Non je ne regrette rein (1960)
I believe this lady deserves to be mentioned twice. Did you know that this song was dedicated to the French Foreign Legion who fought in Algerian War and a few other military conflicts? Today it is still sung on during the parades and on a few other special occasions.
Francoise Hardy – Tous Les Garcons (1962)
Hardy (pronounced with silent H) is an extremely beautiful and talented! Her voice is absolutely charming and Tous Les Garsons is her first single that immediately became a hit! As well, she starred in a few films and her style inspired the current director of Louis Vuitton. Even Bob Dylan gave her a mention in his poem "Some other kinds of songs"
Yves Montand – Sous Le Ciel De Paris (1964)
Probably one of the most famous songs about Paris! Plug your earphones, turn it on and have lazy walks around Montmartre next time when you visit the City of Lights!
Charles Aznavour – La Boheme (1966)
Often being reffed to as the French Frank Sinatra, Aznavour has a deep rich tenor. Most of his songs are about love, of course! Yet La Boheme is a bit of sad one as it is about saying good bye to the last bohemian days of Montmartre. The days when Aznavour has a pour, hungry, yet absolutely happy artist.
Serge Gainsbourg and Jane Birkin – Je t'aime… moi non plus (1969)
Probably, that the most banned French song of all times! Though it was originally written for a duet with Brigit Bardot, it is Birkin who eventually performed it and starred in the same named movie. I like both of them a lot!
Nino Ferrer – Le Sud (1975)
Ferrer was born in Italy, though he spent most of his life in France. The song's is about a place somewhere in Italy with laundry hanging outside from the windowsand where the time runs slow. His voice is charming and the melody's so catchy!
Mylène Farmer – Libertine (1986)
A single from her first album that hit it big immediately! Guess, it was due to the video made as a short-meter which contained explicit content and scenes of violence, though filmed in a very artistic manner. That's definitely something different from the latest Mylene Farmer's images.
Patricia Kaas – Mademoiselle Chante Le Blues (1987)
A very melodic song from Kaas's debut album that remains one of her most well-known songs. Kaas is probably one of the few singers who is classy and mainstream at the same time :)
Céline Dion – Pour Que Tu M'aimes Encore (1995)
One of Dion's eatly singles back in the days when she till sang in French. It a sad one and dramatic, yet that is what Dion is particularly good at! 
Alizee – Moi Loli (2000) 
You should have heard of her? She's immensely popular in France and Europe! Moi Loli is the song resulting from collaboration with Mylene Farmer and bringing Alizee huge popularity.
Virginie Ledoyen - Toi Mon Amour (2002) 
Though it is Marie Laforet who originally performed this song, I like the new version a bit more. Recorded as a soundtrack to Francois Ozon's 8 Women and performed by Ledoyen. Yes, it is the same actress who starred in the Beach with DiCaprio. 
Mc Solaar – La Vie Est Belle (2003) 
Mc Solaar is one of the most popular French Rappers ever. Someone as cool as 50 cent in US. I like this song in particular for the gorgeous female vocal in the refrain. 
Kyo - Je Cours (2003) 
There's not many French rockers I've ever heard of. I thought rock music in french will sound just hilarious. Yet the guys from Kyo proved me wrong. They songs are awesome!
Shy'm – Je Sais (2006)
I'd say she's a French Rihanna and one of the most popular French singers of the 21stcentury. With 3 platinum albums! Shy'm looks gorgeous, dresses all so stylish and her songs become dance hits on the next week after the release.
Vanessa Paradis – Divine Idylle (2007)
Though I think of Paradis more like of an actress, I still like her funky tunes and girly videos. I still can get over the fact that Johmny Depp dumped her. 
Camille – Paris (2008)
Another ode to Paris, though a modern one. Camille is usually defined as "Nouvelle Chanson" – a music wave that emerged as the opposite to Pop music. Her voice is unique and style can be called eclectic and reminds me of Bjork a bit.
Carla Bruni – Quelqu'un m'a dit (2009)
We know Bruni as an actress, a fashionista and a wife of not that appealing President Nicolas Sarkozy. Yet, she is a singer too! And a pretty good one I should say!
Zaz – Je veux (2010)
Zaz was the first modern French singer I heard back in 10s. I like this son so much for it funky tune and though I don't understand much of the words I still like to murmur it silently once in a while :)
Mika – Elle Me Dit (2011)
Okay, so Mika is a British singer and got just this one song in French, yet I've decided to mention it. The video is cheesy, but hilarious with Fanny Ardant in the leading role.
BB Brunes – Bye Bye (2013)
The second pop-rock group in my list! The band is formed by childhood mates who started playing in the garage and had their great debut in 2005 in Paris. I've discovered them via

The French Music Blog
and been sort of fan ever since.
Julien Doré – Paris-Seychelles (2013)
A recent winner of Nouvelle Star (a.k.a American Idol), Juliene things quirky lyric songs. I like this one in particular for two reasons:
- It's about Seychelles that I dream to visit one day
- And there are a few of English phrases in refrain, so I can join up and sing.
Sexion d'Assaut – L'Apogée (2013)
This list needs just another Rap and R'n'b singer to be mentioned as the French Rap is immensely popular and have been dominating the scene for a decade already. Currently, the group consists of 8 MCs.
Daphné – Où est la fantaisie (2014)
Daphe sings lovely trip-pop ballades in the voice that touches you deeply in the heart. The tunes are catchy and her clips are fun to watch. Just like this one. You've got what the song is about, right?
+ Bonus
Clara Yucatan – L'amour a la plage
 (2014)
That's a Besancon local band I have never heard of till I got to their free concert. Each performance they make looks like a kitchy theatrical performance and Clara's voice is fantastic! 
Do you listen to French music? Any other songs I should definitely add up to the list?