I've got 25 of THE best tips for wedding paper right here... In no particular order. Ready. Set. Go!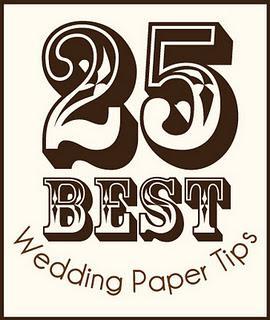 Investigate and begin to develop your wedding invitation and enclosure card wording earlier vs. later.
Keep in mind that destination wedding invitations and silk boxed invitations take more time to plan and execute than normal wedding invitations.
Think about having a monogram to tie all of your paper materials together.
Choose a color scheme.
Search out ideas on Etsy.com.
Research stationery ideas in bridal magazines... I'm not entirely sure why, but I've found that Martha Stewart Weddings and New York Weddings magazine publications seem to consistently feature the most comprehensive paper ideas, pictures and advice you can readily use.



Create a budget for your invitations and share it with your stationer. They won't be able to develop an appropriate quote if you don't provide them with a range. 
Don't forget to consider the postage when you calculate the budget.
Start educating yourself on different kinds of printing methods and which one may be right for your paper.
Keep every attractive wedding and party invitation you receive in the mail and begin a file so you can go back and reference.
Join Pinterest, create some boards and start PINNING!
Check out popular wedding blogs and narrow down your search to the ones that feature the style of wedding you will be having.



Go through invitation books like Vera Wang, Crane's, Checkerboard, etc. just to begin to recognize what you like and don't like.
If you do decide to go the D.I.Y. route, make sure the invitation project you take on is not too complex for your skill level.
Ask your wedding planner about invitation options and see what suggestions they offer based on your theme and budget.
If your event has several moving parts, you may want to consider pocket invitations to keep all of the information organized.
Start researching wedding fonts to decide which ones will work best for your event.
Think hard about envelope liners and if they will really complement your invitation suite or not.
Consider translating your linen pattern to a pattern you can use on your invitations.
Remember that square invitations and envelopes carry an additional, non-machinable surcharge of 17¢ per invite.
Think about a design motif that can be easily weaved throughout all of your materials: i.e. florals, monograms, patterns, etc.
VERY IMPORTANT: If the design motif you have selected needs to be color critical, be sure to provide the stationer with a physical swatch (whether you are asked for one or not) of your desired color(s). Colors sent by email/internet are not reliable as color varies from monitor to monitor.



Seek out your wedding stationer well in advance of your wedding date... I would suggest 6-8 months prior (the exceptional stationers are always booked earlier).
Remember that metallic envelopes, while stunning, do not present vibrant color if you are having them addressed via computerized calligraphy. Metallic stock is a non-porous surface and the ink doesn't absorb well. Blacks may appear to be charcoal grey, for example.
Mail your invitations 8-10 weeks in advance of your wedding date... If you have already sent Save the Dates then you can be a little more flexible here. Just a little.
Feel free to share any additional paper tips you've got, I'm interested! 
Have a great rest of the week and I'll be back on Friday with some tips on addressing your envelopes... --ct