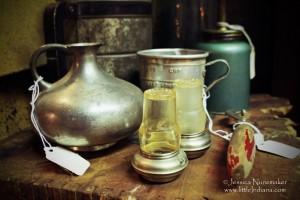 231 Antiques and More: Haysville, Indiana
In Haysville, Indiana you can find a bit of everything at 231 Antiques and More.
This small Indiana town shop is so full of things you will not believe it!
Haysville, Indiana: 231 Antiques and More
little Indiana and family turned around in order to get a closer look at this Indiana antique shop. We could tell from the outside that it was going to be good!
Planters, old bicycles, metal work, and more were arranged on the outside, just beckoning us to enter! It would have been rude to refuse.  Kidding aside, this is an impressive shop! There's a whole wall of those tin signs and wall art.
Lots of nooks and crannies made browsing through this Dubois County shop quite the treat. In particular, I noticed plenty of great linens, bottles and jars, old toys, books, and door stoppers. There was really a nice selection of toys here. Our boys, Kid #2 in particular, were really in love with the metal tractors and cars.
Indiana Antique Shop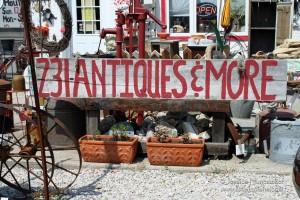 231 Antiques and More: Haysville, Indiana
So many vendors…just when I thought we'd seen it all, I realized there was a whole other section to look through.
More than just fun Indiana antiques, there are also handmade items for sale. I think it's safe to say that you never know what you are going to find!
I could have easily lost myself in the vintage books for a time. With prices like those, it would be hard to resist!
Go There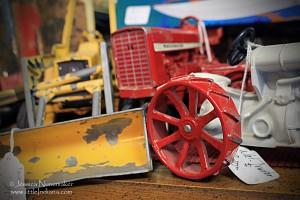 231 Antiques and More: Haysville, Indiana
Just a bit down the road from French Lick, Indiana and right nearby Jasper, Indiana, you can easily fit 231 Antiques and More into your travel plans. Trust me, you want to make time for this one!
It's located on the "Y" in Haysville. Don't miss it! This is little Indiana.
Find pictures in Indiana on my Flickr photostream or on the new little Indiana Tumblr blog.
Just don't forget to tell 'em that  little Indiana sent you!
231 Antiques and More
7091 N 231 S
Jasper, Indiana 47546
812.695.2095

View Larger Map
Don't miss a moment. Subscribe to little Indiana and receive instant updates to stay on top of everything "little."
little Indiana: Where to Stay, Play, and Eat in Small Towns in Indiana. Discovering Indiana's best small towns! Now get little Indiana on your Kindle.