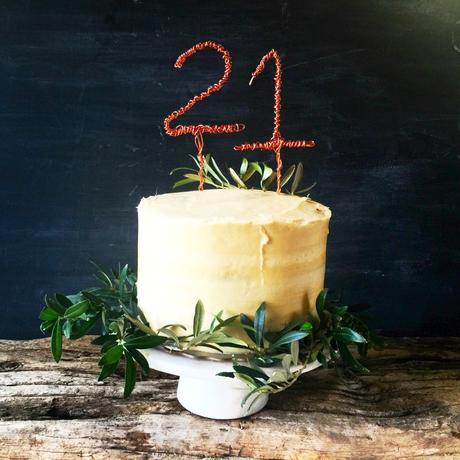 My oldest son turned 21last weekand he let me throw him a family birthday party.
After several years awayhe is making his way back into the familyso a party to celebrate with us allwas another lovely step in the processof welcoming him home.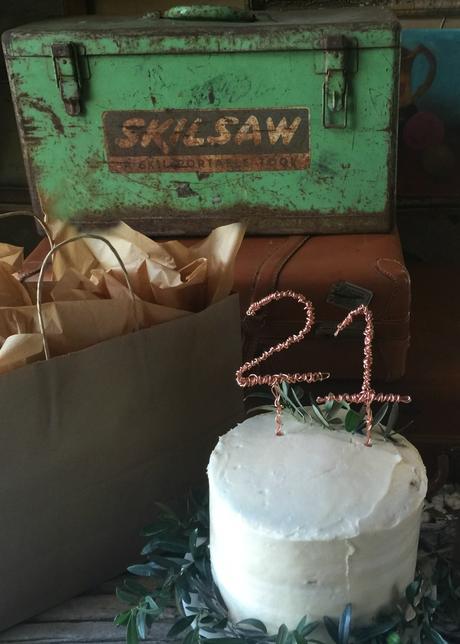 I pulled out my vintage tool boxesas decor inspirationsince he very much into building and creating in his own garage shop these days.Vintage suitcases were another nodto his love of travel.
With these inspiration piecesI pulled all of my organic influenced serving piecesandhad the cake as a finishing styling piece!
I was ever so happy how the cake I designed turned out!I had the baker make a three layer carrot cakewith cream cheese frosting spread with no detail.
I added the copper number 'sculptures' I madeand finished it off with olive branch trimwith a marble cake stand.
I just love the fresh modern takewith the masculine feel I was going for!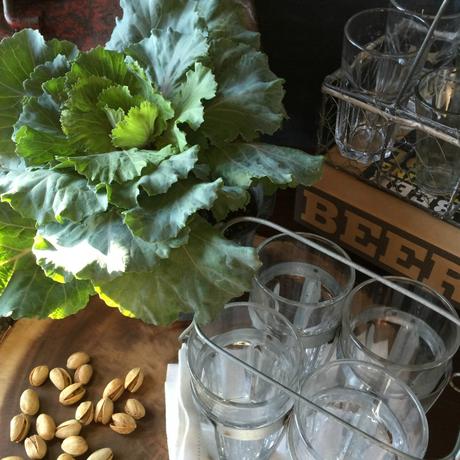 Since Slater was turning 21a beer tasting was definitely in order for the party!
I collected small tasting glasses for the groupand even found glass caddies for them all!
I found wooden serving traysmixed in kale to continue with the masculine styling for the party.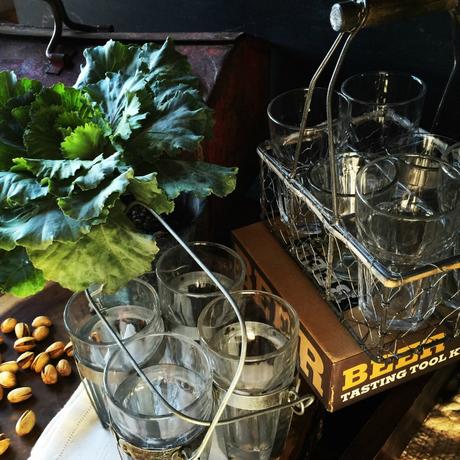 I had found a Beer Tasting kit at Pottery Barnbut we ended up not using itas Ellis and Elliot had so much knowledgeabout all to the different types of beer.
It worked out betterto have  the knowledge  passed much more organically as they explainedthe differences throughout the tasting.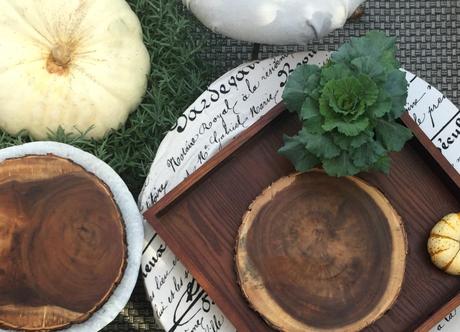 The party was in the backyard where we served appetizers with the beer tastinggourmet burgers off the grilland of course finished the meal off with cake and ice-cream!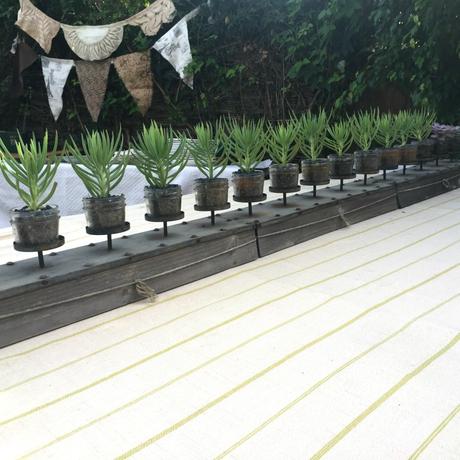 Keeping with the clean masculine party stylingI covered the table in a cotton stripeand kept the succulent centerpieces I've had this fall.
I had originally planned and executednew centerpieces that we more ornatebut brought back my originalsas I didn't want to fill up the table too muchand wanted a nice clean backdrop for the tastings.
I hung just a bit of bunting over the buffet tableby the grill.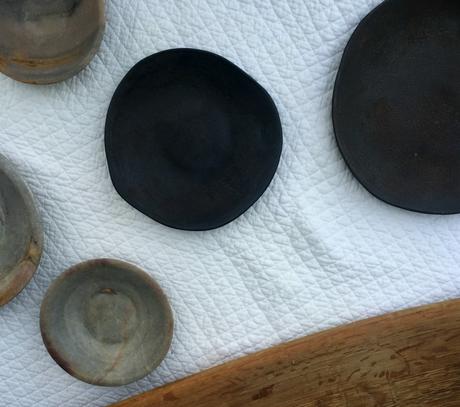 For the barbecue areaI covered the table with a natural colored quiltand brought our my collection of stone dishesdark ceramicsmixing in some wooden serving pieces as well.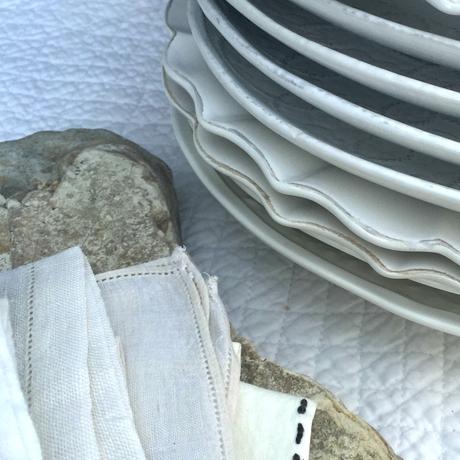 I used my white stoneware platesandmixed with my recent find of vintage napkins.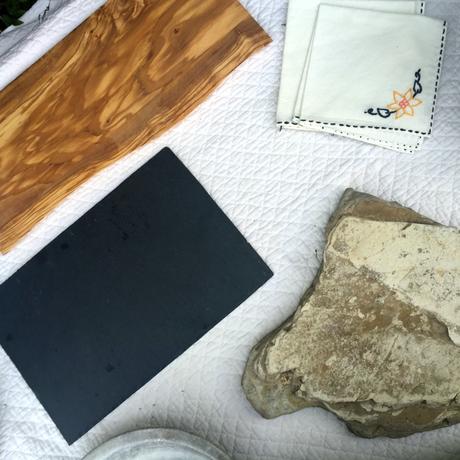 I added slate and stoneto the mix as well.The use of organics with a lack of other colorwas my intentso as the textures of the natural manly elementswould lead the styling conversation.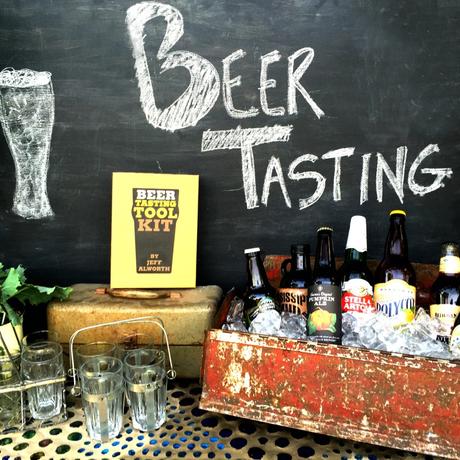 I set up the beers for tasting on our outside barplacing them in a vintage tool box filled with ice,Elliot then placed the beers in order of lightest to darkest for the tasting presentation.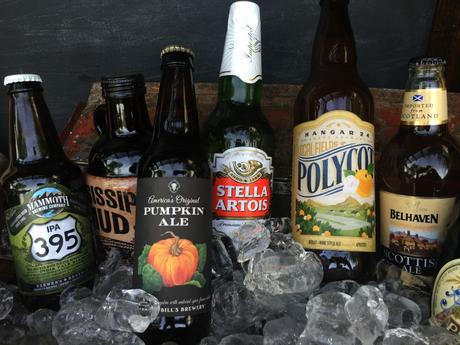 I know my winesbut craft beersand even old school beers are new territory for meso I asked Ellis for some recommendation to cover the basesand then I couldn't help but add in some labels I loved!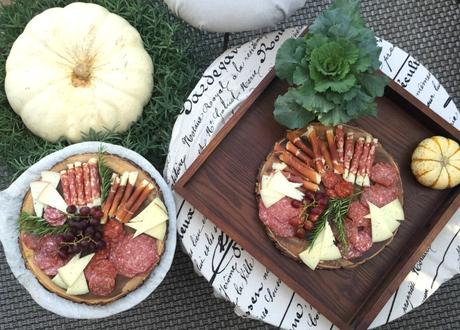 Appetizers were a breeze to dowith a trip to Costcomy new wooden serving trays from Targetfinished off with some home grown rosemary.
I just love when presentationswith the proper planning can come together so beautifully with such ease!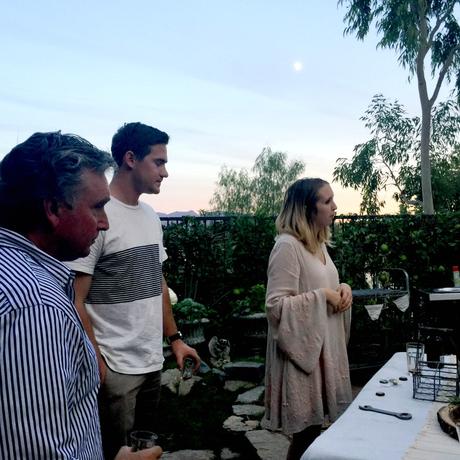 We  really enjoyed learning about the different types of beerand how San Diego is presently one of the Craft Beer leaders.Having one thing going ongave everybody an opportunityto share in the conversation.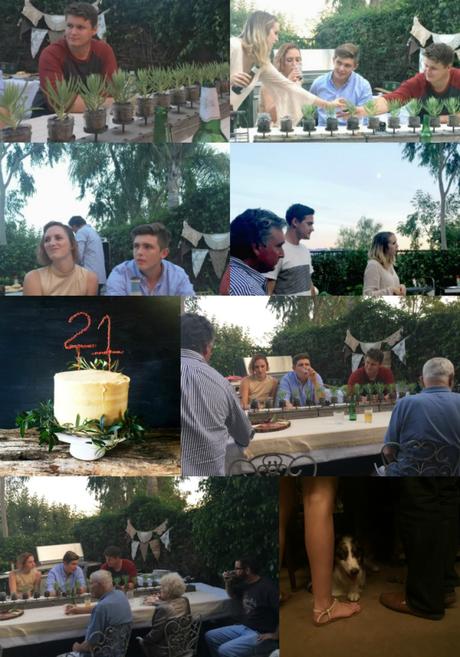 We have done beer tastings before for Father's Day gatheringsand I must say they really work out nicelyas it gives everyonesomething to share and discussand even learn.Even the non beer drinkers can easily take partas the tastings are such small pours.
After the tasting it was fun to hear which ones were who's favoritewith the remaining beer in the bottle being passed out to who enjoyed it most!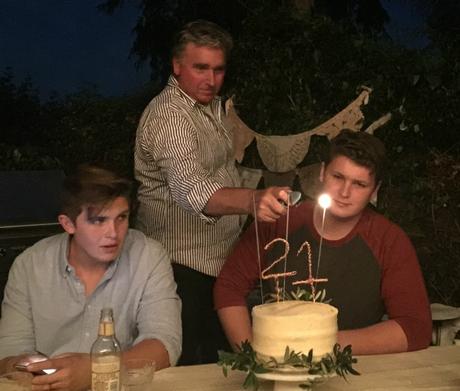 After dinner it was time for cake!Sparklers were the perfect touch for cake celebration!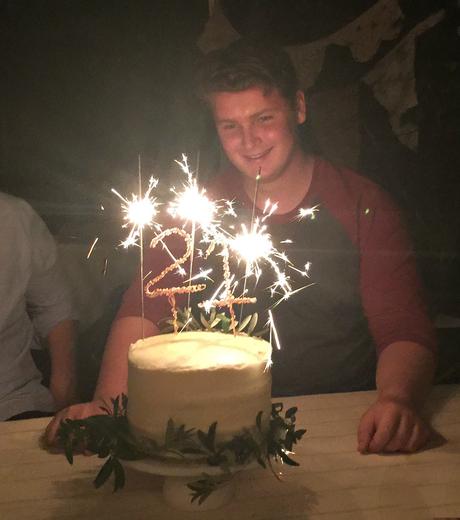 Happy Happy 21 to you Slater!!We love you!!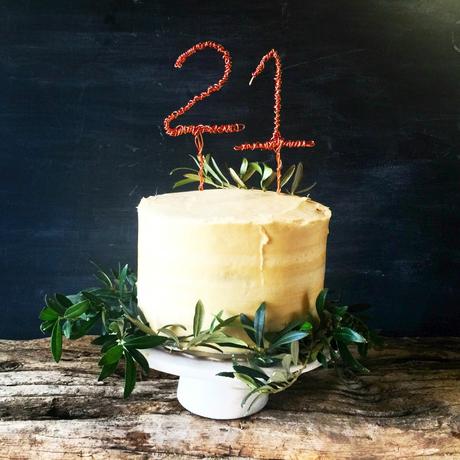 As always my friends


I wish you love and joy 

as you style your life