The Calgary Stampede won't look exactly like everyone remembers it, but the rodeo, fair, and music festival is back in 2021 with a lot of entertainment on the schedule. And that includes the famous stage, packed with country music talent.
Over 11 days, country music fans will be treated to wonderful Canadian talent on the Nashville North Stage. Emerging artist will get their chance to show Stampeders what they've got, and headliners will bring their best each night to give that live music love we've all been missing.
Note: If you are going to the Calgary Stampede in 2021, please be safe, smart, courteous and kind. We are all looking forward to the things we love coming back and feeling normal again, but we're not all the way there yet.
Some days the music kicks off early in the afternoon and goes late into the night - offering a full day of country music fun. And with the Buck The Line ticket promo, you get VIP access to Nashville North until 11 pm nightly, and your Stampede admission is included. Buy your promo pass .
Headliners like Dean Brody, The Reklaws, Jess Moskaluke, Brett Kissel, Washboard Union and all the rest are no joke. And supporting acts including Andrew Hyatt, Robyn Ottolini, Nice Horse, Dan Davidson, Michela Sheedy, Kelsi Mayne and all the rest of the talented names on this schedule are sure to provide a lot of great live country music.
If you're ready for live music, and you're ready for the crowds, Nashville North will be ready for you from July 8 to 18, 2021 at the Calgary Stampede!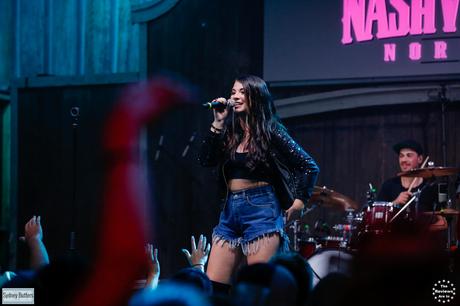 2021 Calgary Stampede - Nashville North Lineup & Schedule!
Thursday, July 8, 2021
★ George Canyon (7:15 pm)
★ Aaron Pritchett (9:00 pm)
★ Drew Gregory (11:00 pm)
Friday, July 9, 2021
★ Garrett Gregory (1:30 pm)
★ Foxx Worthee (4:00 pm)
★ Sacha (8:00 pm)
★ Dean Brody (9:00 pm)
★ Drew Gregory (11:00 pm)
Saturday, July 10, 2021
★ Karac Hendriks (1:30 pm)
★ Foxx Worthee (1:30 pm)
★ Tyler Joe Miller (8:00 pm)
★ Jess Moskaluke (9:00 pm)
★ Drew Gregory (11:00 pm)
Sunday, July 11, 2021
★ Doc Walker (2:30 pm)
★ The Hunter Brothers (7:30 pm)
★ The Road Hammers (9:15 pm)
Monday, July 12, 2021
★ Ben Chase (1:30 pm)
★ Michela Sheedy (4:00 pm)
★ Nate Haller (8:00 pm)
★ Brett Kissel (9:00 pm)
Tuesday, July 13, 2021
★ Lauren Mayell (1:30 pm)
★ Jaywalker (4:00 pm)
★ Bobby Wills (8:00 pm)
★ The Reklaws (9:00 pm)
Wednesday, July 14, 2021
★ Alex Hughes (1:30 pm)
★ Devin Cooper (4:00 pm)
★ Shawn Austin (8:00 pm)
★ James Barker Band (9:00 pm)
Thursday, July 15, 2021
★ Aaron Pollock (1:30 pm)
★ Robyn Ottolini (8:00 pm)
★ Jojo Mason (9:00 pm)
★ Ryan Lindsay (11:00 pm)
Friday, July 16, 2021
★ Mariya Stokes (1:30 pm)
★ Cole Malone (4:00 pm)
★ Dan Davidson (8:00 pm)
★ Jade Eagleson (9:15 pm)
★ Ryan Lindsay (11:00 pm)
Saturday, July 17, 2021
★ Mariya Stokes (4:00 pm)
★ Nice Horse (8:00 pm)
★ Washboard Union (9:15 pm)
★ Ryan Lindsay (11:00 pm)