Now that 2020 is over it's time to look at my make-up empties for the year.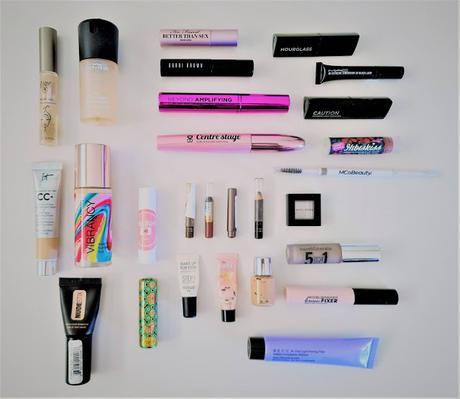 2020 really wasn't a year for finishing make-up. Staying home meant that I spent most of the year bare faced or with just my brows done. 
I wonder if it'll be the same this year. 

Whilst I got through a whole pile of skincare, I only finished 27 make-up items, 12 of which were travel sizes.
Here's my tally:
2 brow gels
3 brow pencils

4 foundations
7 mascaras
1 lip gloss
1 lipstick
1 tinted lip balm
3 primers
2 eye shadows
1 eye liner
1 lip liner
1 setting spray

I had fun trying different mascaras this year. I usually stick to the DB tubing mascaras as they don't run when I'm at the gym, however with the gym being closed for a while I started experimenting with other formulas and really enjoyed them. I now use regular mascara on non gym days and tubing mascara on gym days. That way I still get to try out all my mascara samples.
The Bare Minerals cream eye shadow is very missed. I love cream shadows but it's so difficult to find one that doesn't crease. If you know of any please let me know.
I've used Rimmel brow products for years but sadly they discontinued the pencils I loved. I'm now on the hunt for new brow products. Why is it so difficult to find the right ones? I think I'll just go back to my beloved Shu Uemura Hard Brow Pencil. That was my go to for years until I moved to the country and no longer had access to a Shu counter.

This year I'm going to try to finish more lipsticks. I do well with lip balms but lipstick take so long to finish. I'm trying to use up my favorite nude lipstick and I'll hopefully finish at least one other lipstick too. 
How did you go last year? Did you finish many make-up items?