Oh my goodness where did 2018 go?? Here I am almost at the end of January setting my 2019 New Year's Resolutions - anyone else as behind as me?
With junior burger starting kindy this year and baby cravings now a full blown running climbing toddler I'm hoping I will get a little bit more time to myself.
I'm keeping my 2019 new year's resolutions short and simple as I find overwhelmingly long lists just remain long lists which roll over to the following year!
So my three New Year's Resolutions for 2019 are...
1 - Deck out unused spaces in our home and use them!

In the four years we've lived in our home, the balcony and upstairs retreat have just been pretty unused showrooms.
With some help from my friends at Koch & Co who stock artificial plants that look real (we don't have much of a green thumb) and outdoor lanterns, I've started decking out my new chill out space.
This is how our balcony looks so far...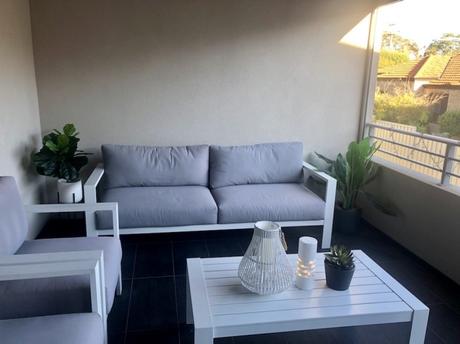 Featured to the left is Koch & Co's Artificial Fiddle Leaf in a White Ariel Pot on a white stand and to the right is the Artificial Dracaena Plant in an unbreakable concrete look pot from Bunnings.
On the table is Koch & Co's Cane Woven Contemporary Lantern and Lamp Decoration Led White and an artificial pot plant my mother-in-law got for us.
Our balcony just needs something to deck out the blank wall above the couches to give the space a bit more atmosphere. This metal wall art from WG Outdoor Life is my inspo at the mo...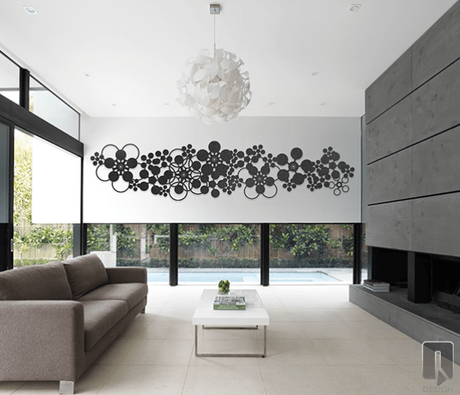 Jeager Outdoor Wall Art image sourced from Perth outdoor life suppliers
WG Outdoor Life
We haven't started seriously shopping for this wall though, if you have any suggestions, please leave me a comment and a picture 🙂
Some of you may also know, we got burger boy the Everdure by Heston 4k barbecue in aqua which I personally think looks quite cool on our balcony. The colour beautifully matches our Nick Scali couches in our retreat which leads out onto the balcony.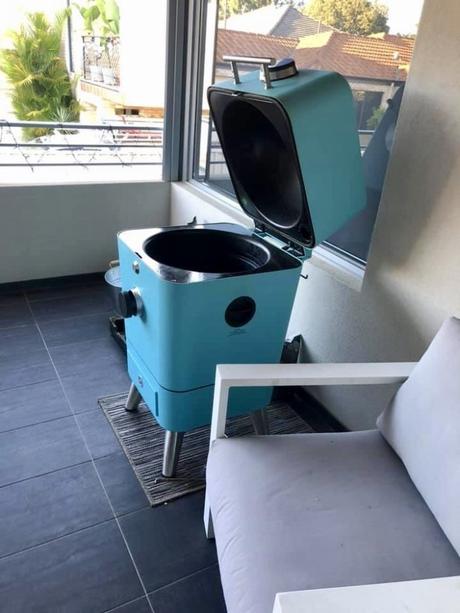 The lack of exercise last year combined with a heavy baby cravings who LOVES to be carried resulted in my neck, shoulders and right wrist aching in 2018. So a fitter me is a priority this year.
I just hope I am as motivated as I was earlier this month when I exercised whilst staying at Crown for our 9 th wedding anniversary.
I plan to continue to climb up and down Jacobs Ladder at Kings Park, trying some new at home app exercises whilst baby cravings is napping and the odd pilates class at Urban OM when I have babysitters handy.
3. Get Organised
I am forever writing lists on my phone which get rolled over to the next day, week, month...year. In 2019, I plan to be more organised so I can spend less time procrastinating (aka tidying up or eating stuff I shouldn't) and spend more time blogging , working on our small business and exercising.
Decluttering my home office
I was inspired to create a minimalist working space. For all of 2018, I was buried in paper and toys in my joint home office which is really also the guest bedroom and kids playspace!
I now have a floating IKEA shelf, folders for all my projects and a physical inbox/outbox system which I need to start using! I will post a photo when my home office space is 100% complete 🙂
Menu Planning
Same goes with my meal planning! I start writing out my weekly menu plans with good intention but they don't always end up being finalised or used! When I do manage to finish my menu plans, my days are a lot easier - so I really need to get back into it!
Thankfully I am also subscribed to Hello Fresh which helps me cook without thinking after a full day with the kids. I pick my meals out a month in advance then every Monday a box filled with colour coded packages and matching recipes arrive on my doorstep. I always know I don't need to think or shop for three dinners in the week, read my Hello Fresh review here. There's a $50 discount code off your first box in the post if you're looking to simplify your meal planning too.
What are your 2019 New Year's Resolutions?
Disclaimer: Koch & Co products were provided to foodie cravings to review. See disclosure policy for further details.