And just like that we've made it to the last blog post of 2017 here on LLT. I can hardly wrap my mind around it. 2016 went by at lightning speed, but it also felt like waiting for a pot of water to boil. Funny how that happens isn't it? That whole "the days are long but the years are short" thing has never rung as true to me as it has this year.
To be honest, most of 2016 was filled with studying, homework, grad school applications, shadowing, volunteering, researching, prepping for the GRE, etc. Aka it was a very school-filled year for me. And while that's awesome, because I've given all that I am to pursuing my goal of getting into grad school and becoming an SLP, I feel like I missed out on a lot over the year. I spent copious amounts of time in my study cave but not nearly enough time laughing with my girlfriends, sleeping in with my husband, or chasing my pups around the backyard. I'm making some changes in 2017.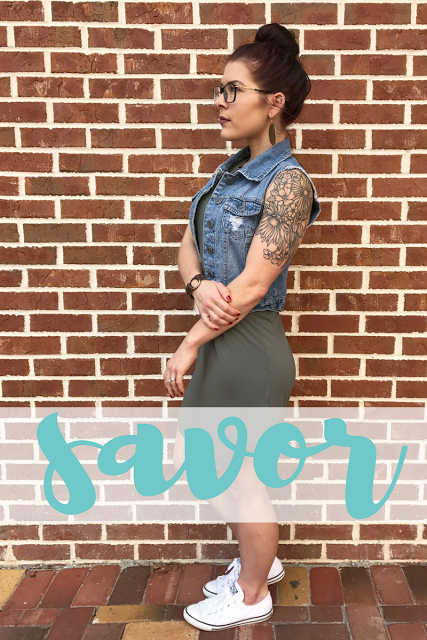 I'm all for goal setting, but for some reason I've never been huge on picking one specific New Year's Resolution. For the last 3 or 4 years, I've chosen a word to propel me into the New Year. A word that I want to set the tone for the next 365 days. As I'm sure you've gathered from the picture above, my 2017 word is:
SAVOR
/ˈsāvər/
verb
1. taste (good food or drink) and enjoy it completely.
It's that last part that just hits me right in the feels - "...and enjoy it completely." My plate was filled to the max in 2016. Actually, it was overflowing most of the time. I could barely keep up with my jobs, schoolwork, and extracurriculars so maintaining a social life went out the window fast. I was exhausted. While working on one thing, my mind was wandering and planning the next. I did not take the time to sit. To be aware. To appreciate the moment I was in. To SAVOR.
While I still plan on making straight As in 2017, I also plan on being intentional with my time. I will allocate specific days and times to essentially not do anything. To just savor whatever that moment brings. I will sleep in on Sundays and lazily wake up next to my sweet husband and maybe go to brunch or go to the beach or whatever. I am choosing to savor. But I don't want to savor just the "good" times - I want to savor the difficult, trying times, too. I want to savor studying for exams, awaiting to hear back about grad school, being a shoulder to cry on for friends. I want to be fully present in each and every moment. I won't let the days pass me by and be left wondering, "Um what just happened?" at the end of them.
I have a really good feeling about 2017, you guys. My soul is anxiously awaiting the goodness that is to come, while making sure to savor the now.
So here is to SAVORING 2017, my friends! What is your 2017 word? 
Wishing y'all a happy, healthy, and safe 2017!
xo, Jess
lovelylittlethingsblog.com