You read about the bronze - now it's time for the silver! Below are some of my favorite Silver colored beauty products. Let's get started!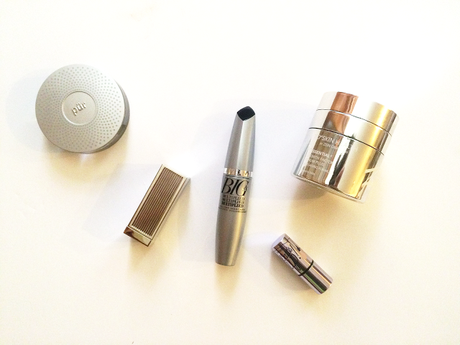 PÜR Cosmetics 4-in-1 Pressed Mineral Powder FoundationI'm not quite sure if its this foundation or my new skincare routine - but when I mix the two my skin looks amazing. The formula in this foundation is said to help correct, prevent and interrupt your skin concern, smooth away the look of lines and wrinkle, plump, lift and firm the skin's appearance and balance uneven skin tone. I can say that it definitely helps balance out my skintone but I can't be totally sure on the other benefits!
Lipstick Queen Silver Screen in Play ItThis lipstick is one of my favorites for fall. It almost looks like a gloss, but its so moisturizing it almost feels like a chapstick. It's pigmented, the color doesn't fade it it contains Pomegranate Sterols - a 100% natural ingredient and antioxidants Vitamin E and Vitamin A so that it does mroe than just give you a great-looking lip: it helps keep the soft! 
 Avon Big & Multiplied Mascara
Avon is another brand that doesn't get enough credit!  When people ask me where my mascara or lipstick is from and I tell them Avon they give  me the strangest look, but the truth is that Avon does make high quality products...you just can't buy them at a store.
I'm a mascara junkie and although I haven't used this one in aw hile, it's still a great mascara. This mascara makes my lashes look fuller and longer and never flakes. I can apply this in the morning before I leave for work and I never have to worry about touching it up throughout the day. But the best part about this mascara? It's only $9!ZO Skin Health Ossential Growth Factor SerumZO Skin Health is an amazing brand and I don't think they get the recognition they deserve. They aren't that well-known because you can only get the products through their website or through a dermatologist's office.
Now, when I first heard about this brand I was skeptical. I have sensitive skin and everyone made it seem like these products would only irritate it further. But let me tell you, I have been using their entire collection and my skin has never looked better.
The Growth Factor Serum is a lightweight gel that helps strengthen skin, supports skin repair and protects against future signs of aging. It helps reduce the appearance of expression lines, lines and wrinkles, strengthens weak skin and minimizes irritation

, r

estores hydration and enforces the skin's protective barrier and helps stimulate cell renewal.
It's meant to be used at night and features ingredients like retinol, hyaluronic acid and red ginseng extract.
Benefit Watt's Up Highlighter
I got this sample in a Birchbox and it's one of my favorites. I never was one to really use highlighters before, but after I finally got the process down I realized how much of difference they make! I would definitely purchase this one in it's full-size!