The Summer Olympics have started and I am so excited! I love the Summer Olympics because it features one of my favorite sports: soccer!
I was feeling patriotic and inspirational so I wanted to do some fun Olympic-themed posts.

Introducing the bronze, silver and gold beauty series.

Up first: the bronze!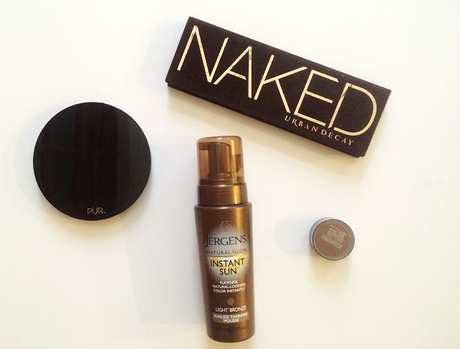 Jergens Natural Glow Instant Sun Sunless Tanning Mousse
I don't think I can say enough great things about this self-tanner. It works wonders. I shower and exfoliate, dry off and then I apply this mousse everywhere. It dries in minutes and blends into the skin so easily that I never find any streaks! One thing to note: wash your hands immediately after applying. Your body will look fab but your hands (unless using a mitt) will be darkened!
It comes in two shade ranges: light bronze and deep bronze. I opt for the lighter shade, the color develops over a couple hours and you can reapply the following day if you're looking for a darker tan. It's so easy to use, that even a self-tanner noob like myself can use this without fretting about looking orange. 
PÜR Cosmetics Glow Together Jumbo BronzerI'm not one to usually go for bronzers because I feel as though I can never look Kardashian-esque. However, the past few weeks I have been using this bronzer every single day. It's jumbo and GORGEOUS. It comes with 3 matte shades and 3 shimmer shades - I haven't touched the shimmer ones, as I'm afraid of not looking natural but the matte shades are amazing.
This bronzer is so silky and blends seamlessly into the skin. I've been using this as a contour and as long as I blend, blend, blend it gives me such a natural looking glow. And, a portion of the proceeds are donated to Action Against Hunger, a global humanitarian organization committed to helping end hunger around the world. 
Urban Decay Naked PaletteWithout a doubt, one of my favorite eye shadow palettes of all time. I don't really think I need to go into too much detail on this one because I'm sure you've heard it all before. The colors, the pigmentation - this palette is amazing.
Maybelline Color Tattoo Pure Pigment in Downtown Brown
I LOVE this eyeshadow! I have quite a few of these Color Tattoo Pigments and I absolutely adore them. I actually think these are discontinued because I haven't seen them in stores but that's also because I stocked up on all of them when they initially came out. Oops. The pigments are amazing and the formula is so silky. This is one of my favorite shades because I feel like I can wear it daily or I can make it more dramatic for a night out.
What are your favorite bronze-colored beauty products?And are you watching the Olympics this month?