At the start of the year I posted my make-up and skin care inventories. Since then I've been trying to use things up and have been doing well in some areas and badly in other areas. 
I've managed to reduce my skin and hair care stash down from three tubs to one, so I'm pretty happy with that. I've been regularly culling my make-up but I

haven't

done as well at reducing my make-up as I have with my skin and hair care. To keep me honest and so that I know where I'm at, it's time for an updated inventory. 
I didn't do too bad with my make-up, it was a lot better than I thought it'd be. My foundation, lip balm, lip gloss, lip liner and primer counts all went up. 
Foundations went up because I'm on the hunt for my holy grail foundation. Added to that, my local chemist is selling all Youngblood products for $19.95 so I purchased three foundations. 
I'm going through my foundations and getting rid of the ones that I don't love, so hopefully by the end of the year that number will have reduced significantly.
Lip Balms are all Emma's fault. She sent me a box full of lip balms, so the blame rests with her.
I have no idea how my primer and lip liner counts went up, I don't recall buying any new ones, so maybe I didn't count properly last time, or maybe I double counted this time, I have no idea.
Lip Gloss, what can I say? I'm not sure how that one happened either. I did buy a few new glosses, but I didn't think I'd bought fourteen. Must have. Oh well. I clearly need to work on that.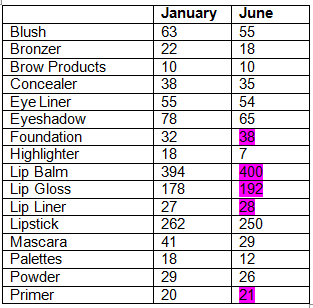 I'm very happy with the progress I made with my skin and hair care. Nothing has gone up, I've had reductions in all but one area.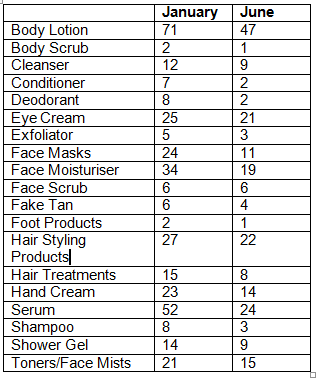 Overall I'm happy with my progress. I still have a long way to go and I clearly need to do more work on not purchasing cosmetics that I don't need. My plan to only buy two new products each month went out the window, I need a new strategy. Any ideas?