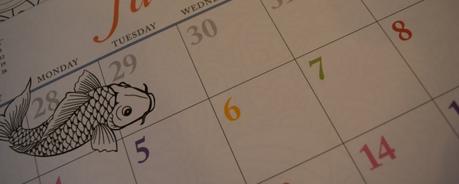 This is a great item for adult coloring book fans! There is now a quality 2016 adult coloring calendar, the Color Your Year Calendar. This wall calendar has unique pages for each month with additional nice touches. I has been getting good Amazon reviews (click the previous link to read them).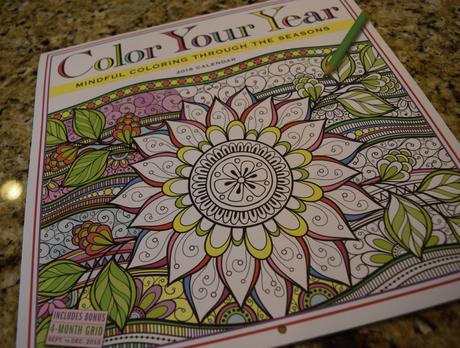 The designs are intricate enough to be interesting, yet not so crazy detailed so as to become tedious. Still, the pages are good sized (12×12 inches), so it will take a while to do each month. Paper quality is quite good. I can see through them when they are held to the light, but a hard pressed gel pen test on the corner of a page came out just fine, with no bleeding of the ink to the backside of the page. Regardless, I plan to do mine primarily in colored pencil (I use Polychromos and Prismacolors).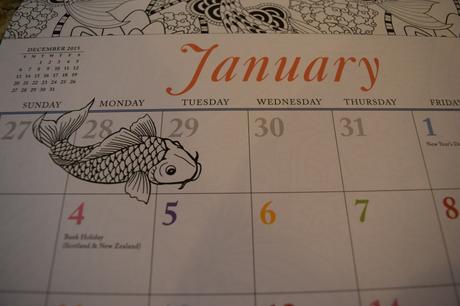 Each Month includes an additional coloring pattern on the calendar days as well. I love the koi fish in January, and there is a Chameleon in June that I am quite excited about! Here is a close up look at one of the overall designs in terms of detail. The dragonfly page, which is June, is one of my favorites.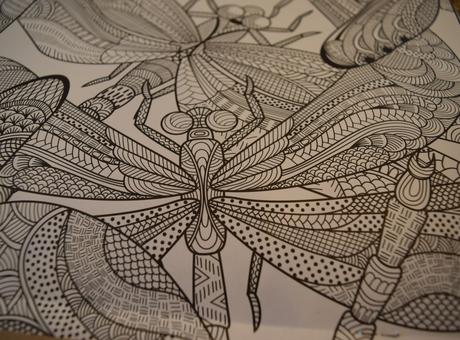 Here is a look at the back of the calendar, which shows the designs for each month of the year. This is going to be a fun one to color. I think I'll do each one about a month in advance.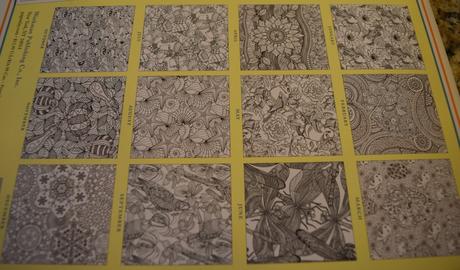 The monthly designs are as follows:
January - Koi in a lily pond
February - Heart designs
March - Easter Bunnies and eggs
April - Spring Flowers
May - Roses and Birds
June - Dragonflies
July - Ice cream and treats
August - Sand dollars and sea shells
September - Parrots with tropical flowers
October - Seascape with whales, dolphins, octopus, divers, and waves
November - Pumpkins and gourds
December - Snowflakes
You can get the coloring calendar here at amazon. It would also be a great gift, especially if paired with a set of colored pencils.