Vladimir Putin, having been recently named possibly the most powerful person on the planet by the American Foreign Policy magazine, could well have been a puzzling choice for some. However, for many FP buffs or Russia watchers, the reality was already known. In Russia, Putin can command a lot of support through many channels lacking in other, more powerful, countries. So too can he act without restraint from the EU, a strong constitution, or a coalition in government.
However, there were alternatives to choose from, and the choice is still certainly up for debate.
Christine Lagarde, the world's loan shark, in the unusual position of being incredibly influential in many different places around the world. It is up to her and the IMF as to how influential she will be, as an intervention in Europe or elsewhere would mean big news.
The man behind China, Xi Jinping, could have a huge effect on the world if he decides to push ahead with meaningful reform. As with Lagarde, Jinping's influence on 2013 is mostly up to him. China isn't in an existential state, but  with the lowest annual GDP rate in 10 years and tempers steeply rising over what would perhaps previously be considered inane, reform might be just what is needed to keep China on track. Jinping made strong words already this year, but are they simply rhetoric?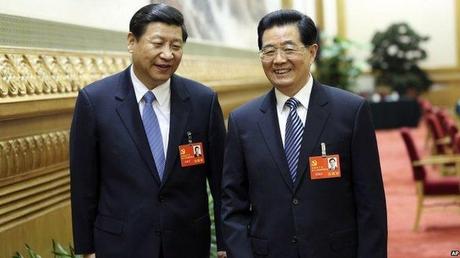 The new leader, Jinping (L) and the old, Hu Jintao (R)
Barack Obama is someone nobody can leave out of a 'most powerful/influential' list. Ian Bremmer, president of the Eurasia group said "Even at a time when Washington is focused almost entirely on Washington, the elected leader of the world's most powerful and influential country carries a lot of water." Obama will try to keep out of anything too drastic for now, as domestic problems are key.
Around 20 years ago, Angela Merkel was an unknown player in German politics. However, in Helmut Kohl's fourth and fifth cabinets, she would gain notoriety and influence. Being Kohl's protégé, she has been solidly committed to the Eurozone as a simple step up from German reunification. However, her commitment is seen as overly harsh in certain countries and is having to play a delicate balance between domestic support, foreign distaste, and an unwillingness to compromise by certain country's leaders in the same way that was done at the start of the crisis.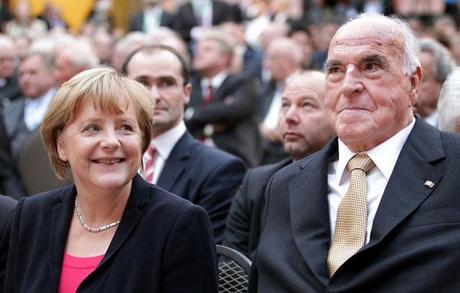 Merkel (L), and Kohl (R).
It must be said that none of the above have the same power that Putin does. True it is to say that some are at the head of stronger economies, militaries, and can hold much more influence across the world than Russia as a whole might. Nonetheless, none of them have such power concentrated in one representative.
Whilst the modern Russia is a democracy, and the President today has nowhere near the amount of freedom as the former Soviet Premier had, Putin has inherited a position that does not have to seek consensus in order to exert power. Andrew Rahr, research director of the German-Russian forum, had this to say of Putin:
It is not official propaganda that cultivates the image of Putin as a strong leader, at least not primarily. Following the shocks of the 1990s, Russians above all wanted social guarantees, a stable economy and a strong and independent foreign policy. Putin managed to deliver on these priorities.
Competence in Russian politics is undervalued by foreign media, and Putin has shown much competency. How does this make him the world's most powerful player though? It doesn't, at least on its own. High approval ratings, a strong and resurgent Russia, adept political manoeuvring, and consolidated political power and alliances all make Putin the prime candidate.
Unlike other Western politicians, Putin has a comfortable majority in the polls. Unlike the current status quo, Russia has yet much more potential to gain. Unlike leaders like Jinping, Putin has proved himself comfortable with pragmatic friendships and political alliances. Unlike those who lead the powerful countries in the West, the Russian president has historically had much more constitutional power and is not at the perils of Congress/Brussels.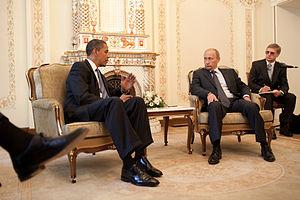 Barack Obama & Vladimir Putin at Putin's dacha
Putin, using the BRICS, has made it no secret his ideal of a new multipolar world order. Economic crisis striking the richest countries, and the comparative ease that the BRICS have shook it off, have furthered this goal somewhat. Last year, intervention in Syria was prevented, America was not pleased.
This year, it will take more than  vetoes for the new Russia to surge, but it is doable. The coming months will highlight a discussion on the urgent need of reform in the Federation, and how this affects its potential.