Television Without Pity has posted some new polls and categories in their 2012 Tubey Awards!
Alexander Skarsgard is nominated for Favorite Actor, and True Blood has been nominated for a couple of categories too. Not surprisingly, they are; Worst Season Finale and Worst Single Episode – Drama.
Unfortunately, the other poll in which both Alex and Anna were nominated in (Sexiest Supernatural Character) has now ended. Don't worry…as soon as we find out the results – we'll post them here!
Remember, you can only vote once, so please make it count. Each week beginning July 30, Television Without Pity will reveal new polls about the best, worst, and just plain weird characters, series, moments and more from the 2011-2012 television season — 80 categories in all.
We would love to see Alex win this category, and he wants to win too – as you can see below!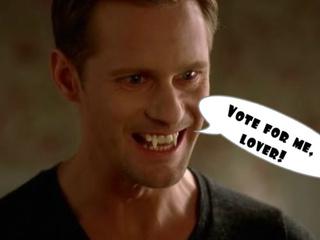 Cast your votes HERE!
Thanks Eric & Sookie Lovers!