This year's Tour de Fat, New Belgium Brewing's celebration of the bike, has announced its 2012 dates and locations. Two new cities have been added. Washington, DC and Atlanta, GA bring the total number of cities involved to 15. See the full list below. Dates and locations are also available on our calendar. 2012 marks the 13th annual rendition of the popular festival. The "Tour de Fat brings together passionate bike lovers for a day of two-wheeled revelry while raising money for local nonprofits. Tour de Fat is a thrilling rite of passage that includes an unparalleled costumed bicycle parade, New Belgium beer, dazzling entertainment, local food, unusual bike contests and much more."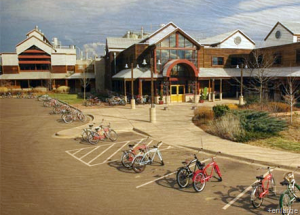 While free to participants, the event raises money for local nonprofits through sales of beer and merchandise. New Belgium Brewing has a long commitment to sustainability, including social, economic, and environmental components. One of the most significant events of the festival is "the ceremonious car-for-bike trade." In the ultimate show of human power over machine, one person is chosen to trade their car keys for a customized bike. Winners get to choose their own bike shop to build them their dream bike, with a budget of $2,250. New Belgium then auctions off the car and donates the proceeds to organizations that support bicycling.
For those interested in entering their name, here are the stipulations:
Swappers are chosen after submitting an application that describes why they are willing to trade in their vehicle for a shiny new bicycle. To submit an entry, go to the New Belgium Tour de Fat Facebook page (https://www.facebook.com/TourDeFat), click on events and your city of choice, and upload your application video. Applications may also be written and sent to: [email protected].
On a personal note, I witnessed the local Tour de Fat "blow" through the park last year here in Denver. To say it was a spectacle would be an understatement. For roughly 30 minutes, bicyclists dressed in outrageous, often homemade, costumes pedaled through the park. Many of the bicyclists took advantage of the local bike sharing (Denver Bcycle) and enjoyed a raucous ride through the city. I look forward to a similar show this year.
For more information (including dates, locations, as well as a video and statistics from 2011) please continue reading.
A few tidbits about Tour de Fat:
Start sewing, collecting and dreaming up something to wear as Tour de Fat encourages embracing your inner costume-loving self. Come dressed up to help put on the most colorful, respectful and creative bike parade ever witnessed in each city.
Tour de Fat seeks to leave as small an environmental imprint as possible and composts and recycles waste. Bring only what you need and watch for proper receptacles. We'll do the rest!
All performers grab your attention from alternatively empowered stages decked out in recycled materials; trucks and transport use biofuel sourced from recycled waste oils; and all vendors operate off the grid.
This is a pro-bike celebration, not an anti-car rally. Non-cyclists are more than welcome to join the festivities.
In 2011, Tour de Fat traveled to 13 cities, attracting a total of 69,550 festival attendees and 41,150 parade cyclists.  In addition, the festival raised $331,428 and boasted an impressive 90 percent diversion of waste from landfills.
Tour de Fat 2012 will cycle through each of the following cities:
Nashville, TN – June 2 – Centennial Park
Washington, DC – June 16 – Yards Park
Durham, NC – June 23 – Diamond View Park on the American Tobacco Campus
Atlanta, GA – June 30 – Historic 4th Ward Park
Milwaukee, WI – July 14 – Coast Guard Event Area, McKinley Park
Chicago, IL – July 21 – Palmer Square
Minneapolis, MN – July 28 – Loring Park
Boise, ID – August 18 – Ann Morrison Park
Fort Collins, CO – September 1 – Civic Center Park Area
Denver, CO – September 8 – City Park
Los Angeles, CA – September 15 – Los Angeles State Historic Park
San Francisco, CA – September 22 – Lindley Meadow in Golden Gate Park
San Diego, CA – September 29 – Golden Hill Park
Tempe, AZ – October 6 – Tempe Town Lake
Austin, TX – October 20 – Fiesta Gardens
[Image source]